Review: Slumberjack Grit Jacket in DST Camo
Russ Chastain 01.05.18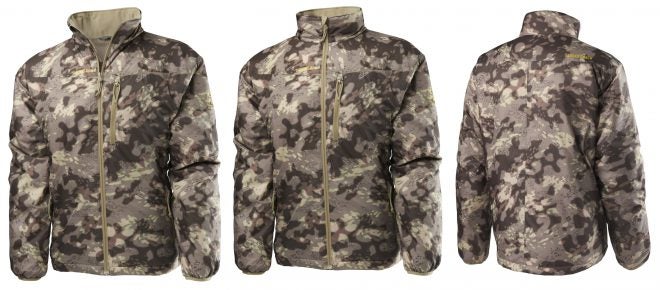 Slumberjack has been around for decades, making quality sleeping bags and other camping gear. A few years ago, they created their SJK line of "tactical hunting gear." Recently I've had the pleasure of trying out some of their stuff, including the Grit jacket DST.
In spite of the name, it's anything but gritty. This lightweight jacket is insulated with high-quality fiber insulation, which keeps it light and makes it easy to pack. Its shell is made of slick polyester, which goes on easily over other clothing (and other clothing slips on easily over it for layering). The downside of that for hunters is of course the noise factor; slick fabrics like this are also pretty loud in the quiet of the woods. I'm reminded of the old jackets my father and grandfather wore while hunting, before most hunters cared about stealth.
The camouflage is a Slumberjack exclusive, called DST for "Disruptive Shadow Technology." It seems fine, but I'm not a camo geek so pretty much any pattern will suit me. You can read all about DST here.
Manufacturer Specs
Weight: 16.5 ounces (467 grams)
Insulation: SlumberLoft-PRO siliconized hollow fiber synthetic insulation (100 gsm body & 60 gsm sleeves)
Zippers: #7 reverse coil
Exterior Pockets: 3
Interior Pockets: 2 large drop pockets
Primary Shell Fabric: 400T Rip-stop down-proof brushed water resistant polyester with DWR
Perception DST camouflage with "Disruptive Shadow Technology"
Microfiber-lined collar & chin guard improve comfort & warmth
*Jacket stuffs into left pocket for transport & provides a pillow for spike camp
Zippered hand warmer pockets & large chest pocket
Elastic bound cuffs & draw cord hem
Two large internal drop pockets
Paracord zipper pulls allow for easy "gloves on" operation
MSRP: $99.95
*My sample had a separate drawstring stuff sack, rather than doing a "stuff into pocket" approach. When stuffed, the sack is roughly 5 inches in diameter and perhaps 9 inches long.
Pros
Comfortable
Warm for its weight.
Very packable; stuff into the small sack and hang it on your pack.
When stuffed, doubles as a small pillow.
Layers easily.
Cons
A bit noisy for hunting.
It's pretty good for cool weather, but not cold.
The Nitty-gritty
The first time I showed this jacket to friends at hunt camp, I pulled it out of the small stuff sack like a magician pulling an endless string of hankies from a pocket. "Now put it back in there" was the reply, but I assured them I'd already had it in and out of that tiny bag several times.
The secret is the "lofty" synthetic insulation, which has hollow fibers which easily fluff up when you un-stuff the garment. This makes it one of the warmest forms of insulation per ounce, in my experience.
That said, this jacket is anything but winter gear. On October 20 in middle Georgia, USA, the temperature was 50 degrees F. I wore a long-sleeve tee, a long-sleeve button-up shirt, and the Grit jacket, and I got a bit chilled after sitting in the stand for a while.
Quality is great, and the pockets are nice. The chest pocket is quite roomy, and is a nice feature.
Final Thoughts
All in all, I like this jacket and I will certainly continue using it afield. It's a great layering item, and its stuffability makes it handy to carry to the stand on a warm afternoon so you can slip it on when the temperature drops near sundown, or even to carry while traveling. Something tells me this Grit might just accompany me to the SHOT Show this year.