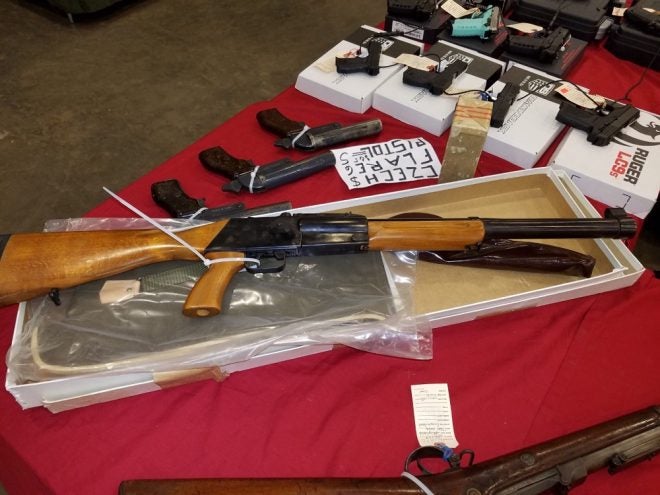 Gun shows are good for spotting oddities. As a gun enthusiast and gun writer, granting me admission to a gun show is like sending me into a candy store. Lucky for me, I work for an FFL licensed gun dealer, so I get into the shows on a monthly basis. This also permits me to further my gun knowledge and to prospect for firearms that most people would never see in a lifetime.
One such find came recently. On a section of tables loaded with surplus military rifles, curios and relics, and assorted other firearms was something I had never seen before in over 40 years of attending shows. It was a real find.
This oddity was a CZ (Ceska Zbrojovka) RV-85 Flare Rifle or more accurately a Flare Launcher. Unique as a term to describe this "firearm" falls aptly short of a full understanding of not only the historical perspective of this arm, but its current functionality as well. This was really a special piece.
Originally created for the Czech Special Forces in the 1980s, it was designed to function for firing rockets, tear gas canisters, as well as barrier penetrating rounds. As delivered into the U.S. marketplace, it is only useable for flare launching, since hard core ordinance is not available for the RV-85, so don't even think about it.
The RV-85 launcher I saw for sale was one of the complete kits, as some include only the arm (using the term firearm would be technically and legally inaccurate). This kit came in a fiber board box to include the launcher, manuals (written in Czechoslovakian), a cleaning kit, green web sling, a canvas type pouch, and a test target.
The RV-85 is 37 inches in overall length with a barrel that is 19.75 inches. The bore is 26.5 mm as are the flare shells that are used in it. Commercial flares and smoke shells are still available but may take some searching to locate. The rifle launcher is heavy but I was not able to find a specification weight. Flip up sights are set for 50-75-100 yards.
The arm itself functions much like a single shot shotgun aka H&R with a lever barrel release that also cocks the mechanism. The trigger guard has a Garand type safety. Its effective range is 2.7 to 142 yards with a maximum range of 765 yards. Flares could be useful for all kinds of signaling, hunting, mountain hikers, emergencies, etc. Models are still available and sell for around $349. So, go to a gun show and keep your eyes open.