Aimtech Warhammer for Tac-14 and Shockwave
Jon Stokes 01.23.18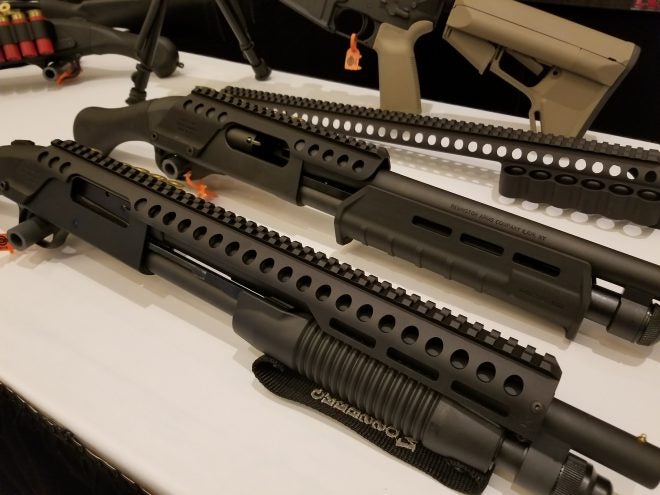 I've been thinking of using a Remington Tac-14 as the base of an an Ultimate Truck Gun build, and one of the key pieces that had yet to fall into place before about an hour ago was the rail and side-saddle shotshell mounting system.
I wandered by the Aimtech booth at SHOT 2018 and the Warhammer rail system immediately caught my eye. I handled both the Shockwave and Tac-14 versions, and they're extremely light and add very little additional weight to the gun. You get a rail system with two length options, and shotshell holders.
I'm not entirely sure I want to put a reflex or red dot on the Ultimate Truck Gun–probably a tritium-powered bead of the kind that's on my home defense Mossberg 590a1 Mariner will do fine. I say this because you're not shouldering the weapon, so finding the dot at speed is a problem the way it is with handgun RDS systems. But I'm all about having the option for either that or something more elaborate.
Reviews of this product are very high at outlets light OpticsPlanet, so as far as I can tell it's legit. It mounts on the 870 by replacing the two trigger pins with screws that go through the gun, so it's a zero-gunsmithing install.
I dunno, I'm sold. Somebody talk me out of it in the comments.