Several weeks before SHOT Show 2018 I received an email from a Swiss Army representative asking if I would drop by their booth and talk about their new products. Of course everyone should know what the answer was. Who in their right mind is going to pass up the chance to see Swiss Army knives?
On a personal note, I have been using a Swiss Army knife since the early 1990s. When two of my children got old enough to take care of a pocket knife, they were bought a Swiss Army Camper pocket knife. Besides a Case, I can not think of a better knife to give someone than a Victorinox, which is who makes Swiss Army.
Upon arriving at the Victorinox display at the 2018 SHOT Show, a very nice lady by the name of Leah talked with me about the new products for 2018.
For the past three years Victorinox has teamed up with the Wounded Warrior project. Part of the money made from the Wounded Warrior knives is given to the charity.


What's new for 2018?
Victorinox held a contest where wounded veterans submitted designs for new knives. The submissions were voted on by customers, and the two winners were made into a Tinker model Swiss Army knife.
First knife design has a image of an eagle.
Second knife design is a sunset with watercolors.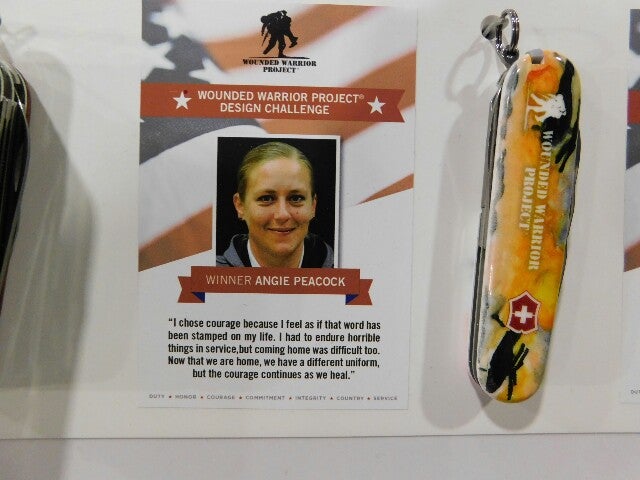 After looking at the Victorinox Wounded Warrior knives I asked Leah if they had anything else new for 2018. What she said makes good sense. To paraphrase, "Victorinox has been around for so long, they do not release a new product every year."
I am glad to see a company like Victorinox supporting our troops with the design contest and the donations to Wounded Warrior.
Thank you to everyone at Victorinox, and thank you Leah for the wonderful interview.