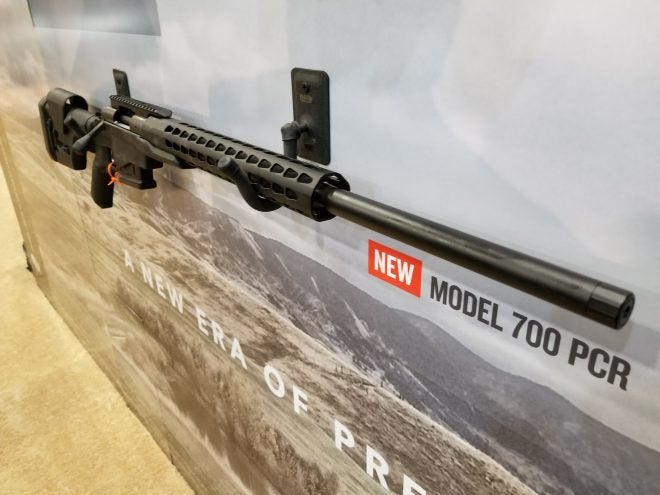 It is in vogue these days for rifle making companies to produce a specimen of rifle categorized as a long range precision shooting platform. Many of these are based on time tested bolt actions while others are of newly engineered designs. Many of these rifles are now classified as "shooting systems", which offer multiple options for configuration.
Remington has just joined the foray into the bolt action precision rifle offerings. Theirs will be marketed as the Model 700 PCR, which stands for Precision Chassis Rifle. It is being introduced this week in Las Vegas at the annual SHOT Show or trade show known as the Shooting, Hunting, Outdoor Trade Show for the firearms industry, retail dealers, and the outdoors media.
When studying the press photos of this new precision rifle, it is one handsome piece of work. I have inspected most all the brands and models currently on the market, and without bias I can say this new Remington has some of the cleanest lines of any rifle of this type. I think Remington was wise to see what the market offered, then upped the ante with their 700 PCR.
The construct of this new rifle platform begins with the proven Remington 700 action. This is paired with an exclusive aircraft grade aluminum alloy chassis. This chassis is designed to maximize rigidity making it oblivious to atmospheric impacts creating a consistently stable platform for making long distance shots.
The barrel is 24-inches in length with 5R rifling made of carbon steel with an appropriate twist to accommodate each chambering which includes the .260 Remington, 6.5 Creedmoor, and the .308 Winchester. Barrels are free-floated in an aluminum handguard and also come with a threaded muzzle with a protective cap.
The stock is a Magpul PRS Gen 3 stock with flexible user configuration. The bridge over the action ejection port comes fitted with a Picatinny rail for scope and optics mounting. The enlarged bolt handle is a tactical version for swift cycling. The rifle finish is matte black.
The rifle's accuracy is verified via Remington's CATS System, or Computer Aided Targeting System before it is shipped for sale to the consumer. This accuracy is verified to be sub-MOA. You have to go on line at www.remington.com to read about this CATS system.
The Remington PCR's have a 5-round Magpul detachable magazine. Overall length is 44 inches with a carry weight of 10.5 pounds. The pistol grip is an AR-15 type and the stock is fully adjustable. Full specifications can be found on the Remington web site. Though the PCR rifle is currently unavailable, it should be shortly for a suggested retail of $1199.00. It will be worth every cent.