Lawrence Livermore National Labs, US SOCOM, and LMT Build the Ultimate Suppressor
Jon Stokes 01.24.18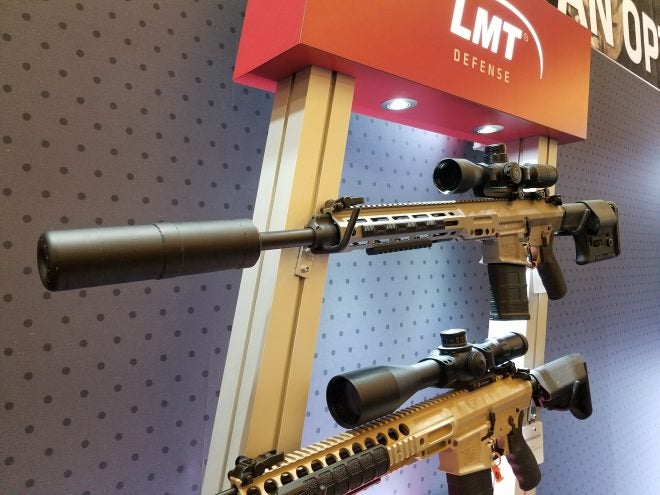 If you've been following the SHOT 2018 news frenzy, then you may know that top-end AR-15 maker LMT has announced a line of suppressors. What you may not know, however, is that those suppressors were not designed by LMT. The Illinois-based company (soon to be Iowa-based) is just the maker. No, the designer is Lawrence Livermore National Labs, at the request of US SOCOM.
LLNL is the nation's top defense lab, and here's it's Wikipedia description:
LLNL is self-described as "a premier research and development institution for science and technology applied to national security."[1] Its principal responsibility is ensuring the safety, security and reliability of the nation's nuclear weapons through the application of advanced science, engineering and technology. The Laboratory also applies its special expertise and multidisciplinary capabilities to preventing the proliferation and use of weapons of mass destruction, bolstering homeland security and solving other nationally important problems, including energy and environmental security, basic science and economic competitiveness.
So when US SOCOM decided they wanted the ultimate suppressor that modern science and cutting edge computational fluid dynamics (CFD) could produce, they naturally turned to LLNL to design it. But when LLNL's multi-year effort finally produced a new suppressor design, it still had to be manufactured, and that's where LMT came in.
LMT's weapons are a favorite in the special operations community, and because the company already has a strong relationship with US SOCOM it was a natural fit. LMT is the manufacturing partner that will make the suppressors for both military and civilian use.
I don't yet have prices or decibel numbers, but I do have other specs on the cans, which LMT is calling its VBS line.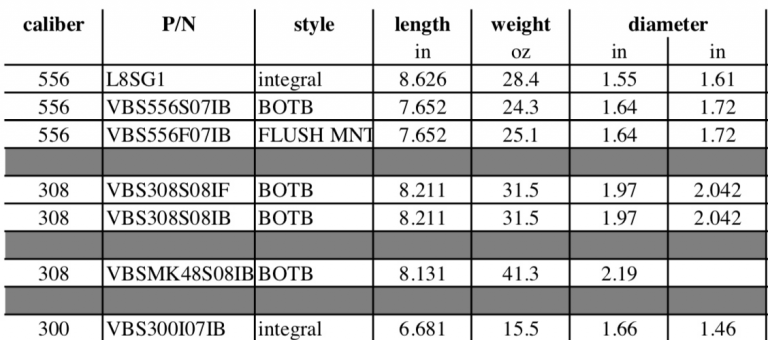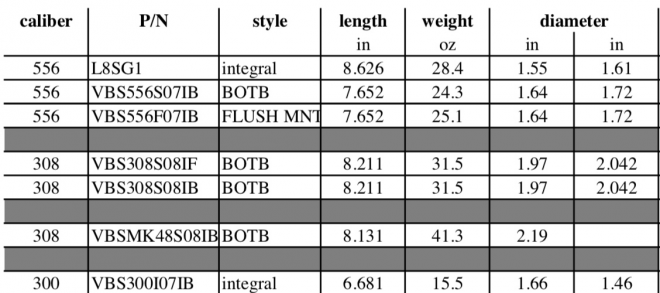 As you can see from the table above, these are large, heavy cans. This isn't your titanium ultralight, rather it's a heavy-duty can made for sustained full-auto fire.
While the average full-auto-rated suppressor can shoot some 90 rounds before it has to be cooled down, the new LMT cans tan take a 500-round full-auto string and keep going. Durability was a key requirement for these from SOCOM, so these cans are built to last.
The design of the can supposedly has less back pressure and does not increase the gun's cycle speed. So the design greatly reduces the amount of gas that blows back in the operator's face, in addition to not affecting the gun's reliability and wear characteristics due to timing and pressure issues.
In addition to a novel baffle design, there's a disruptor on the end so that the gas that exits the suppressor is turbulent, which reduces flash signature.
LLNL spent a few years on this design, and LMT has spent years developing and testing the actual cans. So I'm expecting great things for this new suppressor line. I'll post an update as soon as I get actual decibel numbers and MSRPs for these.
I'm also hoping that LMT will expand the line to include lighter weight cans made out of alternate materials like titanium. There are many folks like myself who are never going to do a 500-round full-auto mag dump, and would sacrifice the ability to do so for some weight savings.