Phoenix Weaponry's 45-70 AR at 2018 SHOT Show
Russ Chastain 01.26.18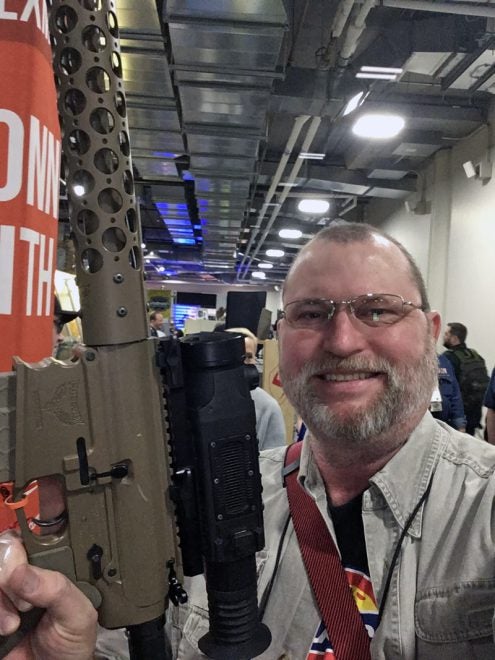 As far back as I can remember, I have liked the 45-70 cartridge. It is a fine old round that fits my main preference points: Big, heavy, hard-hitting. So of course I love to shoot it in a Marlin lever gun, an old trap door 1873 Springfield, or a Ladies Home Companion. Or maybe even an AR?
Yeah, that's right. Colorado custom gunmaker Phoenix Weaponry went to work and reinvented the 45-70 to operate on an AR platform. To make it work, they rebated the case rim (the rim was turned to a smaller diameter than the case body) to the size of a 308 case head. They say the resulting rounds can be "fired through a high pressure AR platform with shocking, sub MOA results, and a boosted performance curve."
Sign me up!
Sadly, all I could do with the gun was fondle it, and the only personnel on hand was a kid repping for Hexmag who didn't seem to know the definition of "centerfire." But hey, fondling's better than nothing.
Of course, this is a gun for reloaders — because 45-70 ammo with rebated cases doesn't exactly grow on trees — and you can load them hot:
This case, once rebated, can be reloaded easily using existing load information for the 45-70, based on Ruger No.1 loads, and the reloader can use standard 45-70 die sets with the exception of using a 308 shell holder. Factory brass will be available shortly and available for purchase from Phoenix Weaponry. Each rifle initially will be supplied with 50 pieces of brass to help the new user get started.
The included brass is a nice touch; there's nothing like ordering a rifle in a funky round and then having to break out the lathe to rebate a bunch of brass to fit. For the money, it seems only reasonable… though the #cheapskate part of me wonders why you don't get a few hundred rounds of loaded ammo for the $4800 base price.
From company owner Aaron Cayce:
This is built on our RFL (308) upper/lower with a custom barrel and barrel bushing. This being said, we can build you one in any configuration, caliber, finish – we can do whatever you want, your budget permitting.

If you have a lathe to modify the brass, we can sell you the form cutter, or you can buy already-modified brass from us.
Manufacturer Specs
UPPER RECEIVER: Precision CNC machined and trued from billet 7075-T7 aluminum, 1913 Picatinny flat top rail section, slick-side style(removed forward assist and brass deflector), and machined for mil spec dust cover
BARREL: 4140 Chromoly 18″ 1/14 twist Douglass Airgage Button Rifled 8 Grooves Ultra Rifling Custom Profiled Barrel
GAS SYSTEM: Direct impingement, Phoenix Weaponry custom designed and built, light-weight, ultra-low profile, stainless steel adjustable gas block. Rifle length gas tube
HANDGUARD: Phoenix Weaponry designed and CNC built, 15", lightweight, free-floating, modular handguard. Precision machined from 6061-T6 aluminum. Phoenix manufactured
Picatinny rail sections, QD Sling Mounts, Handstops and Sling studs can be added at 45 degree increments around the handguard and along the entire 15" length of the tube are also available. Proprietary barrel nut with screw lock mounting system for increased stability and strength
DUST COVER: Billet dust cover when closed is flush with rest of receiver completing the slick side look
MUZZLE DEVICE: Phoenix Weaponry "Chevron" muzzle brake, CNC machined from 4130 chromoly
BOLT CARRIER GROUP: Standard .308 Bolt Carrier Group
LOWER RECEIVER: Precision CNC machined and trued from billet 7075-T7 aluminum. Magazine well is heavily flared for ease of magazine changes. Accepts all mil-spec magazines and most popular polymer magazines
TRIGGER GROUP: Phoenix custom 3lb. precision trigger
CHARGING HANDLE: Standard .308
BUTTSTOCK: Magpul ACS Stock in FDE
PISTOL GRIP: Magpul MOE in FDE
COATED: Cerakote FDE (other colors available in Duracoat & Cerakote)
MAGAZINE: Modified Magpul 10 Round Magazine 6 Round Capacity
WEIGHT: 9.75lbs
OVERALL LENGTH: 41″
Oh, how I wish this had been available to shoot at Range Day. Just 'cause I can't afford it doesn't mean I don't want one. What about you?