Watch: Confederate Keen-Walker Breech-Loading Carbine
Russ Chastain 01.27.18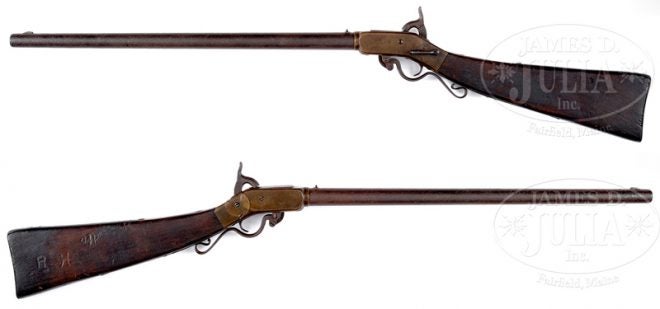 This is a rough old specimen of a .54-cal breech-loading Confederate rifle–breech-loading, but not a cartridge rifle–from relatively early in the Un-Civil War.
For each shot, the gun could be loaded with a paper cartridge–or more likely, with powder and Minie ball. The front of the steel breech block pivots upwards out of the bronze frame to allow for loading, when the lever/trigger guard is moved downward.
Little is known about the Keen-Walker Gun Company, except for a few Confederate arsenal records that have survived. From those we know that the company delivered a total of 282 of these single-shot .54 caliber carbines to the Danville Arsenal in 1862, receiving $50 each for the first 101 and $40 each for the remainder.
Walker went on to be a governor under both Confederate rule and afterward; Keen continued as a government contractor for the Confederacy in various capacities.
Enjoy.