American Tactical SBR Kit for GSG MP 40 Pistol
Rob Reed 01.30.18

The German Sport Gun MP 40 pistol has been imported to the U.S. by American Tactical since 2017. This semi-auto look-alike of the German WWII MP 40 submachine gun captures the look of the original with the exception of the folding stock. Since the barrel is below the 16″ minimum length only the pistol variant has been available…until now.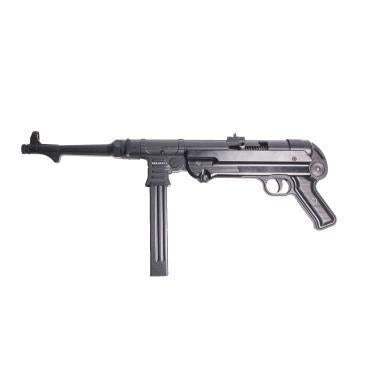 The AT MP 40 SBR kit offers the stock and components to convert the pistol to a Short Barrelled Rifle after approval from the ATF. The kit also includes the necessary 922 (r) compliance parts.
The base MP 40 pistol has also been improved for 2018. According to a AT rep the magazine feed lips, bolt, and chamber specs were changed slightly to improve functioning. I experienced an out-of-battery discharge with the MP 40 pistol at the 2017 SHOT Show range day and while I was unharmed, and the pistol appeared undamaged, it was startling to say the least. The rep said the redesigns were to address that issue and related functioning problems.
For more information on the specs and installation of the MP 40 SBR kit watch the video from the 2018 SHOT Show.