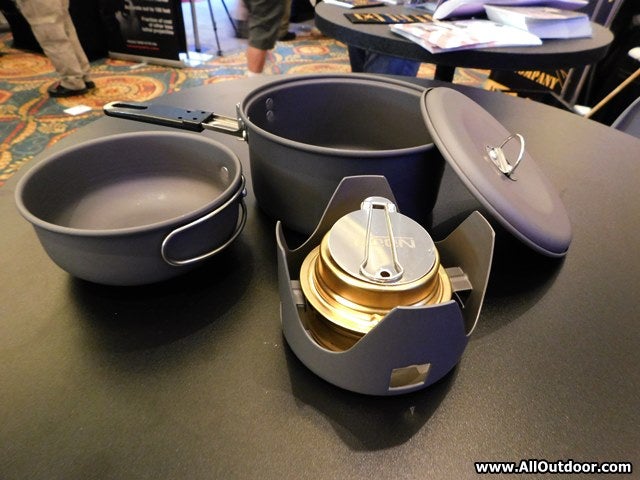 One of the wonderful things about SHOT Show is how you can be walking along, look into a booth, and see something unexpected. This is what happened when I came across the NDUR booth at the 2018 SHOT Show.
NDUR had a small booth set up with a variety of camping, hiking, and general outdoor items. One item caught my eye, and that was a self-contained cook set.
Set contains:
Large pot
Small pot
Alcohol stove
Stand
Everything fits into the large pot, then the handle of the pot folds over to secure the lid. Which keeps everything nice and secure inside the large pot.
The cook set seems a little bulky for hikers or backpackers who may want a light weight cooking option. However, if someone is going to spend a few days in one location, this may suit their needs.
The stove runs off denatured alcohol. Over the past few years it seems denatured alcohol has been losing ground to the lightweight blended fuel stoves. Several years ago it seemed that denatured alcohol stoves were the rage. Now it seems they rarely get mentioned.
Besides a self-contained cook set, NDUR also had a selection of:
Plates
Sporks
Cups
Compasses
Fire starters.. etc.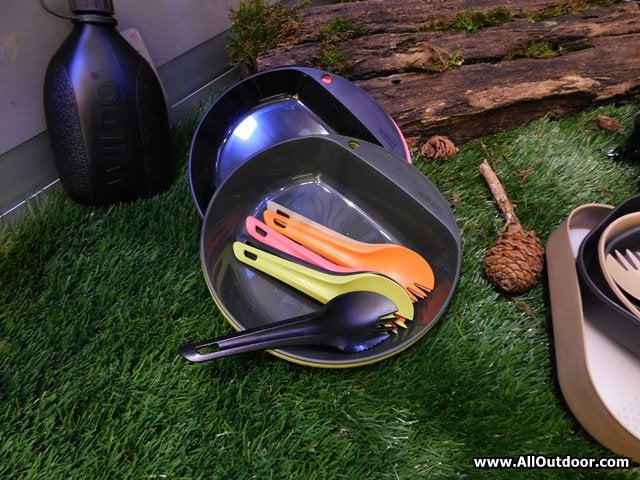 The sporks are made for a flexible polymer material. A company representative was giving a demonstration showing how flexible the sporks are, went to bend one, and it snapped in half. Upon breaking, the lady yelled out, "Oh SH*T. It's not supposed to do that!" I thought it was rather funny, but she did not appear to see the humor in it. She picked up another spork, bent it, and the second one did not break.
That situation is one of the great things about SHOT Show. Someone can walk around, see new products, and talk to company representatives about their products.