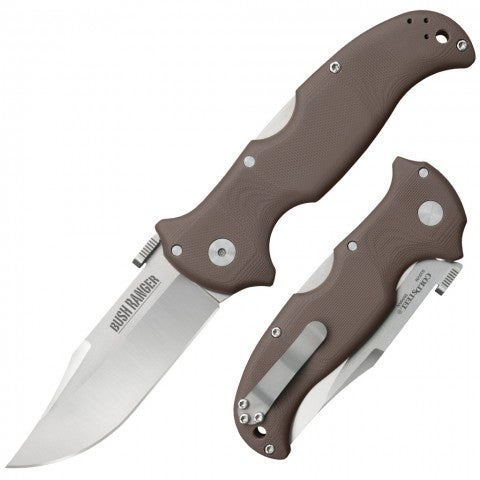 Cold Steel is an American company that, like SOG and CRKT, produces knives exclusively through the use of OEMs. Most of Cold Steel's manufacturers are overseas, Taiwan, China, and Japan, but with the release of the 4Max last year they have started using US-based OEMs as well.
Cold Steel came to prominence for two things—the popularization of an American take on the Japanese tanto blade and aggressive marketing. This design was focused on penetration power and is significantly more angular than the Japanese tanto blade shape. In promoting the tanto, Cold Steel took out advertisement in a wide range of places, some of which was quite eye catching. They also launched a line of long form ads called Proof where they showed off their knives and weapons often in destructive and/or gruesome fashion. While some folks object to these videos as been ridiculous, it is clear, if you have followed Cold Steel for a while, that they get this and a lot of the heavy metal destruction and blood is tongue and cheek.
Cold Steel is known for their gigantic knives, especially folders. The Espada XL is one of the largest regularly produced folders in the world (rivaled only by the Fox Knives Meswaki Folding Tracker, which is 2 inches shorter but almost two ounces heavier). They also have a line of very large fixed blades—bowies and kukhris. Many of these knives are quite good as choppers and most have excellent production sheathes. Cold Steel also has a full range of swords, axes, spears and other unusual weaponery
Recently
For a long time Cold Steel relied on similar designs in a wide variety of sizes from reasonable to insanely large. In the past four years, however, they have great expanded their designs, added high end steels, and collaborated with a high profile custom maker Andrew Demko. Not only have they imported Demko's style, they also use his lock, the Tri-Ad lock. This is a variant of the lock back and the result is a very strong lock that is still familar and easy to use. Additionally many Cold Steel knives use Demko's elevated thumb stud for deployment, a design that allowed for a knife to be opened slowly or deployed as it is retrieved from a pocket.
Steel was often a weakness in old Cold Steel knives, but they have improved drastically in this area. Many of their lines come in CTS-BD-1, with step up blades running CTS-XHP. There are a few higher end knives with S35VN and even some 20CV. Last year Cold Steel debuted another Demko invention, the Hollow Thumb Ramp (HTR). I found it to be quite effective but it did not make a large impact on the market.
2018 Line Up
This year's line up is smaller than last year and has a distinctly fixed-blade focus. The new tech for this year is the secondary lock that helps make the knife even more secure. Two things that aren't necessarily a good thing. First Cold Steel has four knives that run 8Cr13MoV, a very inexpensive steel that is prone to corrosion. Second Cold Steel has three knives with non-metal pocket clips, a design that Spyderco abandoned. These clips have proven to be too fragile and lacking sufficient spring to make them useful over the long run.
The Taipan, their range of Tantos, and the SRK all get San Mai steel upgrades. For me, this is kind of yawn inducing. None of these knives are bad. In fact, they are quite good. The issue I have is that the old models were quite good with the steels they had and San Mai with a VG-10 core doesn't offer that much of a performance upgrade. I would have much preferred these knives (and other Cold Steel fixed blades) get 3V blades.
The folders are more interesting. First, Cold Steel has apparently listened to community feedback and reduced or eliminated the exposed rear tang on a few of their new Tri-Ad lock knives. This was often the sole weakness of the lock attracting lint and other pocket debris that prevented solid lock up (it doesn't matter how strong a lock is, if it doesn't engage correctly). The Double Safe Hunter has the reduced exposed tang, Tri-Ad lock, and the secondary lock, but it has 8Cr13MoV steel and the non-metal pocket clip. There is a large, budget flipper the Luzon that comes in two sizes—big and REALLY big. The Storm Cloud is a high end knife that runs S35VN steel and has carbon fiber handles. It also has Cold Steel's Americanized tanto. This knife is at the top of the price range for their 2018 offerings coming in at an MSRP of $300. It also happens to come close to the ideal blade:weight ratio with a 3.5 inch blade and a 3.7 ounce weight. Another premium knife is the Bush Ranger, with a G10 handle and S35VN steel. It will have an MSRP of $269.95. There is also a budget version of the Bush Ranger that will run 8Cr13MoV and cost $49.95.
Cold Steel's line up is rounded out this year with a baseball cap, work gloves in two colors (tan and black), a bowie-style Mini Tac, and a drop forged push knife.
Instabuys
Nothing is a screamer for me. The lesser steel, the secondary lock, and the non-metal clips are are all negatives. The reduced gap between the blade and the handle when the knife is closed is a great thing. I do like the look of the Double Safe Hunter, I just wish it had better blade steel. If I buy any knife from this line up it is probably the Bush Ranger. The Storm Cloud looks great specs-wise, but I have no need or desire for the American tanto blade shape.
I'd still like to see Cold Steel make a premium knife in the modern style with a blade shape under 3 inches. Looks like we will have to wait until next year.
Grade: B-
Some nice blades, but plastic clips and cheap steel aren't a good addition to the line up.