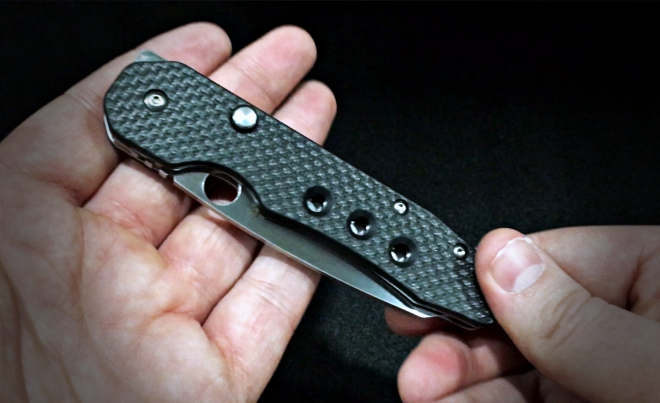 Spyderco is located in Golden, Colorado and was founded by Sal Glesser. The name came from one of their original products which was a clamping tool with multiple grasping arms designed hold objects for carving and other two-handed detail work (hence the reference to spiders in both the company name and logo). After that they developed a series of sharpeners using alumina ceramic materials. In the early 80s they put out their first knives—the Worker. The Worker contained all of hallmarks of a Spyderco—thin, compact handle, relatively small size, and most importantly a pocket clip and the iconic thumb hole and hump.
Almost all Spydercos have had some sort of hole in the blade (it is usually a small vestigial hole in fixed blades and flippers). This innovation not only gives Spydercos a unique look, it also makes their knives both lighter and easier to open. The inclusion of a pocket clip was another simple idea that made knives better, ensuring that they stay put and are close at hand when needed. Other signature touches from Spyderco includes the Compression lock, the Ball Bearing lock, deep-carry, over-the-top wire clips, and very ergonomic-centric designs.
Spyderco also has a long tradition of using a wide variety of high end steels. Generally speaking they are the first company to make knives in a new steel. They were the first or among the first to use ZDP-189, M4, S110V, CTS-XHP, CTS-204P, LC 200N, and 3V (their 3V knife was a folder, the Tuff). They also have a line of knives, the Mule series, dedicated to introducing new steels to production folders.
Spyderco does typically collaborate with custom makers including Michael Walker, Bob Lum, Bob Terzuola, Brad Southard, and Gayle Bradley. That said, many of their designs and most of their evergreen knives were developed in house by Sal, his son Eric, who is taking a larger role in the company, Michael Janich, and Ed Schempp. Janich brings with him an adundance of experience with tactical knives and Schempp has a wide knowledge of knives from around the world and develops blades in the Ethnic series. Finally, unlike many companies, Spyderco releases many knives with blades under 3 inches, understanding that for most everyday tasks bigger folders aren't necessary.
Spyderco is both a producer of blades and uses OEMs. They have OEMs in Japan, China, Italy, Switzerland, and most importantly Taiwan. The Taiwan-made Spydercos are among some of the finest made production folders available. When making their own knives they are made in Spyderco's facility at Golden, Colorado.
Recently
Spydercos recent line up has included a lot of high dollar collaborations like the integral Nirvana from Peter Rassenti and the Brend/Pirela Mamba. Both were well north of $400. They also released a number of strange collabs including the Myrtle and the Vrango. Spyderco's embrace of the flipper trend has been less than seamless. They released the Domino and Dice to something less than universal acclaim and the pair of Southard flippers have been less than ideal. The Mantras, however, were excellent.
Spyderco is often carried through weaker product line ups on the strength of their evergreen line up—the Delica, Endura, Ladybug, Dragonfly, Native, Manix, Paramilitary 2, Stretch, and Military are among the best knives available and Spyderco regularly releases sprint runs of these classics with new exotic steels or unusual handle materials (or both).
2018 Line Up
Spyderco did something quite interesting this year, releasing a catalog in December 2017 that had everyone thinking that was their line up for the year, then at SHOT Show they debuted a half dozen amazing knives.  I gave them a B+ based on the catalog.  With the new stuff from SHOT this is one of the best line ups I have seen since I started covering knives about 7 years ago.
This year sees the release of three knives in the new high end waterproof steel LC 200N (aka Z Finit). The Native will get a release with the steel and there will be two versions of the Caribbean running the steel. The Caribbeans would be the easy choice thanks to their lock (a Compression Lock), but their handle scales are not just hi-vis, they are nausea-enducing. These are horrendously ugly blades.
The Chaparral is getting a budget remake—there will be an FRN version of the sweet, small folder. At around $85-90 it will fight with the DFII for that space in the market (which, of course, is basically only Spyderco as no one else really has multiple knives under 3 inches). There will be yet another small knife—the Lil' Native, but this time with a Compression Lock. The Rhino, a knife that has been delayed a few times, but it looks like it will be released in 2018. This is trailing point/Persian style folder with a Compression Lock. The little big knife philosophy is alive in well in Colorado.
There are two eye catching fixed blades—the Sal-designed Respect bowie (a SPYDERCO BOWIE!) and the convex ground Zoomer. Both look weird, totally out of character for Spyderco, and amazing. This flexibility and willingness to venture out of their comfort zone is one of the reasons Spyderco is such vital company.
Continuing what is certainly the most frustrating tradition in the knife world, Spyderco has a Brad Southard collab—the Hanan. This is a production version of a great Southard custom, but unfortunately it joins the other Southard Spydercos on the do not buy list thanks to a ridiculous recurve (in S30V no less…good luck sharpening this knife). One of my favorite custom makers and one of my favorite production companies just can't seem to get this right. Please release a Downing. Please.
There are some new Clipitools and a few multibladed Spydercos, but none of these really caught my eye. The problem is the SAK Cadet is just such a good design. Any chance of a collab Spyderco?
It wouldn't be a Spyderco annual line up without a few Sprint Runs. The sleeper hit PPT is coming back with an S90V blade. There will be a Super Blue version the Caly Jr. Finally there is a Sprint Run Kopa, a line that I thought was dead.
The SHOT Show stuff included a Mantra 3 with a compression lock and a redesigned pivot for better flipping action.  There was also the EDC focused Spyderco Brouwer, a large compression lock flipper called the Amalgam, and the highlight of SHOT 2018, the Smock Spyderco, a knife that borrows the excellent design of Kevin Smock's first custom and makes it into a great looking blade.
Instabuys
Spyderco's line up is chock full of greatness–the Brouwer, the Mantra 3, the Smock, and the Native 5 in LN 200C are a sure thing. The Rhino looks unique and cool. I can't imagine that I won't eventually buy either the Lil Native or the FRN Chaparral. The Caly Jr. has some of the best ergos of any Spyderco, and that is saying something. And really, who wouldn't want a Bowie from the Spyder?
Grade: A+
Best Line Up in Years by any company.  AMAZING.