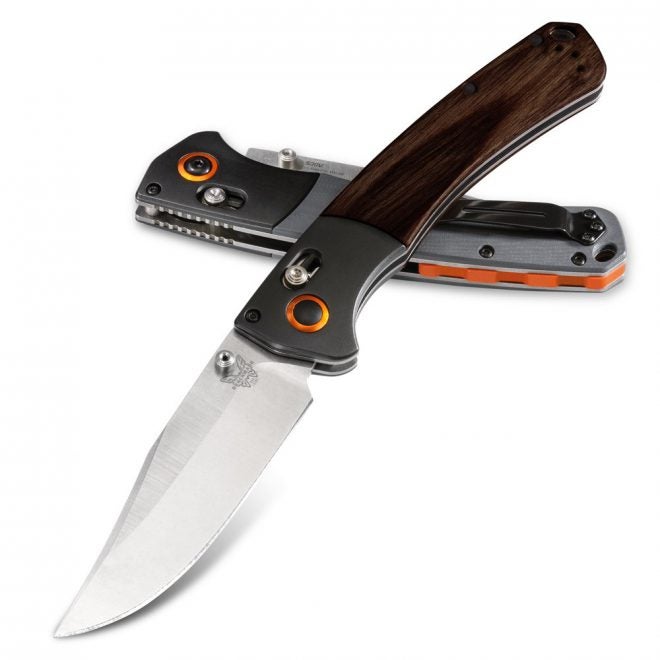 Benchmade was founded in California in 1978 as "Bali-Song." At the time they focused on producing high end balisong or butterfly knives. After a few years, they started making other knives—fixed blades and folders. The company changed its name to Pacific Cutlery Corporation. That company was dissolved and Benchmade was born in 1987.
Benchmade has always positioned itself as a high end brand with its knives usually coming in at the top end of the price bracket among the major brands, pricing their products just a step below small, boutique brands like Chris Reeve Knives. Because of the price of their knives and a trend of using slightly less than the best blade steel, knife knuts have derided Benchmade for their pricing, often referring to a "Benchmade tax." Recently, this trend has gone away with a large number of reasonably priced knives.
Benchmade's line up is organized into classes—Blue, Black, and Gold. There is also a Hunt line of knives. Benchmade used to have co-branded knives with H&K and Harley Davidson but those deals have ended. Benchmade also used to have a line of overseas produced knives, the Red class, but they have phased that line out. Benchmade's current line up is produced entirely in the US.
Blue class knives are supposed to be everyday carry, tool knives. Black class knives are tactical designs. Gold class knives are usually classic designs revamped with high end materials and decorative visual touches. They are three or four times the price of the original and produced in limited numbers. Benchmade is currently cobranding knives with Shinola, the watch company.
Benchmade has a history of collaborating with some truly great custom makers—Warren Osborne, Mel Pardue, Ken Steigerwalt, and Shane Sibert among others. Benchmade has a patent on a lock design they call an Axis lock. This lock is quite strong, fully ambidexterous, and takes up very little space inside the handle of a folder. Some people dislike the Axis lock because it can induce blade play when it is not executed with the strictest tolerances. Benchmade makes a number of very highly regarded balis, as their history would indicate. They also make a number of classic automatic knives.
Recently
In 2017 Benchmade continued a string of highly praised designs that began in 2016. They revamped their single most important knife design—the Griptillian in large and small format. They added G10 handles, an over the top, deep carry pocket clip, and swapped out the 154CM blade steel for 20CV. This huge upgrade was just the beginning. They produced their first integral, the Anthem, and the knife was an instant high despite a huge price tag ($425). It marked a fundamental change in how the Axis lock was implemented much to the pleasure of knife knuts.
Then they struck a cord with the trend back toward traditional knife designs and released the Proper. The Proper was my favorite piece of gear in 2017. They ran out this string with the release of the veritigo-inducing utralight Bugout. Just three years ago knife fans were wondering if Benchmade was starting a long, slow death spiral with one boring expensive knife after another. Now, the Butterfly has been reborn.
2018 Line Up
There are, as usual, a lot of Axis lock knives. If you don't like Axis locks, turn away now. If you are bit more reasonable, keep going.
First, Benchmade's 2018 line up is marked by the release of a number of smaller versions of previous designs. There are "mini" versions of the Crooked River, the Freek, the Boost, and the Presidio II. It is nice to see a company, other than Spyderco, finally acknowledging the need for more pocketable blades. Unfortunately, Benchmade's understanding of the word "mini" is challenged by some of these designs. All of them still sport blades that are 3 inches or longer. The Mini Crooked River has a 3.5 inch blade. A line up of Dragonflies this is not.
The Hunt line gets a few totally new designs. First is the scaleless Altitude. This small bird and trout design runs S90V for ultra end retention and a small "micro scale" which appears to be more of a pivot and pinch point for precision cuts than anything else. There is also a classic drop point hunter, the Pardue Hunter. The knife runs micarta handle scales and a leather sheath. There is also a folder—the Grizzly Ridge—with blaze orange rubberized inserts and jimping near the tip of the blade for skinning purposes.
The Fact is a massive, 4" blade with a scale-defying weight of 3.24 ounces. Its slim handle and dagger blade should make it somewhat pocketable despite the ginormous blade. Also in the Black line is a true dagger, the fixed blade version of Benchmade's classic auto—the Infidel. If you have never held an Infidel, you should. This is a knife that instantly speaks to the subconscious part of your brain, telling you "I am a cool tool." I imagine the fixed blade version will do the same.
There is an Axis-assisted flipper, the Vector, and a Gold class version of the Foray, complete with marble carbon fiber handles and a mother of pearl inlay.
Instabuys
Overall, the Mini Crooked River, despite not being mini at all, is a guaranteed purchase. Its classic looks—wood handle and bolster—are updated with modern materials. The wood is actually a resin-wood product called Dymondwood and the blade steel is S30V. I also like the Pardue Hunter, though the MSRP is something of a confirmation that the Benchmade tax was gone but not forgotten over the past two years. I also like the Mini Freek, as it is the most pocketable of Benchmade's new knives. I have no use for the Altitude, but Bird and Trout designs always speak to me as they are excellent EDC fixed blades.
Grade: B-
Benchmade still has only one folder (the Valet) under 3 inches, so the push towards mini should keep going. It was clearly the right move. I also think they have wisely chosen the models to shrink. If they were all running 20CV, this would be the best line up of the year, but alas, there is a lot of S30V, which is good, but still not my favorite steel.
SHOP NOW