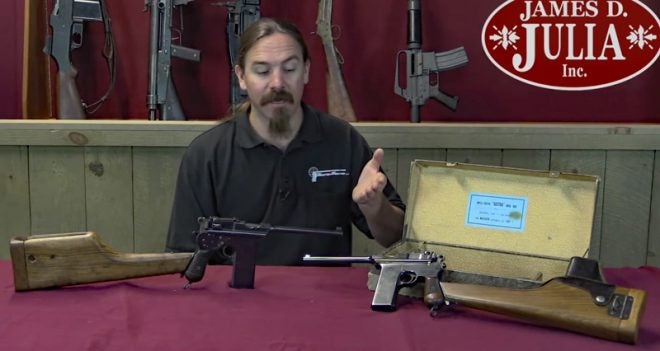 In this video, Ian of Forgotten Weapons looks at a couple examples of an old Astra 902 shoulder-mounted pistol, essentially a modified copy of a broomhandle Mauser pistol.
There are two of them: One is a select-fire version, which is by far the most common. The really rare one is the semi-automatic-only version, complete with an original factory box.
The only Astra I have ever dealt with was a tiny little 25 ACP Firecat, which seemed decent enough for a cheap Spanish belly gun. These 902s definitely look like a lot more fun.
Fun, yes, but useful out to the 1000-meter range on the graduated long-range rear sight? Not so much.
These and other similar guns were made to be sold to China, which in the late 1920s was strongly in the market for them.