Hands-On with STI's DVC Carry and DVC Omni 2011 Pistols
Jon Stokes 02.09.18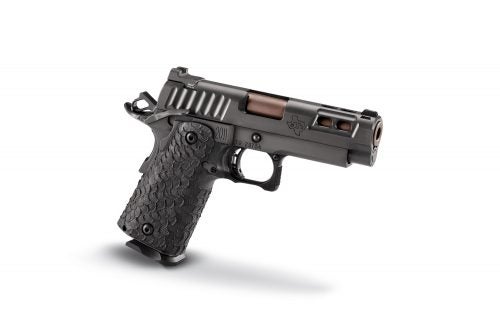 I've managed to stave off a 1911 addiction, and I plan to keep it that way. But I do have a soft spot for STI, given that A) I live about a mile away from their HQ as the crow flies, and B) their 2011 platform often dominates the top 10 list of many national pistol matches.
The company was a SHOT Show Range Day this year, and I got a chance to spend some time with two of their guns, and came away really impressed.
The first gun I shot was the DVC Carry, a compact 2011 in 9mm with a ported slide and the following features:
BBL- 3.90 inch Bull Barrel, TiAIN Coating
FINISH- Diamond Like Carbon, Black Color
MAGAZINES- 2 ea / 120mm, Black Color
TRIGGER- 3.5 lbs w/Ambi Safety Lever
SIGHTS- Low-Profile Tritium Front, Fixed Ledge Rear
GRIP- 2011 DVC Stippled, VIP Length, Black Color
OTHER- Recoil Master
As I mentioned in my coverage of Remington's R1, despite my large hands I like the Commander-sized 1911's, and the DVC Carry is in that vein. It's a very comfortable, soft-shooting gun in 9mm, and it's a dream to shoot. The few reviews that are out there of this gun do not lie, it's very accurate and stays on-target for followup shots.
Of course, for $3,000.00, it had better be a dream to shoot. The features and price put this gun squarely in competition with the Wilson Combat EDC x9. I'd love to shoot them side-by-side, but that's not likely to happen anytime soon.
I look forward to trying to score one for T&E, so that I can write a bit more about it. I have to confess, I carry DA/SA pistols so I'm not really that confident of my ability to work the thumb safety under pressure, but as part of a review I'd probably carry one. It's certainly compact enough, even with 15 rounds of 9mm on tap.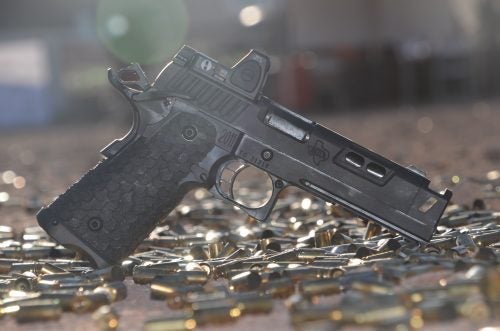 Next I shot the DVC Omni in 9mm, a full-sized 2011 with the company's Island Comp Barrel. I'm not sure exactly how this barrel works — it's ported in some way — but the recoil is definitely mild and, more importantly, there is very little muzzle flip.
BBL- 4.15″ Island Compensated
FINISH- Diamond Like Carbon, Black Color
MAGAZINES- 1 ea / 140mm and 170mm, Black Color
TRIGGER- DVC Tuned 3.0 lbs w/Ambi Safety Lever
SIGHTS- Fixed Ledge Style Rear, 2 Dot Tritium and Tritium Front Sight
GRIPS- 2011® DVC Stippled, Black Color
OTHER- H.O.S.T. Optic Cut, Full-Length Tactical Rail, Dawson Precision Tool-Less Guide Rod, Tactical Slim Magwell
This beast comes in at $4,000, so yeah, it's spendy. If I were shooting competitively I'd definitely consider it, though, especially given how well these guns do.
I made contact with the STI folks and we cooked up some plans for me to visit the factory and do a little more shooting of these guns, so stay tuned for more.