Best New Hunting Rangefinders From SHOT Show 2018
Russ Chastain 02.13.18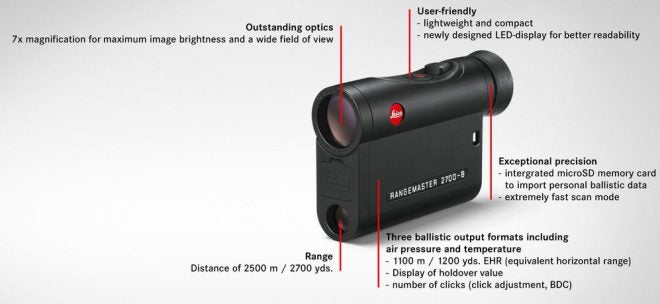 Often, the best new hunting products make their debut at the SHOT Show, and 2018's 40th annual SHOT Show was no exception. Here are some highlights among the new rangefinders introduced for hunters at the Show.
Nikon Monarch 3000 Stabilized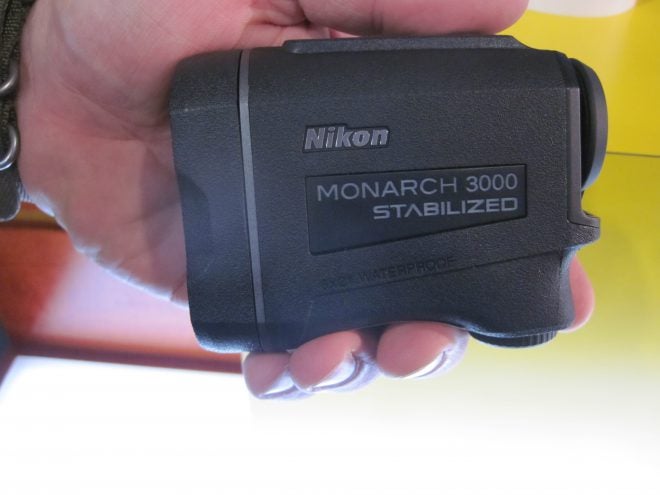 Nikon's newly-released Monarch 3000 Stabilized laser rangefinder is an improved version of the Monarch 7i VR. This new model has an MSRP of $419.95, and utilizes a form of stabilization which they say nobody else can offer. I know that will be welcome for many hunters, because it can be mighty tough to hold a rangefinder steady enough to range even a deer-sized target at long distance. 6x magnification, waterproof, fogproof.
The MONARCH 3000 STABILIZED has a smaller, lighter body and employs vibration reduction. Extended maximum measurement distance of 2,740 metres/3,000 yards. Easier-to-view red OLED internal display with auto-adjusting brightness based on ambient light level.

Measurement response is stable and fast regardless of distance. The much-evolved HYPER READ displays measurement in approx. 0.3 second. Waterproof, fogproof, and compact.
Rob Reed has taken a look at this in a short video here on AllOutdoor.
Nikon Black RangeX 4K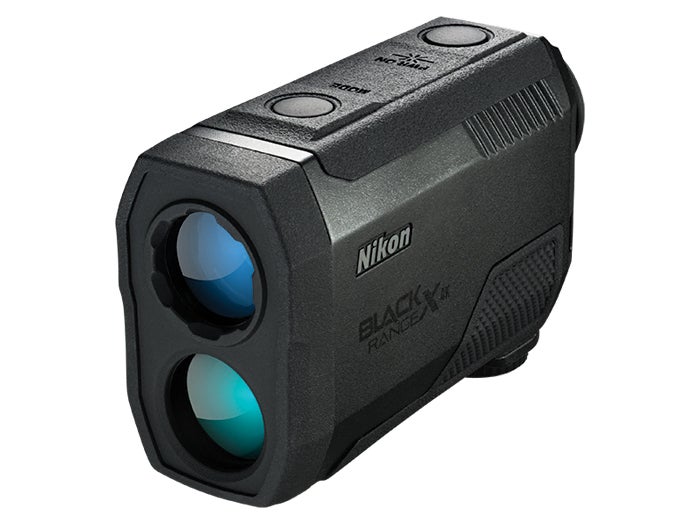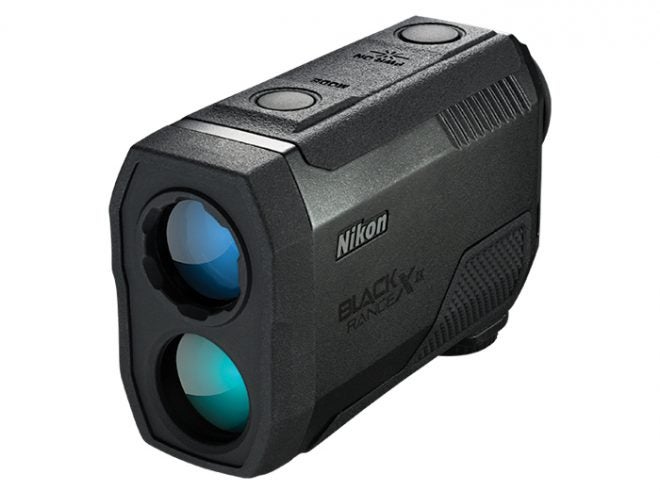 The Nikon Black RangeX 4K is another new Nikon rangefinder described in the video by AllOutdoor's Rob Reed. Although it lacks the stabilization of the aforementioned Monarch 3000, this one can reach out to 4000 yards! That's more than 2-1/4 miles, folks, and with a $449.95 MSRP to boot. Like most of the better rangefinders, it corrects for slope by providing you with a true horizontal distance to your target. 6x magnification, 3.5mm exit pupil, waterproof, fogproof.
Nikon's new BLACK RANGEX 4K is engineered to deliver [more than] 2 miles of ranging capability with the speed, precision, and consistency you need for extreme long-distance shooting. Featuring Nikon's HYPER READ function for extraordinarily fast, positive measurements, the rangefinder's integral monocular offers the bright, sharp view required for target spotting and acquisition. BLACK RANGEX 4K's high-visibility red OLED display provides ideal contrast on distant targets with automatic or five stages of selectable brightness. For incline or decline shooting angles, the RANGEX is equipped with Nikon's ID Technology that delivers the one number you need for determining your best shot.
Leica Rangemaster CRF 2700-B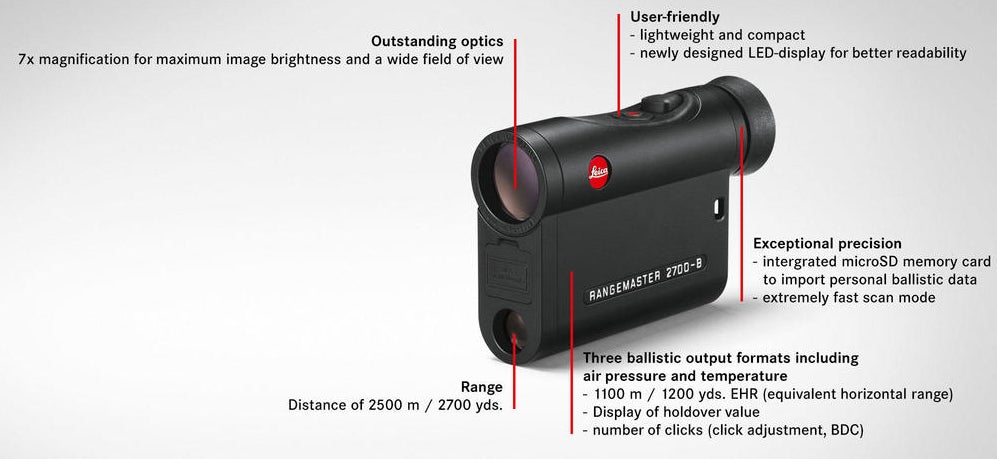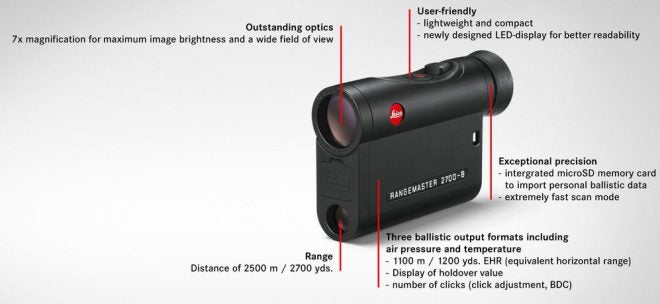 Leica is well-known for producing quality optics for many fields, and the new Rangemaster 2700-B rangefinder looks to carry on that tradition.
As the name implies, it reaches out to 2700 yards. Heck, it even has a micro SD slot to allow you to import your own ballistics data. I've seen these for sale through a number of websites for $899.
Almost automatically fits in the palm of your hand and works well for left-handed and right-handed hunters. This allows comfortable grip as well as smooth operation. On average, a Leica CRF Rangemaster weighs only 220g. Clear images in twilight or other difficult lighting conditions. Wide field of view. LED-display with automatic brightness control always allows easy reading of the measured distance (or a ballistic parameter).

For more than 20 years now, hunters worldwide have trusted the Leica CRF Rangemasters, because they work absolutely reliably. Depending on the choice of model, the various ballistic parameters can provide hunters with important additional information, needed to make the right decision at the right moment when hunting.
Leupold RX-2800i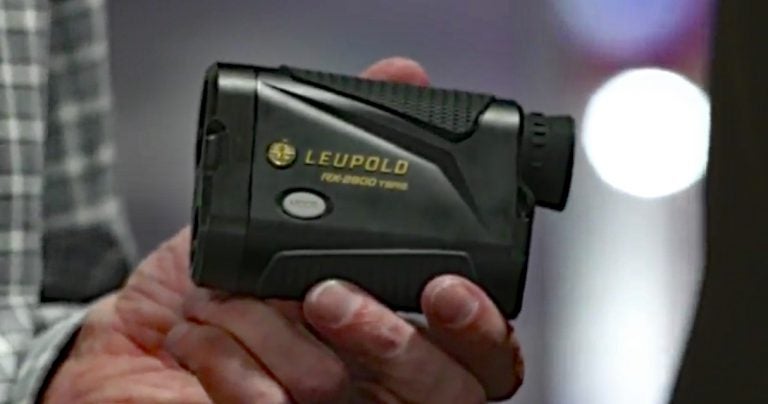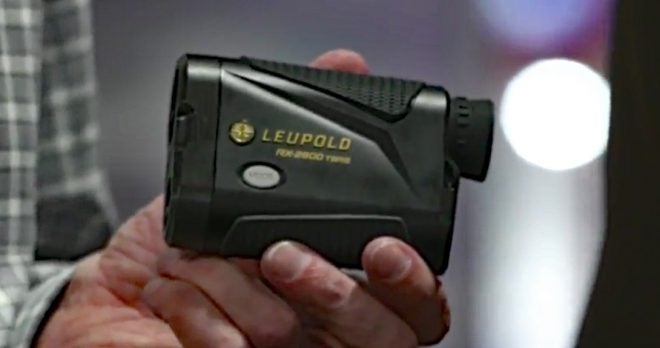 Leupold is a well-respected brand, and their new RX-2800i waterproof rangefinder looks interesting.
It contains the TBR/W, which can offer calculations on both holdover and wind adjustment. With a range of 2800 yards, it contains a brand-new "Alpha IQ engine," which they say allows it to reach out farther and measure very quickly. Magnification is 7x, an improvement over earlier 6x models.
Retail price is about $450, and if does of course include an inclinometer to measure upward or downward slope. The readout is a high-contrast red OLED display.