Best New Hunting Knives From SHOT Show 2018
Russ Chastain 02.15.18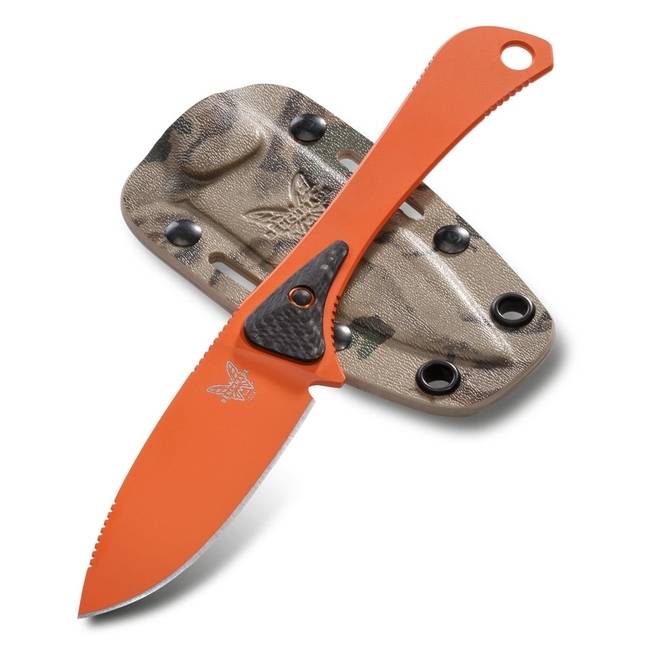 While many folks visit the SHOT Show strictly for gun stuff, the mother of all outdoor trade shows contains plenty of other goodies, including a wide array of knives and other edged tools. Here are some of the best new knives for hunters that we found among those introduced at SHOT 2018.
Benchmade Grizzly Ridge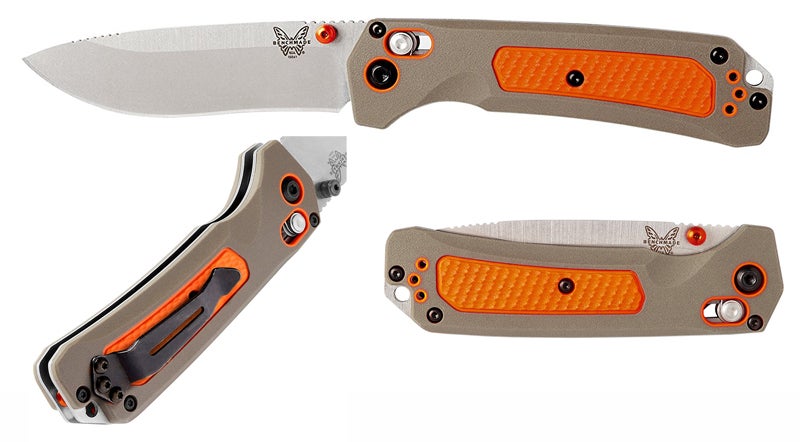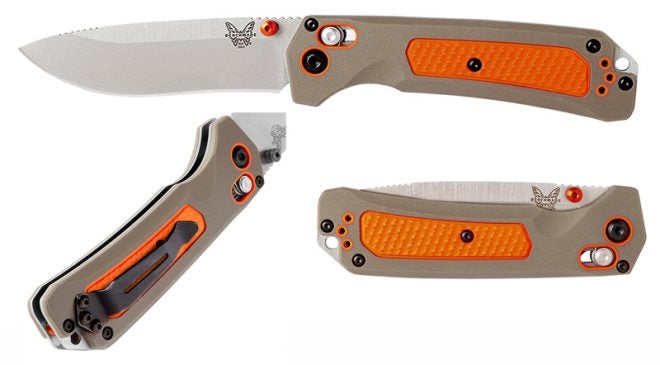 The 15061 Grizzly Ridge from Benchmade is an interesting folder for hunters. It employs the Axis ambidextrous lock, CPM-S30V stainless steel blade, a reversible clip, and an overmolded coyote-and-orange handle.
The "reversible" clip can only be swapped from one side of the knife to the other, positioning the blade "tip-up" for carrying. (I prefer tip-down carry.)
The drop point blade offers jimping on the spine for your thumb at the rear, or finger up near the tip, and sports a thumb stud that's orange in some photos, black in others. They say this is "a manual knife that can be opened and closed single-handedly."
The Grizzly Ridge carries an MSRP of $145 and is already available through Amazon Prime for $135 shipped.
Based on the highly regarded Grizzly Creek, the Grizzly Ridge brings the comfort and sure grip of a dual durometer handle, a blade designed for all-around hunting utility, and unique orange accents. Made in USA.

Designer: Benchmade
Mechanism: AXIS
Action: Manual-opening
Blade Steel: CPM-S30V (58-60 HRC)
Blade Length: 3.50″ (8.89cm)
Blade Thickness: 0.124″ (3.15mm)
Open Length: 7.84″ (19.91cm)
Closed Length: 4.34″ (11.02cm)
Handle Thickness: 0.58″ (14.732mm)
Weight: 3.77oz. (106.99g)
Buck Knives 684 BuckLite Max II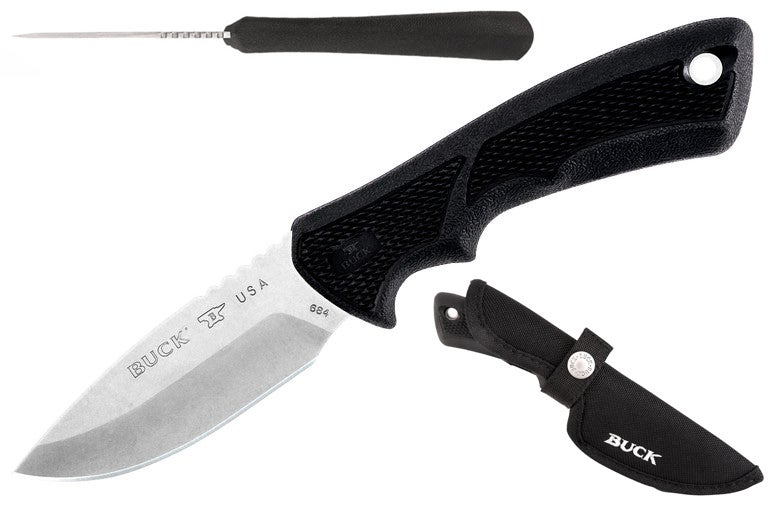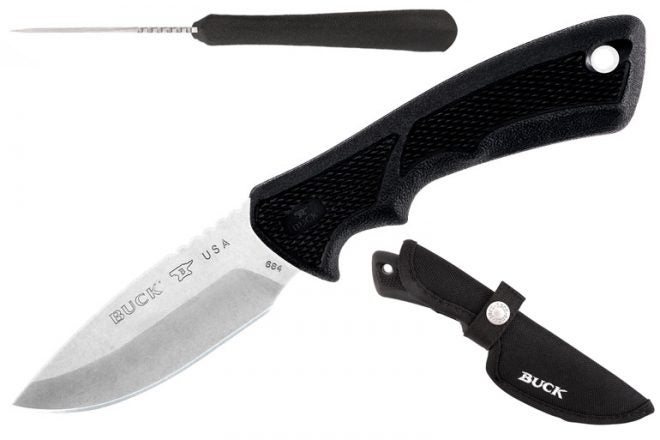 The 684 BuckLite Max II Small Knife is a departure from the rest of these knives, because it's a simple, easily-affordable hunting knife. That said, this small skinning blade is also made in the USA and at an MSRP of $33 includes a simple, sturdy sheath.
The 684 might have flown under my radar had I not stopped by the Buck booth at SHOT Show Range Day. But I did, and I threw some rings and knives and won a few prizes. Among them was a brand-new 684 BuckLite Max II. And while I haven't had the chance to put it to work, I have to say it feels like an improvement over older BuckLite models. The handle material is called Dynaflex and offers some "grip & give" in addition to the simple toughness you'd expect from a synthetic handle.
The handle is on the thin side, but oddly enough I find the curved checkered portions on either side of the tang near the blade to be a natural fit for thumb & forefinger to grip for finer skinning work. The 420HC blade was shaving-sharp out of the box, and offers some non-aggressive thumb jimping on the spine.
I'm looking forward to putting this knife to work on the next deer or hog I slay, and I definitely can't say that about most cheap knives.
Smallest of the BuckLite Max II family, this skinning knife is made for details. Its full tang, ergonomic handle is constructed out of Dynaflex® rubber for superior grip, performance, and light weight. The drop point blade has been tumbled finished (less-porous, with improved corrosion resistance). Buck's advanced Edge2x blade technology has been applied to the blade resulting in insane sharpness out of the box. Comes with a heavy-duty, black polyester sheath. Made in the USA.

Blade Shape: Drop Point
Blade Thickness: 0.090″
Blade Length: 3 1/4″ (8.3 cm)
Weight: 2.8 oz. (79.4 g)
Handle: DYNAFLEX® RUBBER
Carry System: Sheath
Marttiini Kierinki
While I have a deep love of nicely-shaped heavy blades, I recognize the need for smaller blades for finer work. The Kierinki is a Finnish knife (made by the folks who've been making Rapala filet knives for decades) offering an attractive and generously-sized birch-and-birch-bark handle, which I appreciate — especially when working with slick hands & fingers. The carbon steel blade is 4.3 inches and sports a nice two-tone finish.
About the only thing this knife might need is a finger guard to keep klutzes like me from accidentally slipping a finger forward onto the cutting edge.
MSRP is $79.90 Euros, which right now translates to about $100 in the USA.
A tribute to a Finnish knife and founder of the Martti knife factory.

Janne Marttin's home village's bear knife is a jewel of the scarfs. Its blade is forged with carbon steel and the handle alternates with heat-treated birch and birch bark. The sheath is genuine leather.
White River Small Game Knife

While we're looking at non-typical hunting knives, the new Small Game model from White River Knife & Tool has a graceful appearance while offering practicality to the user. The relatively short blade (just 2.6 inches) means it might be a stretch to reach way up into a deer's ribcage to cut loose the heart & lungs, but it should be right at home skinning squirrels or shucking rabbits… and with a little more blood on your sleeves, it will handle the big stuff.
White River makes some of the best-looking knives around, and I include functionality in that assessment. I like the shape of this handle; my hands want to hold and use it. Includes a leather sheath, MSRP $150.
The White River Small Game knife design allows for great maneuverability. It is ideal for easy dressing of small game, bird, and trout. Some hunters find it ideal on larger game as well. The knife comes with a leather sheath and is part of the BAKR-BILT series designed by custom knife maker Owen Baker Jr.

Blade Length: 2.62″
Overall Length: 7.25"
Blade Steel: CPM S35VN
Hardness: 58-60 HRC
Sheath: Leather
Benchmade Altitude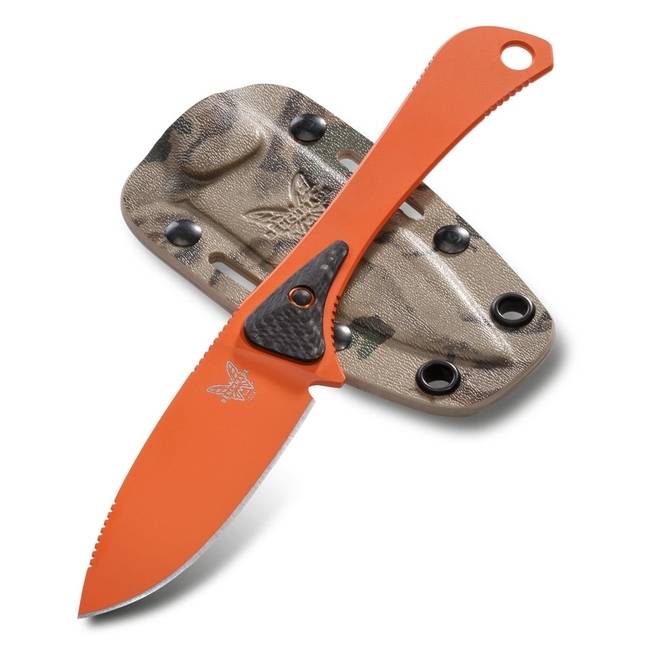 With a whopping (for what you get) MSRP of $230, this simple knife looks like something a hunter will either love or hate. The 15200ORG Altitude from Benchmade is already listed on their website as shipping in 25 business days.
There's not much to go wrong with any simple machine, and you can't get much simpler than a fixed-blade knife. Benchmade took that simplicity to extremes by offering a knife that pretty much has no handle at all attached to the orange-Cerakoted blade, providing "micro-scales" of carbon fiber & G10 to provide a bit of grip & indexing towards the blade end of the tang/handle. These small "scales" also give the simple Kydex sheath something to hold onto.
With bottom jimping at front & rear of the handle and top jimping in three locations along the back (rear of handle, thumb, and front of blade spine) and a finger guard, this might be one of the most-maneuverable hunting knives you can get — if you can hold onto its skinny tang when your hands get slick with bear grease or blood.
A black version is also available, but this orange color is much better for woods work. The ability to easily spot your knife when you drop or lay it aside, especially in low-light conditions, is valuable in itself. At 1.7 ounces, the Altitude adds little to any hunter's load.
Designed for backcountry adventure; for the hunter who counts every ounce. The ultimate lightweight hunting knife features the incredible edge performance for CPM-S90V blade steel and unique carbon fiber micro scales for dexterity and control not typically found in skeletonized knives. The Altitude™ continues to take hunting performance to new heights. Made in USA.

Blade Steel: CPM-S90V super premium stainless steel (59-61HRC)
Blade Length: 3.08″ (7.82cm)
Blade Thickness: 0.090″ (2.286mm)
Overall Length: 7.38″ (18.75cm)
Handle Thickness: 0.35″ (8.890mm)
Weight: 1.67oz. (47.34g)