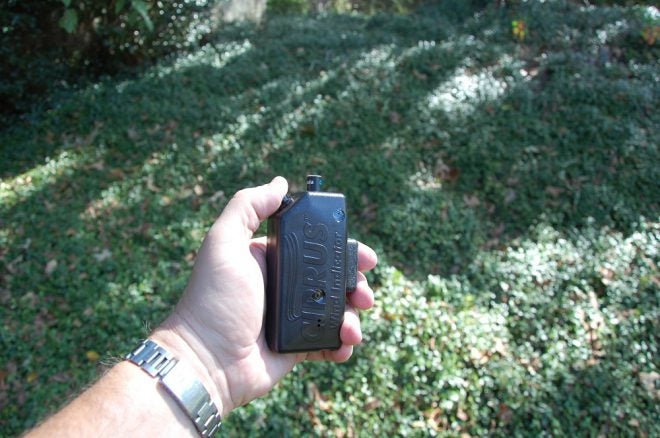 The old days of simply tossing up a leaf or a sprig of grass to test the wind direction is over. That method though was a little better than the Daniel Boone tactic of wetting the tip of a finger to stick it in the air to "test" the wind direction. Things have improved since then.
Of course, years ago car garage inventor deer hunters began to fill various types of small medicine squeeze bottles with everything from baking powder to flour to talcum powder to make homemade wind testers. Just a judicious squeeze or more like a fist pump on the bottle would sometimes emit a plume of powder or sometimes not. Better than tossing grass I guess.
Today, the Cirrus Wind Indicator takes the guesswork out of confirming the wind direction when hunting or for many other purposes too, such as control burns or chemical applications on food plots or the home lawn. Actually the Cirrus Wind Indicator can be used for hunting, golf, dog training, tactical applications, various shooting sports, fly-fishing, and much more.
The Cirrus Wind Indicator is a handheld device which can be recharged again and again to emit a vapor-like easily visible white cloud to assess not only the direction the wind is blowing, but also serves as a gauge for its velocity. The white puffs are supplied via small cartridges of material that are screwed down into the top of the small hand unit.
A single charge of the Cirrus Wind Indicator with its supplied USB attachment cord will last up to 30 hours of use. This is more than enough charge for several days of hunting or time afield. Simply attach the cord, insert into a USB port or other electrical charge connector such as the universal one I use for my iPhone. Charge until the red indicator light turns green and you're good to go.
Next, you remove the protective plastic caps from a replacement cartridge, insert to screw down thumb tight into the unit's top hole. Hold down the power button at the top while squeezing the bellows on the side to release the white cloud. The bellows may be pumped to vary the cloud effect. The cloud material will immediately react to the least bit of wind current or air thermal.
Check out the Cirrus web site at www.cirrusoutdoors.com for full details and ordering. The Cirrus Wind Indicator sells for around $39 retail. Think Christmas! Cirrus cartridges also come in scented formulas including pine, earth, and acorn in two packs.