USA1Shot Dynamic Pistol Rest
Rob Reed 02.17.18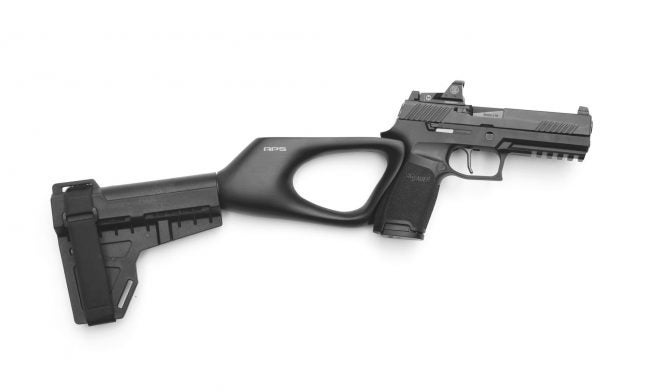 One interesting NFA hack I saw at the 2018 SHOT Show is the USA1Shot 1ShotArm. This "Dynamic Pistol Rest" is designed to increase handgun accuracy at longer ranges by stabilizing the pistol against the shooter's shoulder. The "NFA hack" part is that the pistol brace is not permanently attached to the gun but instead is held in place when shooter takes a firing grip on the weapon.
Since the shooter is merely holding the pistol brace in place it does not make the handgun into a Short Barrelled Rifle and does not require ATF approval or payment of a $200 tax.
Originally designed for military and law enforcement use the 1ShotArm has civilian applications as well. Personally, I'd like to try it combined with my Glock 40 MOS 10mm for uses such as hog hunting.
For more information on the USA1Shot 1ShotArm watch the video from the 2018 SHOT Show.