Hyskore Range Hound Target Support Systems and Other New Products
Rob Reed 02.19.18

The Hyskore shooting accessories company displayed their newest products at the 2018 SHOT Show.
Among them was the Hyskore Range Hound target support system. These pieces are made from cast, heat treated, chrome molly steel and are designed to work with standard T-posts, rebar, and EMT to create a system for hanging steel or other targets.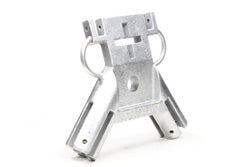 The company also displayed their 12 Gun Pistol Rack and their Degreezer Small Parts Cleaning System.
For details on these Hyskore products watch the video from the 2018 SHOT Show.