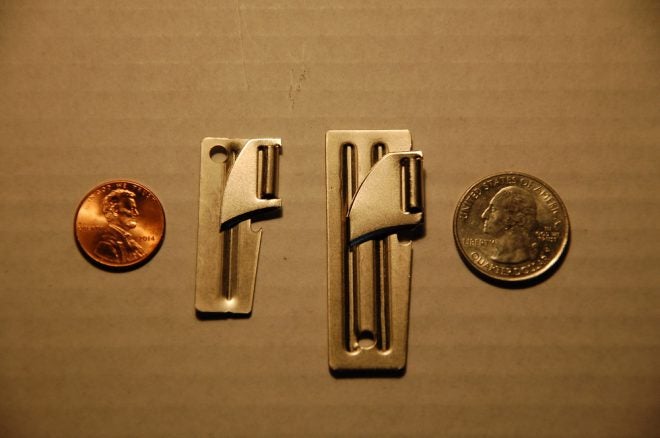 Doug Walters is a WWII and Korean War Veteran. Today he repairs electric gates and keeps them running for homeowners, ranchers, cattle farmers, and anybody with a motor operated entry gate. But he has a higher mission in life.
Doug Walters and his band of brothers meets every month at the local Cracker Barrel restaurant for breakfast. Over ham, bacon, eggs, biscuits, gravy, grits, and coffee, they plan for their next foray. You see, these guys give away classic, indeed iconic, WWII novelties to veterans who may not have seen one of these items in service since they were in the trenches themselves. They have given away thousands of them out of their own pocket.
What do they give away? They give veterans a P-38 can opener. These are for the guys that served in the Army or Marines. If they served in the Air Force or Navy they might receive a P-51 can opener. Doug says, "Most of these GI's have not seen a P-38 since their military service, but they know immediately what they are. They remember."
"We visit veteran groups all over the state, V.A. hospitals, nursing homes, V.F.W. halls, and any place that veterans gather. We buy these can openers from various sources out of our own pockets and give them away. Just one little small gesture to share a common military experience. Every WWII, Korean War, and Vietnam War vet has used a P-38 or P-51 to open a can of rations," says Walters.
"Then nearly all of them hang them on their everyday use keyrings or hang it by a small chain or string around their neck or even from a zipper pull on their jackets. In this way, the P-38 can opener can be seen by others. It strikes up conversations and introductions between vets. It's a good ice breaker, this novelty item," says Walters.
So, what exactly is a P-38 and a P-51? Yes, they were named unofficially after the two so designated fighter planes used in WWII. The original version the "P-38" was also known as the "John Wayne" by the Marines because of its toughness. Developed in 1942 the P-38 is indeed a real functional can opener. It is a small, lightweight piece of stamped metal, usually aluminum with a fold out cutter edge that can punch and cut open a sealed food can or field ration issued to the troops.
In truth the P-38 designation actually came from the approximate 38 punctures required to be put around the circumference edge of a C-ration can in order to completely open it. There is no official indication if the 38 punctures were counted first then the opener named or vice versa. I suppose the history of that was lost in its development.
Each early K-ration meal pack included a P-38 and later the C-rations included them as well. These can openers are still in production today. I just bought one of each P-38 and a P-51 off a war surplus supply table at a recent gun show. These can openers are new though and marked "US Shelby Co". They sold for $1.00 each. Each has an attachment hole punched in them to loop in a chain, nametag chain, string or other hang method.
Technically, these can openers were shirt pocket sized about 1.5 inches long consisting of a short blade or flat frame that functions as the handle. Attached via a formed loop hinge is a small cutting tooth that folds out. A notch under the hinge keeps the can opener hooked over the edge of a metal food can. The opener is ratcheted up and down to open a can.
As Doug laughingly described the difference between the P-38 and the bigger sized 2-inch P-51 which had to do with the hand and finger strength required to manipulate the can opener. "Though not official, we Army boys used to say the larger P-51 was created for the Air Force and Navy because those boys' fingers were too weak to open a can with a P-38," Doug said. Nothing official on that. I well imagine that story was invented so the Army boys could gig the other service members. All fun in service and war I guess.
So, a simple novelty item which could still have value for preppers and survivalists, also has standing among the veteran corps. These can openers are no longer used by the United States Armed Services for individual troop rations. I guess easy rip open plastic bags did away with the requirement to open a can of food. Seems a tradition the military could have maintained.
Thanks to Doug and his crew for sharing. If you see one of these can openers on somebody's keyring or whatever, ask them about it. I bet they will have a story.