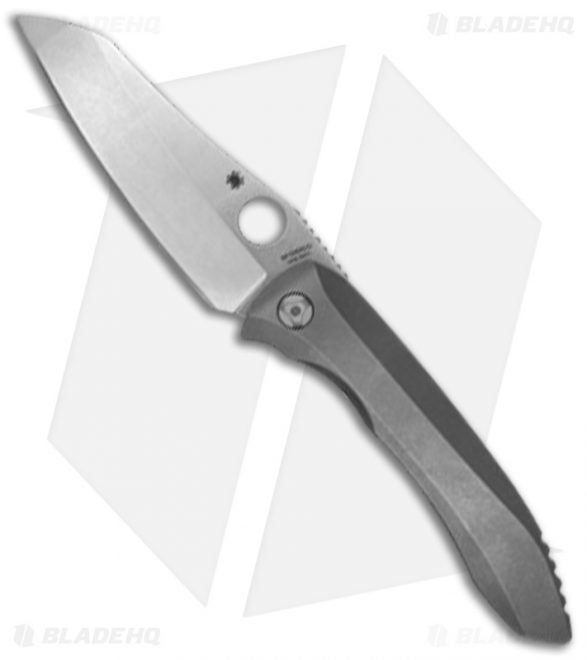 In this age of $800 production knives and custom collabs that sometimes exceed the handmade original, how do you capture the knife buying public's attention? Release a refined version of your already most difficult to make knife. That's exactly what Spyderco did at SHOT 2018. After a catalog release in December 2017, things looked good for Golden. Then SHOT brought out a whole other set of new knives including a few compression lock flippers. And then, at the very end, Eric Glesser, such of Sal Glesser, Spyderco's founder busts out his own personal carry–the Spyderco Paysan. It's a spec beast. It's a wallet crusher. And it is certainly an attention grabber.
The Paysan is the second collab between Spyderco and Canadian custom tactical maker Peter Rassenti. Rassenti's work is among the more sought after stuff out there. In part it is Rassenti's striking hand finishing. It also might have to do with his interesting blade shape. But more than anything, Rassenti's name is made on the fact that many of his knives are integral designs.
In the world of folding knives, an integral is a knife with a single piece handle. Instead of the normal thin, metal plates held together with screws and standoffs, an integral is a handle where the blade rests in a channel carved into a thick hunk of material. Rassenti's knives are titanium integrals. Aside from the gee whiz effect of such an achievement of craftsmanship, integrals profoundly reduce the number of parts in a knife, the number of places where a blade can fall apart, and the number of ways a knife can get out of whack. Simplicity is a huge boon when it comes to blades.
Spyderco's history with integrals is brief. Two years ago they released their first integral, the Nirvana. It was a collab with Rassenti as well. The knife was bonkers expensive, especially compared to other Spydercos. The MSRP on the Nirvana was $739.95. The Paysan will run even higher. The street price on the Paysan is $519.95 compared to the Nirvana's street price of $439.95. The original Nirvana had some lock stick issues that drove some in the knife community crazy. But the idea was so promising, as was the fact that the knife ran S90V steel, a steel with insane edge retention. According to accounts out of SHOT 2018, the Paysan is a more refined knife with no lockstick and a more utilitarian blade shape.
It's a lot of money. It has exotic steel and an exotic construction method. This is exactly the kind of attention Spyderco needed to steal the show.
Important Info:
What: Spyderco Paysan
Cost: $519.95
Where: Knife retailers online
Made in the USA: Taiwan
Highlights: Integral, S90V