Bow Hunting Hogs with the Garmin Xero Sight
Lucas Cooney 03.09.18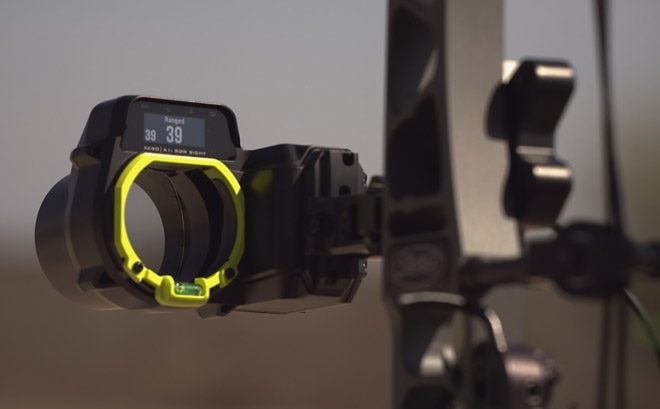 This past February I had an opportunity to test out the most innovative piece of archery equipment the industry has seen in years on a Texas hog hunt – the Garmin Xero sight.
I'll take a deeper dive into the Garmin Xero in a future video once I spend a lot more time with it, but in the meantime I thought I'd share my initial impressions after spending a couple of days hunting with it in southwestern Texas.
Garmin introduced the Xero at the Archery Trade Association show this past January to the surprise of just about everybody in the archery industry. The Xero is the first archery-specific product Garmin has ever produced and it is the very definition of a game changer.
Basically, it is a bow sight with a rangefinder built in. There is much more to the sight than that, but for simplicity sake that is the main idea.
My favorite thing about the sight is that there is no clutter in the sight housing whatsoever. Not a single pin is to be found. Instead, when you hit a button (to be taped down on the grip), you see a ranging dot appear. While holding the button down, simply point the ranging dot at your target and then let go of the button. Now a single LED pin will appear in the housing, which acts as your sight pin. You can do this at full draw (takes at most an extra two seconds) or before you draw if you prefer.
As soon as I laid eyes on the Garmin Xero at the ATA Show, I was eager to spend some time with it. Needless to say, when Garmin invited me to southwestern Texas to test it out on a February hog hunt, I jumped at the chance.
Set Up
I arrived at the ranch shortly before noon on Saturday, if memory serves, which gave me just over two hours to install the sight on my Mathews Triax and get sighted in before the first of three scheduled sits. I'll have a full review of the Triax this spring, but I will say that it is remarkably quiet and for a short bow (28-inch axle-to-axle length) it is nice and stable.
For those curious, we used the same ranch where they record the Whitetail Diaries and Americana Outdoors TV shows. There are no paid hunts at either of the two properties, so unfortunately you can't book a trip there yourself.
Garmin had some extra hands on deck to help out the four media members invited on the hunt. The key to setup up the Xero is getting the sight in the optimal position for the individual archer at full draw.
When you first put the sight on to get started, you see a portion of a grid of arrows pointing towards a circle in the middle. There is a single dot that stays in the center of the housing and you need to adjust the sight so that the single dot is sitting in the circle on the grid. To put it simply, you want to put the donut hole in the donut. See the image below to see what I'm talking about.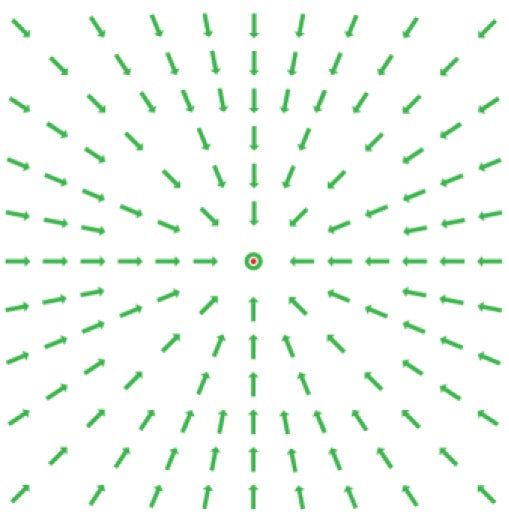 Once that is set up, the donut hole should be in the donut every time you are at full draw and ranging. If it is slightly off, you are likely not anchored properly or are putting a bit of torque on the bow grip. I think this particular feature will make a lot of people more accurate with a bow, because it will ensure you are holding it the same every single time you draw.
Once you hit this stage, you simply start ranging to sight in. I started at 20 yards, but you can start as close as 15 if you prefer. Just draw back the bow, range the target and shoot. After the shot the sight will ask if you are dead on. If you say "no," it will ask if you are High or Low. Choose the correct option and then it will ask how high/low the arrow is in half-inch increments. Then the sight will reset the LED pin and you try again and repeat the process until you are dead on at 20 yards. From here, just repeat the process as far out as you want to go. I worked my out to 50 yards in no time and was ready to go hunting.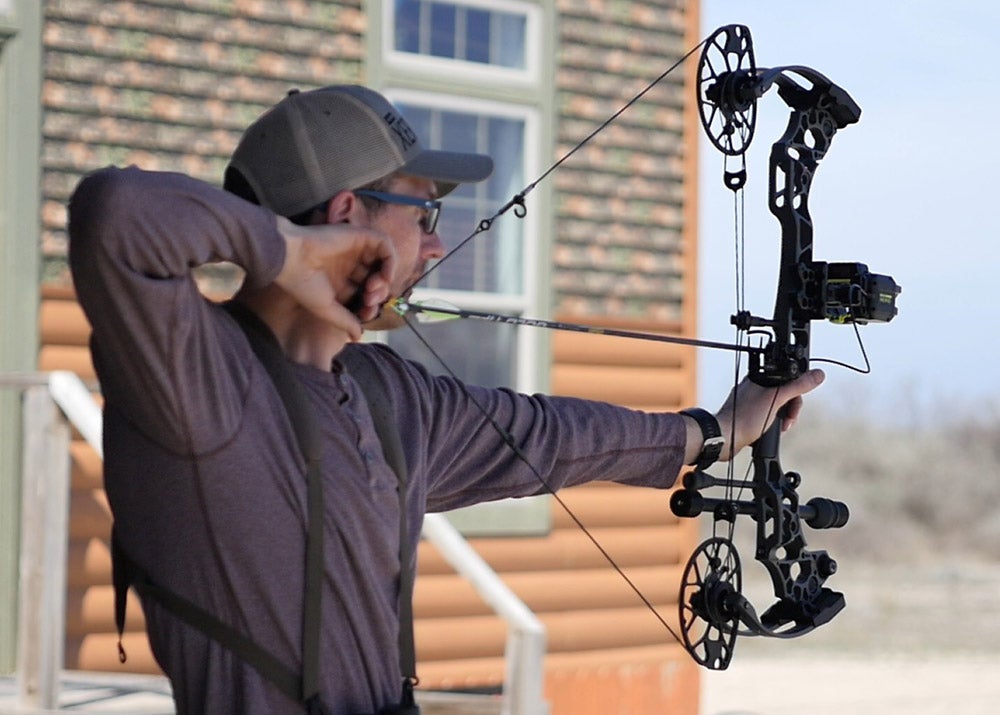 If you opt for the upgraded Garmin Xero A1i, you can have up to 10 arrow profiles. In other words, you can have ranges stored for 10 different arrows. So if you want a lighter arrow for turkey hunting, a heavier arrow for whitetail and an even heavier one for elk or moose hunting, you can switch back and forth at the push of a button.
The Hunt
My hog hunting, unfortunately, was not nearly as successful as my sight setup. In three scheduled sits, I didn't lay eyes on a single pig, though I did see plenty of whitetail and some very cool exotics that escaped from a neighboring high fence operation, including sika deer and audad sheep. I even saw a beautiful, fully mature axis deer, but did not have permission to shoot one, so I just admired from afar.
Meanwhile, everybody else in camp saw dozens of hogs and each took at least one down.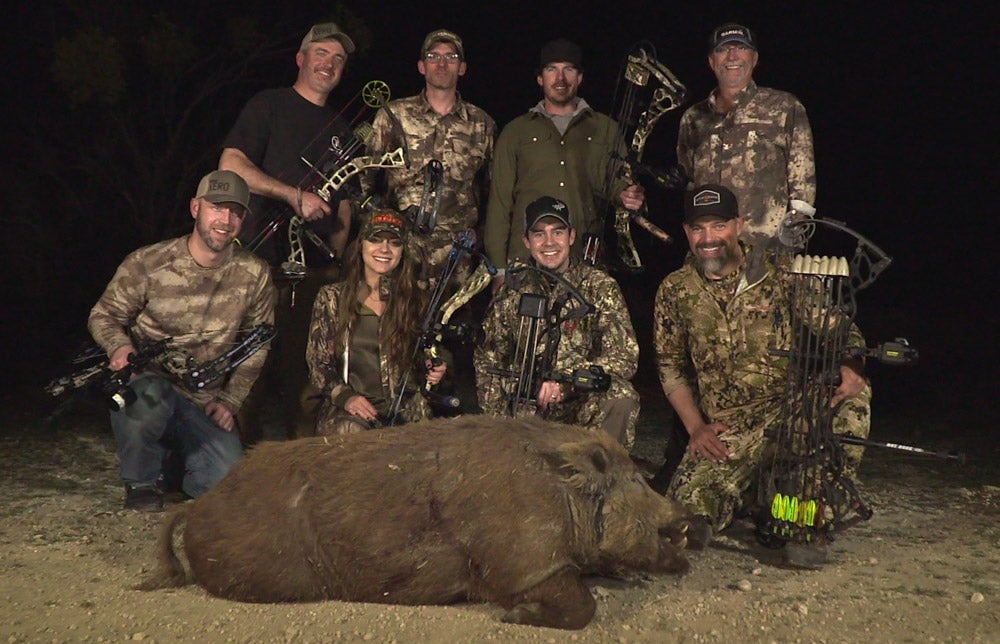 My lack of success with the hogs didn't stop me from getting better acquainted with the Garmin Xero. Anytime you give me access to a bow and some targets, I'm going to shoot. I eventually sighted in out to 80 or 85 yards just for some long-range testing. While I'm never going to shoot an animal at that distance, I like to practice long range for fun and to improve close-range accuracy.
I also took advantage of another feature of the sight and set up some fixed pins. Once you have the Xero sighted in, you can choose to add some fixed yardage marks at whatever distances you like – up to five. Then it's just a tap of the grip-mounted button to toggle between fixed pins and the single, range-finding pin.
Finally a Hog
We were scheduled to leave fairly early on Monday morning, but Wade Middleton, the host of Whitetail Diaries and Americana Outdoors, was desperate for me to at least see a Texas hog. He took me out one final time to a new spot. There wasn't even a blind or stand set up – I was just sitting on a folding chair with a bush to my back.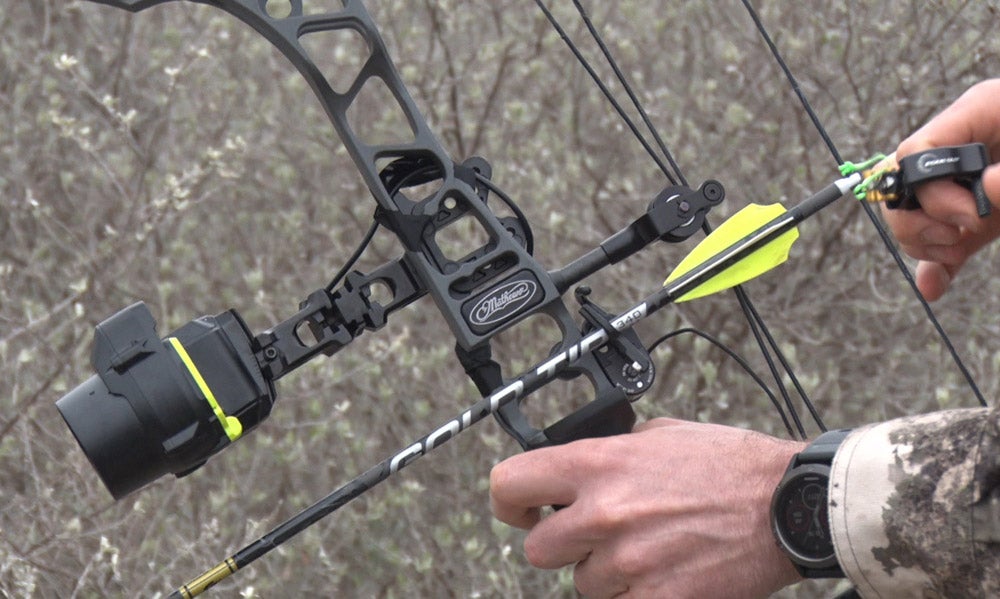 We showed up well before sunrise and I waited. For the first time I didn't see any wildlife in the area – not a single deer to be found. But just as the sun was peeking over the horizon a solitary boar walked in. I picked up my Mathews Triax and ranged him at 26 yards and sent a Gold Tip Velocity Valkyrie arrow tipped with a QAD Exodus broadhead into him. I didn't get great penetration (possibly hit the shoulder?) so I figured I'd give him an hour and go look for him. Before the hour was up about 20 pigs showed up and I started to get a bit nervous, since I was completely exposed. I waited until I one of them gave me a quartering away look, but when I started to draw my bow one of the other pigs saw movement and sounded the alarm. Fortunately, they ran away from me.
Wade returned shortly after and we went looking for my pig. Unfortunately, we lost the trail and had to head back to camp to pack up and head out.
Garmin Xero Final Thoughts
If you are a traditional archer who uses a simple stick and string for hunting, this is clearly not the product for you. And even most compound shooters likely aren't going to fork over the $800-$1000 to own the Garmin Xero A1 or Xero A1i. In contrast, you can pick up a basic hunting sight for about $20 and a top of the line model for under $500. A further barrier is legality, as some states won't allow this to be used at all. But for those who want the latest and greatest technology and have the bank account to pay for it, the Garmin Xero really is in a class by itself.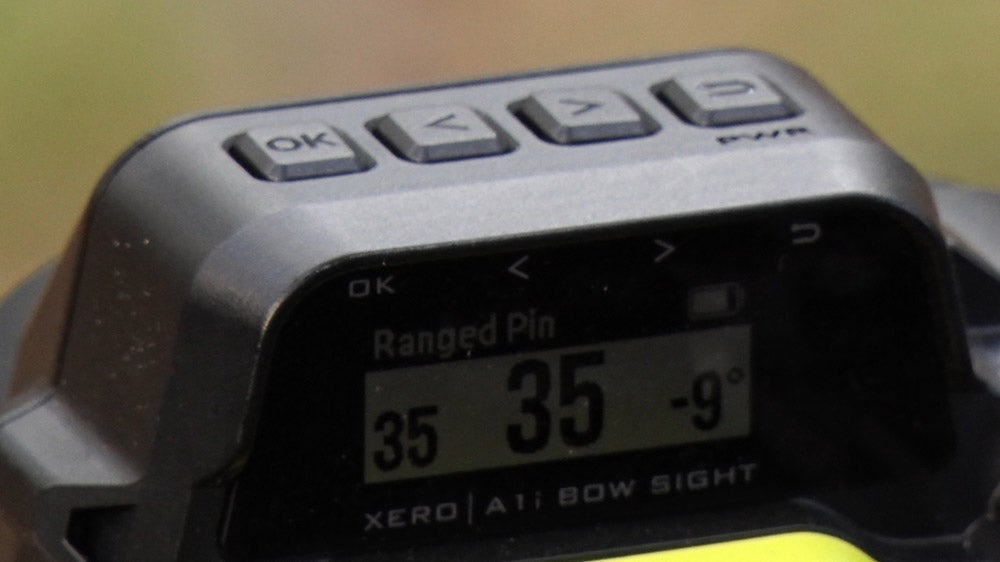 My experience with the Garmin Xero was exactly what I'd hoped it would be.  I truly think this will help hunters harvest more game, as they no longer have to worry about accurately gapping pins or taking the extra time needed to use a rangefinder and a bow separately.
I will be curious to hear how it stands up to serious abuse over a long period of time, but in my limited time with the Xero it seems as well built as anything else I've used. The battery should last a year or more, but it wouldn't be terrible idea to pack an extra with you if you are going on a multi-day or multi-week hunt.
Visit Garmin.com for more information.