(Enforce Tac 2018) New Steyr Mannlicher SSG M1 Precision Rifle
Dickson 03.09.18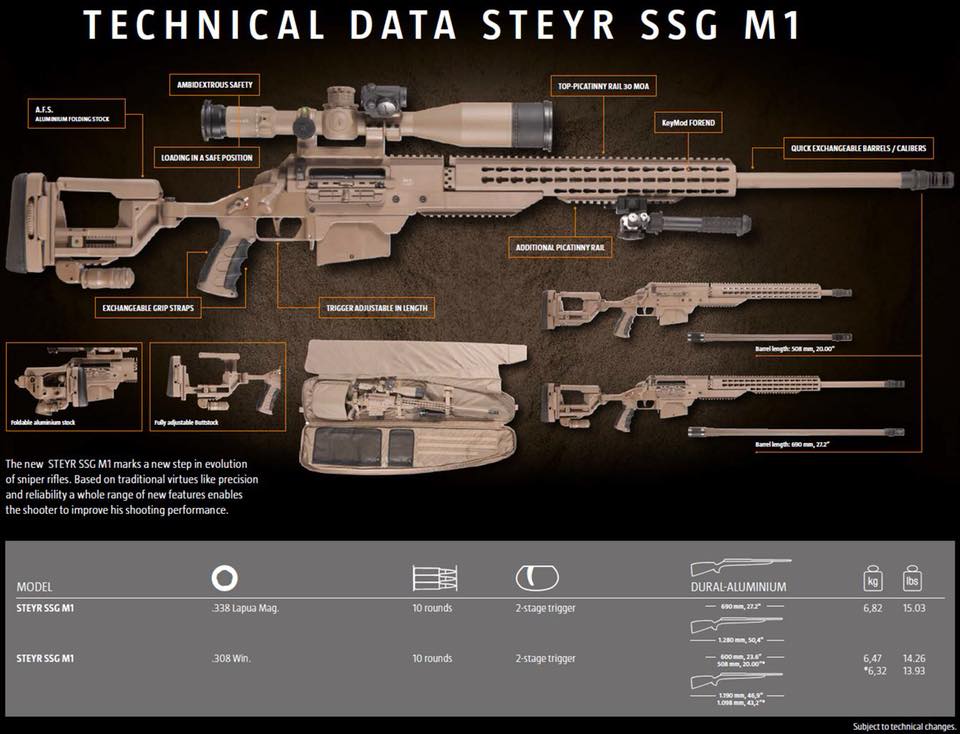 Steyr Mannlicher of Austria made a new post on their social media page this morning announcing their brand new SSG M1 precision rifle.
It features a quick change barrel system that's now a standard feature in these types of military precision rifles such as the Accuracy International AXMC, Sako M10 and Cadex Kraken. It's chambered in .308 Win or .338 Lapua Magnum. Barrel lengths are 27.2″ for the .338 and 23.6″ for the .308. Optional 20″ barrels are available.
Notable changes compare to the previous model SSG 08 and SSG 08 A1 is a new chassis featuring Keymod forend, a new safety that's now easily reachable from both the left & right side instead of from the top, a new steel magazine with witness holes on the sides and a paddle magazine release. It also has a brand new buttstock design that folds to the right (instead of to the left) with a fold-able monopod and it is fully adjustable.
Like its predecessor, it features its signature swirl marked cold hammer forge barrels and adjustable 2-stage trigger that's also adjustable in length in addition to adjustable trigger weight.