How Much DEET Should Insect Repellents Contain?
Kevin Felts 03.12.18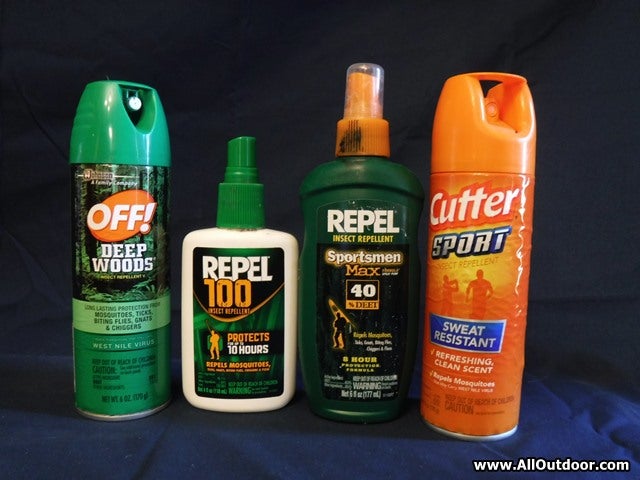 Well, guys and gals, spring is here and the bugs are not far behind. It may be time to stock up on insect repellent.
If the reader lives in the northeast, there is a new invasive tick from Asia that somehow found its way to the United States. The new species does not require the opposite sex to reproduce, which means it can reproduce asexually and in great numbers.
One of the best ways to prevent tick bites and bug bites in general, is to use a repellent with DEET.  The Centers For Disease Control and Prevention (CDC) recommends at least 20% Deet for tick bites.
There are some products on the market that have high levels of DEET. For example, WPC brands makes a Repel 100, which contains 98.11% DEET. Someone may read the label and say, "Awesome, 98.11% DEET."
However, according to the CDC, DEET performance peaks at around 50%.
From the CDC – Protection against Mosquitoes, Ticks, & Other Arthropods.
Studies suggest that concentrations of DEET above approximately 50% do not offer a marked increase in protection time against mosquitoes; DEET efficacy tends to plateau at a concentration of approximately 50%.

CDC recommends using products with ≥20% DEET on exposed skin to reduce biting by ticks that may spread disease.
When it comes to children, the recommended amount is between 10%-30%.
From Kids Health – Are Insect Repellents With DEET Safe for Kids?
Choose a repellent with no more than 10% to 30% concentration of DEET (look for N,N-diethyl-m-toluamide on the label). Use lower concentrations if kids will be outside only for an hour or two. If they're outside longer, consider using a repellent with a higher concentration of DEET. (The higher concentration means that it will last longer.)

Generally, repellent with DEET should not be applied more than once a day, and is not recommended for babies younger than 2 months old.
Summary
Children, no more than 10% – 30%, and applied no more than once a day.
Adults, DEET incest repellent performance peaks at around 50%.
On a personal note, I prefer the pump spray bottles over the aerosol cans.
If the pump stops working, simply take the top off and pour the liquid out.
If the aerosol stops working, not much can be done besides poke a hole in the can.
Question to the readers: What kind of insect repellent do you prefer? Some people avoid DEET and use other products.