Watch: Making Wood Shingles with Hand Tools
Russ Chastain 03.15.18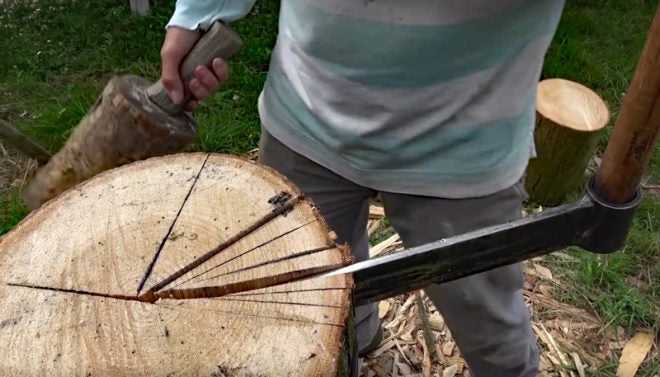 This isn't your typical video, laden with obnoxious background noise and flying through the subject. It begins with a conversation between two blokes, one of whom is the shingle-maker, as they admire a roof full of 2,500 hand-cut wooden shingles, or shakes.
From there, they talk about the finer points of when & where these were made, expected lifespan (30 years), overlap, roof pitch, etc.
When they do get to cutting, they talk about cutting larger hunks of wood radially and cutting smaller-diameter pieces laterally, to get the most out of the wood — but you're better off to cut radially, for reasons he explains well.
Making some chestnut shingles using hand tools including froe and side axe. In this film John shows you two different methods for making roofing shingles or shakes, and goes into some detail. He is an expert on this having made more than 2,000 for his woodland building alone!
He really is a wealth of knowledge on this, and anyone considering this would be well-advised to watch this video.
This is a really great skill, showing how to use hand tools and local materials to create a dry, long-lasting shelter.