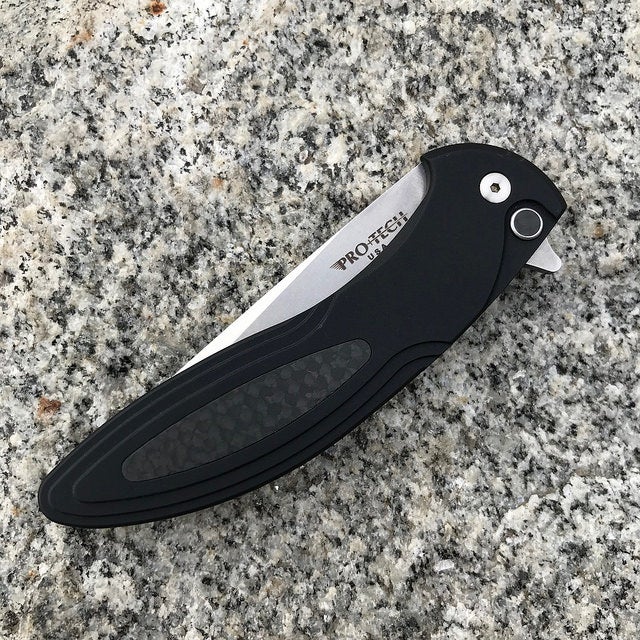 This knife was provided for review by Blade HQ. If you need a knife or just have some money burning a hole in your pocket, Blade HQ is a great place to find just about anything with an edge.
The Protech Cambria is a solid knife. In some ways that is a compliment. It is also an indictment. Its strange that such a fundamentally sound knife is a forgettable one at the same time.
Piece by piece, element by element the Cambria is very good. Nothing here drags the knife down or makes it less useful, but as a collection of parts, the whole is somewhat lacking in terms of panache. Don't interpret that the wrong way—this is not a design that could be spiced up by IG's favorite ingredient "more MokuTi." Its strange but if you followed the comments on knife posts carefully you'd think all design problems could be solved by one of three things—more MokuTi, Westinghouse Micarta, or better steel. Those things work in the same way that a racing stripe on a Camry works—they don't. Here there is something more subtle at work.
The Cambria is undoubtedly solid, but it is a knife that just never compelled me to carry it. In the end, I think that is because its so at odds with current knife trends. At a different time and in a different market it might have been more interesting. But now, it is, at is best, a solid knife.
Description
The Cambria is a button lock flipper from Protech. Unlike the vast majority of the Protech line it is not an auto. Instead the knife deploys via a flipper tab and rides on bearings. The blade is a 3.5 inch drop point made of 154CM, an older yet quite competent steel. The handle of the knife is made of aluminum and has some terraces cut into it for grip and to give the knife a bit more 3D flare. Finally, the knife has a deep carry, over the top pocket clip. There are, as with many Protech knives, variants that use high end materials and complex inlays both in the handle and in the button on the button lock.
The handle has a pronounced downward curve to it making it something of a pistol grip.
Testing
I carried the Cambria on and off for a couple of months. The knife did lots of EDC tasks—food prep, box busting, and light fire prep. I also used it for a couple of kids art projects, slicing and dicing pictures to add to a poster, and at one point helping to carve foam core pieces for a pumpkin (note—this is the second year we have participated in the pumpkin contest and the second year we lost despite having amazing entries…apparently the judges do not like Star Wars. I mean really, "Hallo Ren" is GOLD, pure GOLD. Next year we are going MCU to see if that makes the difference).
Design
Overall the knife is a great size, hiding a large blade in a seemingly smaller handle thanks to the exaggerated pistol grip.The button lock is a good choice in the abstract, but it is very hard to do a button lock flipper. Freeman did a very good job with it and CRKT's Tighe knives were decent, but none fire like a flipper is supposed to, especially in light of what the market has taught us to expect. And in the end that is the Cambria's only sin—it so out of step with what the market cultivates as performance that it hard to evaluate. The terraces on the handle are a cheap and boring what to both texture the handle and to give it some dimensionality.
The pocket clip is yet another solid, but unremarkable piece here. It is utterly forgettable.
Implementation
Protech has never had problems with fit and finish. The Cambria is no different. Everything is milled well, finished nicely, and put together precisely. The gentle stonewash on the blade was even, the grinds were perfectly symmetrical, so far as I can tell, and the edge was very sharp, straight out of the box.
Its safe to say there are no fit and finish problems with this knife at all.
Conclusion
The ways in which this knife is discordant from current trends are numerous and while I am positively thrilled to review one less titanium framelock flipper, this one was just a bit too off and bit too boring.
The texturing on the handle is a good example—this approach has been used in the past to make handles feel 3D, but now its almost de rigueur to have true 3D sculpted handles.
The choice of a button lock is the same thing—it's well done, but the resulting flipping action is, compared to other knives, wholly unsatisfying. There is no thwack that confirms the lock is engaged, just a gentle snick. Its not a big deal, but it adds to the sleep-inducing boredom of the blade.
The blade steel is yet another out of step, boring choice. 154CM is a perfectly fine steel, but many blades in this price range are running S35VN or better. One feature after another is just yawn-worthy. None of them are outright bad choices, none actual hinder performance, but in the Gear World circa 2018 you can do better for the money.
One choice that does stand out as both different and good, is the handle shape. The distinctive pistol grip not only works well in the hand, it helps hide a slightly longer than average blade in an average sized handle. These tricks are always effective—curves hide line. Look at the Dragonfly's handle and you will see—curves make that tiny knife feel much bigger in the hand.
The design trick used to make the Cambria feel smaller than it is, however clever it is, is not enough to overcome the mundane nature of the knife. No knife is more meh than the Cambria. It is certainly not a bad performer or poorly made, its just not all that compelling given the competition.