Knives aren't much good unless they're sharp, and keeping them that way should be a priority. These are some of my favorite low-cost solutions for sharpening your knife at home, at camp, or in the field.
4) Carbide Sharpeners
I'm listing this first because it's actually last on my list in terms of preference. These sharpeners work quickly, but they are also quite aggressive. They feature carbide inserts which cut away steel from your knife's blade as you pull the blade against them. The resulting edge is rough but usually sharp enough. Some models include fine ceramic rods, which to me are generally useless.
These can be plenty useful for an everyday working knife, to quickly refresh the working edge of your cardboard-and-rope-cutting-wire-stripping-etc pocket knife, but I'd never take one to an expensive or well-loved blade. And although they are cheap–$3 or less, shipped from China–they tend to wear out fairly quickly.
3) Carborundum, a.k.a. Silicon Carbide
This is *the* classic whetstone, if you're 50 or older. The old gray stone is just as effective as it ever was, and can still hone your knife to a razor's edge at low cost. You can pick one up for a few bucks and with care it'll last all or most of your life. In fact, eBay is littered with old ones in fine shape which apparently outlasted their original owners, priced as low as $2-$3.
Some folks claim you need to use oil with these stones, but others happily use them dry, with water, or even with liquid dish soap. Whichever method you choose, it'll get the job done.
2) Aluminium Oxide Sharpening Stone
Aluminium oxide is an effective abrasive, and sharpening stones made of the stuff can be had at very affordable prices. As I write this, I see a lot of 6 brand-new double-sided six-inch sharpening stones listed on eBay for $14.95 shipped! And numerous single stones are available for well below $10.
Aluminium oxide stones are known to sharpen quickly, but still produce a pretty good fine edge when using fine grits. It's hard to beat their combination of affordability, speed, and overall effectiveness.
1) Eze-Lap Model M
I've owned one of these little sharpeners since the 1990s, which I picked up at Wal-Mart. I have been using it ever since, and for the past decade I've also had my late father's Eze-Lap as well. I like to keep one in the truck and one in the kitchen, and they still do a great job, although it admittedly takes longer than it did when the diamonds were nice and fresh.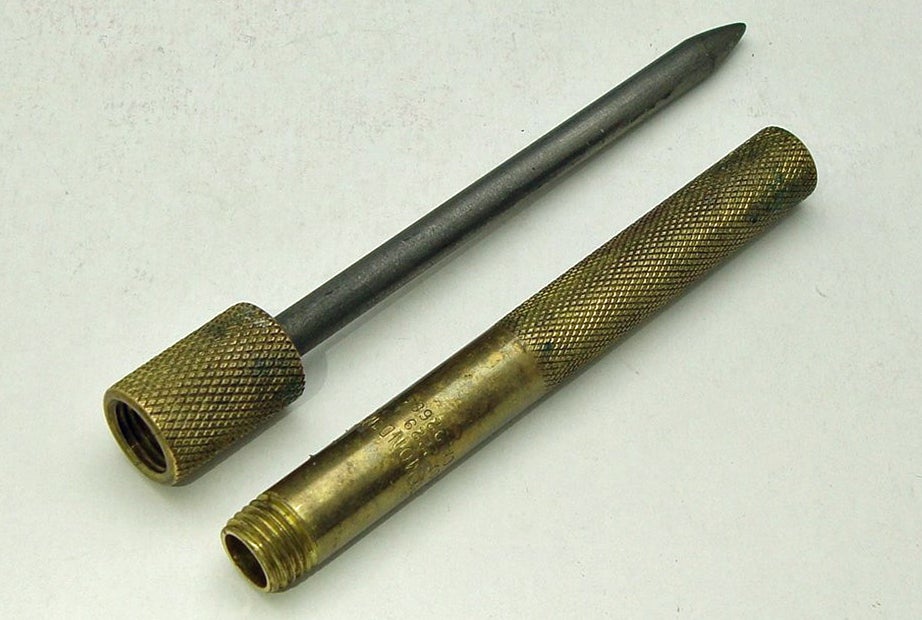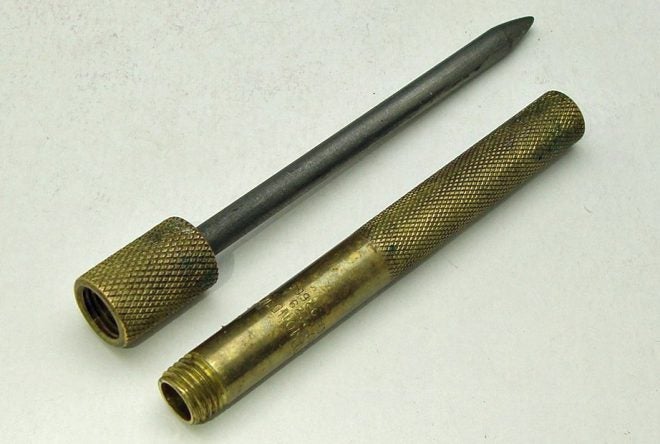 The sharpening surface is a metal rod coated with diamonds, mounted in a brass base. The base features female threads on each end, so you can screw it into the hollow brass handle with the rod out for sharpening, or with the rod in for storage. The round shape also allows its use in sharpening some gut hooks or serrations, provided they are large enough to accommodate the sharpener's diameter.
$20 might not sound cheap, but for a sharpener that's easy to take along, easy to use, effective, and lasts for decades, I call it a bargain.