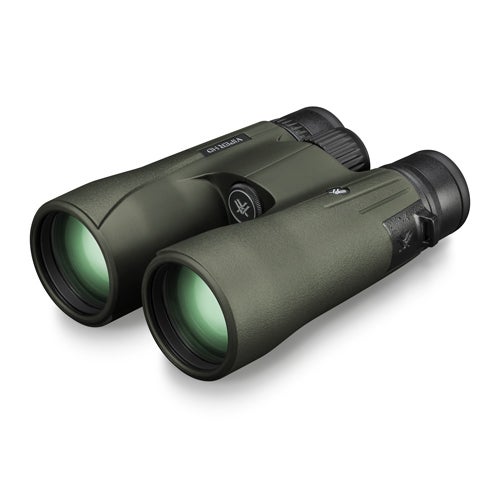 Vortex Optics has a wide array of great quality glass for consumers to drool over and want to throw in their hunting packs. A stalwart line-up from Vortex is their Viper series which is always known for a slightly higher benchmark of quality. Now, Vortex Optics is installing that collection into their binoculars with the Viper HD.
There will be 4 different binoculars in all that consumers will be able to choose from: 8x42mm, 10x42mm, 10x50mm and 12x50mm. The pricing for these ranges anywhere from $639 – $739 depending on your preference of magnification.
These varying magnifications will also introduce different weights for the binocular ranging from 24.5 ounces – 28.8 ounces. So if you are a conscious-minded hunter in regards to the weight of your pack and what you are hauling into the woods, choose wisely.
Further specifications for the binoculars can be read below.
Between all the choices in weight and magnification, consumers get one simple color choice of a drab green.
Finally, to make one last attempt to implore consumers to spend their hard-earned dollars with Vortex Optics, they provide this product statement:
If seeing is believing, you're about to believe. The all-new Viper® HD Binoculars are an optic masterpiece, giving hunters, shooters and outdoor enthusiasts a premium option without the premium price tag.

The new short-hinge design makes for a great grip on your binos, while the size and weight make this one of the lightest full-size binos on the market –
A noteworthy attribute when gear consideration can be measured in grams.

Now included with every Viper HD, the GlassPak™ chest harness keeps your binos at the ready, while providing comfortable, protected, strain-free,
all-day carry.

The only two things that haven't changed with these all-new Viper HD Binoculars are the price, and the fact that they are 100% covered by Vortex's legendary, lifetime, unconditional, no-fault, transferable, VIP Warranty.
These binoculars should currently be available at your nearest Vortex Optics dealer or online retailer, if not easily available to order.