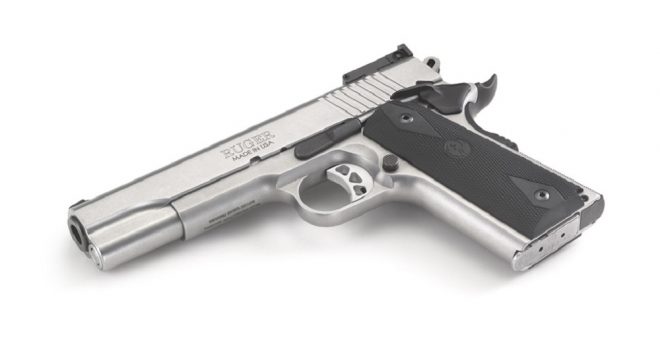 There have always been some rather strange trends in the firearms industry and gun world from time to time. However, chambering a classic 1911 pistol created for the stalwart .45 ACP, in the 9mm, just seems like a gross understatement. If you wanted a 9mm, there seems to be plenty of other options available.
When or how did this new trend come about? Well, actually it is nothing new really. I recall an action pistol shooting friend way back in the 1970s having a Colt Commander in 9mm. The Commander of course was a slightly shorted version of the full sized 1911. The pistol was distinctive because it used the round shaped hammer with gripping grooves, and a hole through it. I agree, it was a cool look, but it was a weak gun.
But, I mean really, you build a full scale 1911 cloned after the original Colt's created in, ha, 1911 for military use in the Big War. It trudged all over Europe defending officers and others lucky enough to have one holstered. Recall the movie "Saving Private Ryan" when the Captain played by Tom Hanks used his last resort 1911 to fend off a German tank. Certainly too little, too late for that exchange in film, but the 1911 served admirably through that war and well beyond to today.
Note, too, that the Colt 1911 pistol design was created for the .45 ACP. Using a heavy 230 grain round ball bullet jacketed in copper, it made formidable holes in targets. It was of course, designed as a short range, self-defense type weapon.
Honestly, the .45 ACP is not overly endowed with super powers, but that big thumb of a bullet moving along at 830 fps with 370 foot pounds of energy at ten yards or less range, is quite a thumper. That is the standard middle of the road 230 grain FMJ bullets. Today's premium self-defense ammo with lighter, better constructed bullets, kicking up over 1000 feet per second velocity is a good deal more powerful.
There is nothing inherently wrong with a full framed 1911 chambered for the 9mm. But for what purpose? While the 9mm can sail a 124 grainer at a good speed, its killing energy is short of the .45. Its snappy recoil is hard for some to handle, as opposed to the .45's shove into the grip hand. There is just not enough reason here to want the 9mm in a heavy duty pistol like the 1911.