Review: Sopakco Vegetable Lasagna MRE
Kevin Felts 04.10.18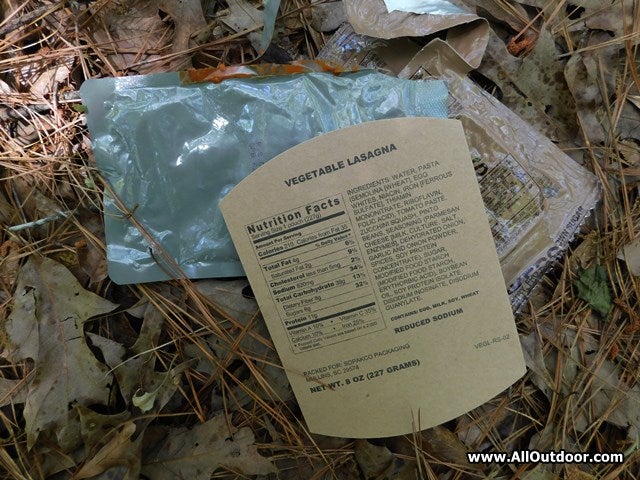 Some Meals Ready to Eat (MREs) can be somewhat good, while others are rather nasty.  Unfortunately, the Sopakco Vegetable Lasagna MRE is one of the bad ones.
One of the great things about MREs, they are an easy grab and go meal. One of the bad things about MREs, their quality can vary greatly. Some people may say, "All MREs taste pretty much the same", but to that I disagree. Over the years I found some which taste somewhat good, such as the Veggie Burger. Something else I have learned, it is better to taste test the MREs before heading out on the trail.
Imagine if you would, being mid-way through a day long hiking trip. You arrive upon a nice clear running creek with old growth timber running along both sides. In other words, a wonderful place to take a lunch break. The meal for this trip was the Sopakco Vegetable Lasagna MRE. The included heater is used to warm up the meal. Once hot, the package is opened, and the first bite is taken.
This first bite was pretty bad, if not borderline disgusting. Why are there beans on lasagna? Maybe this is a vegetarian meal? If this is supposed to be vegetarian, why are eggs listed in the ingredients?
For some reason the Sopakco Vegetable Lasagna has a slight bitter taste, which combined with the contrasting textures, makes this meal barely palatable.
Well, at least there are crackers, jelly, Tootsie Roll and a toaster pastry to get that nasty taste out of your mouth.
The lasagna was tossed in the creek for the perch to eat. What we are running on for the rest of the hike is mostly sugar. The sugar may provide a short bust of energy, but we are going to run out of energy way before the hike is over. Good thing some protein bars and sunflower seeds were brought along.
Nutrition Information for just the Vegetable Lasagna Meal
Calories 210
Sodium 820mg
Protein 11g
Vitamin A 10%
Calcium 10%
Vitamin C 35%
Iron 25%
The crackers, jelly, pastry and Tootsie Roll all have separate nutrition information from the lasagna.
Crackers, 180 calories.
Toaster pastry, 210 calories.
Jelly, two packages with 70 calories per package.
Tootsie Roll, calories not listed.
If we ate everything besides the Tootsie Roll, that would be 740 calories.
Overall, I rank the Sopakco Vegetable Lasagna MRE as one of the worst meals I have ever had. These will probably be relegated to the bottom of my MRE stockpile.