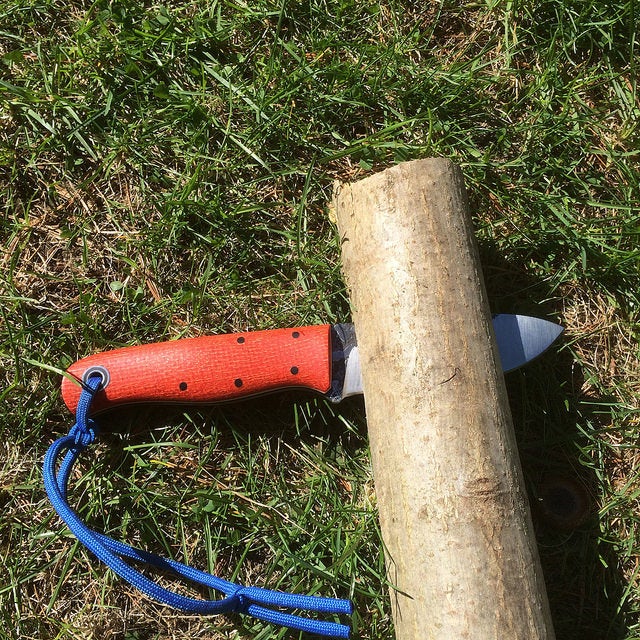 There are a dozen or so boutique fixed blade brands out there–Survive! Knives, Adventure Sworn, Busse–the list is pretty long. But among the most rabid of fanbases are those that love Fiddleback Forge knives. Their trendsetting design and excellent ergonomics have rightfully earned Andy Roy, founder of Fiddelback Forge, a heaping helping of fans. These are people that rush to spend $400 on a knife made with materials from the dawn of last century.
Andy Roy's knives look different, especially when the debuted a few years ago. The rough "forged" blade, the burlap micarta handles, and the bull's eye lanyard hole all stood out in a crowd of drab, machined, solid colored knives. But unlike with the Moku Ti trend in folders, these visual elements made some functional sense. The burlap was grippier than normal micarta without being shreddy. The bull's eye made the lanyard hole stand out. Now there are a couple of makers that work in this style and Shade Tree, one of the handle material providers, seems to have an Instagram dedicated to nothing but knives with burlap micarta handles (and that is a good thing).
But the real stars of Andy's knives are things that are hard to show off on Instagram–perfect balance and a superior handle shape. Fiddleback Forge knives are expensive. They have humble materials. And they are hard to get. But they are worth the effort. These are some great knives. Here is why:
Description
The Fiddleback Forge Bushcrafter is a midsized fixed blade. It has a drop point blade with full tang construction. The handle on my knife is orange burlap micarta. It came with a very decent leather sheath. The blade is made of O1 steel. The spine of the knife, as is customary for Fiddleback Forge knives, is left rough, though the knives are made using stock removal methods, not true forging. The grind was a thin convex grind with a small cutting bevel.
Testing
The Bushcrafter arrived just in time for a massive fall clean up. Since a major ice storm knocked out power a few years ago to the area where I live, we have been very zealous in trimming back our trees. Once every four or five years we have a bunch of work done and this most recent time I cut a deal with the tree trimming guys to leave the limbs in exchange for a discount. It was a huge boon to me as it gave me both a chance to test knives and a bunch of firewood. I did a write up about this chopping extravaganza, which my boys and I called the Chopocalypse.
In addition to this weekend of work, I used the Bushcrafter around the yard and out in the woods. The knife did everything you'd expect at a camp site, from wood processing to more detailed fire prep work and some food prep. Overall, the Bushcrafter did everything you'd expect a general utility, fixed blade knife to do.
Design
With its simple construction, unique materials, and absolutely perfect proportions, it is harder to imagine a more work-friendly fixed blade.  As with all Fiddleback Forge knives, this is a handle-first design.  Over the years I have come to fetishize a good handle and none I have used are as good as the handle on the Bushcrafter.
Additionally, the wide blade and heavy belly make this a glorious knife when slicing. It's capable of handling tough tasks (see first picture above) and it is still good at slicing and dicing. In fact, during the time I owned this knife (I gave it away as part of a charity giveaway), I was stunned at just how good the knife was at food prep tasks. The sheath is a traditional leather number, a step up in quality from Bark River sheathes but still not perfect. I am slowly beginning to think that you either spend $200 on a great leather sheath or you just settle for kydex. Cheap leather sheathes, by in large, are synonymous with disappointment.
Implementation
When you are in this price range, you expect flawless construction. The Fiddleback Forge is flawless.  But there are things that add to that. The burlap micarta handles aren't just well shaped and grippy, they are also striking. Similarly with the blade. Of course the grind is thin and symmetrical, but the rough texture on the spine is eye catching.
Over and over again, Andy Roy et. al. make this knife not just 100% solid, they make it beautiful and unique. Even the high order stuff–a well-balanced blade thanks to a tapered tang are present. The knife is very expensive, but you basically get everything you want, plus more. Error-free construction and beautiful touches.
Conclusion
This is definitely a boutique blade. At $375 for an O1 blade, the price is mostly labor. But that labor transforms these humble (though by no means lacking) materials into one of the finest fixed blades I have ever used. It doesn't outperform a Bark River, but it does look more unique. A few years ago when Fiddleback Forge and Andy Roy started making knives, I would say these blades are singular in their look (because they were, way back when). Now a lot of folks have taken up the mantle of rustic outdoor knives. That said, Fiddleback Forge still does it best, in my opinion.
The overall balance of this knife is dead on perfect, right at where your index finger rests on the handle. The perfectly sculpted handle, the tapered tang, and the excellent blade all come together in an expertly crafted tool, one that unmistakably convey a sense of quality. In the world of fixed blades beyond Bark River and before full bespoke customs, I really think Fiddleback Forge and the Bushcrafter in particular just kill it. I'd love to run this up against a very traditional bushcraft design like a Woodlore or an Adventure Sworn, but even if they perform the same I think I'd still opt for the Bushcrafter.