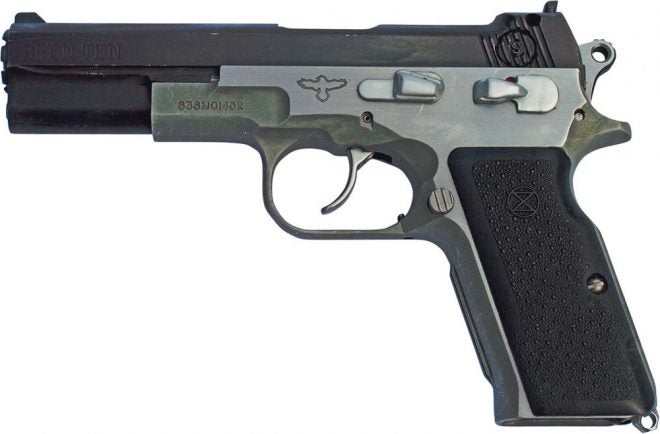 Many years ago in a back room lit only by a dim old lamp in the corner, but aglow with the burning tips of high jacked Havana hand rolled tobaccos, a discussion was afoot. Guys Dornaus and Dixon were discussing the final details of producing a new handgun. A gun birthed by one Jeff Cooper and his cronies trying to create an ideal combat handgun. The Bren Ten changed things. The new 10mm Auto would change things even more.
In the room was a team of ammunition experts from Norma. They had drawings, brass to examine, and micrometers. They would produce the new 10mm Auto ammunition for the Bren Ten. Originally loaded to a psi of 37,000, the 10 was intended to be all business. As Michael Savage says, "When chrome was thick and women were straight." This round was destined to shake up the handgun shooting world.
Alas, D&D's Bren Ten did not withstand market pressures. Problems came when guns were delivered to dealers without magazines. Today there are some Bren Ten guns in collections sans a functioning magazine. But that did not halt the forward progress of the Big 10 by any means.
From the get go as Jeff Cooper guru of the 1911 and personal defense combat shooting envisioned the 10mm Auto, its power ranking was awesome. It was touted out of the chute as equal to the .41 Magnum. While on paper the 10 might look to come up a little short of that brag, at the range and afield, there is no doubt this is one impressive cartridge, and chambered mostly in semi-auto 1911 platform pistols. A few revolvers have picked up the 10mm as well such as Ruger's new Super Redhawk 10mm.
History wise, the 10mm did fall into an interest funk for some time, not unlike its revolver brother the .41 Mag. Law enforcement agencies tried out the 10mm but found it too tough on young recruits to shoot well. Various changes in ammunition offerings tried to remedy that, but it only served to dilute a really good cartridge from what it was designed to be.
It may well have been handgun hunting that saved the mighty 10mm. Just in the last couple of years, the ammo makers have stepped up. CorBon, SIG, Winchester, Federal, Double Tap, HSM, Hornady, and American Eagle all have new hunting loads for the 10mm. Gun makers are filling voids, too with hunting worthy firearms. The 10mm Auto is still making news since those early days back in the dark rooms however fictional that story was.