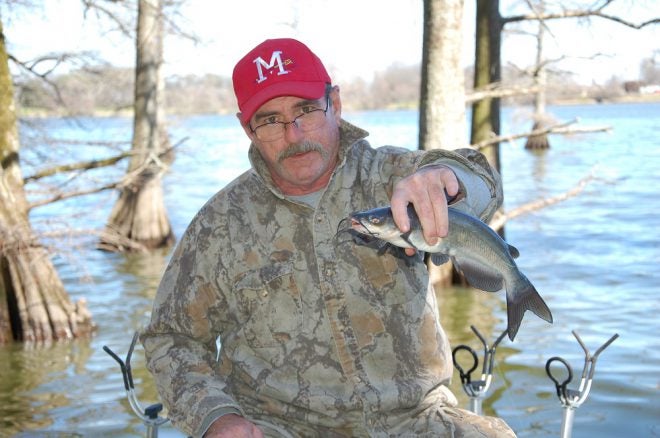 Sometimes you go fishing for one species of fish and often end up catching something else. This happened to us recently on an annual crappie fishing trek to Lake Washington south of Greenville, Mississippi in the heart of the Delta. This is a prime crappie fishing lake that has been listed as a Top Ten crappie lake in America. Well, sort of.
First of all, if you fish early spring then you run the chances of foul weather including rains, storms, and high winds. Yep, we lucked out and hit all three. And shame on us we failed to bring the proper clothing to stay warm on open waters with a strong northern wind in temps that ran down into the 40s. Lesson learned. Weather reports failed us, too.
Arriving on the lake the afternoon just after a thunderstorm has passed through that morning, we quickly settled into our cabin at Roy's Resort and Cabins right on the lake. We had the boat in the water, fresh minnows in the buckets and were headed out. We decided to single pole fish the flooded cypress woods first. This lake is noted for yielding slabs in the woods.
We went to a favored place first. These fishing areas are named for lakes, but in terms of lake layout, they are really just coves on the far side of the lake lined in cypress trees. Depths range from 2-6 feet and fish structure abounds. You can find downed tree trunks, stumps, tangles of limbs and submerged junk of all kinds. The crappie lurk in these areas.
Despite the passing storm and a steady breeze, the water remained fairly clear. It is much calmer back in the trees off the main lake. The key is to drop minnows down along all the structure fishing about two feet off the bottom. Sonar helped to keep us clued into the water depths as we moved around with a trolling motor, foot controlled up front by my fishing partner. Of course, this way, he always got first dibs on new fishing grounds. In the rear seat, I trailed behind.
Ironically, using classic crappie rigs with minnows, we caught more catfish than white perch. A few of the cats were really nice fish but we were looking for slabs. That did not happen. The crappie were not biting. Spider rig fishing winds and white caps did no better. So, anytime you fish, be prepared to take home whatever good fish you can catch. In the end it's all good.