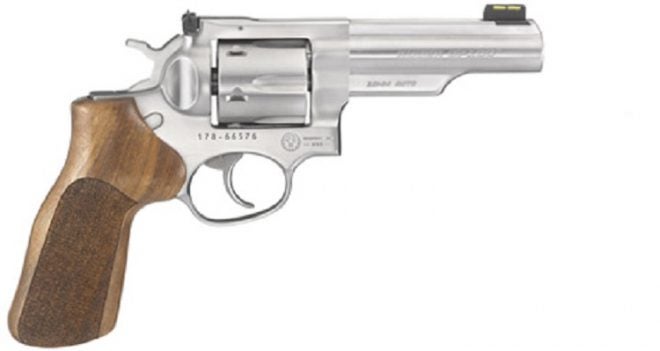 If striking while you're hot is a primo marketing strategy, then Ruger is capitalizing on their winning program on producing firearms in 10mm Auto. Their newest game piece in this pattern of producing handguns chambered for the awesome 10mm is their Model GP100 Match Champion. This is one fine revolver.
Sad me, I let a GP100 Match Champion in .357 Magnum slip by me at a gun show a year ago. I have suffered agony ever since. Just to handle one of these is to know it is a firm fitting six-gun with just the right compromise of balance and weight. I knew it would shoot well, but I'll never know.
Now I might be lucky enough to fill that empty space with one whose cylinder holes will handle the 10mm Auto. I would consider that a great option in terms of a powerful cartridge in a revolver. What with the 10mm Auto steadily gaining popularity at the range and in the field, having one in a double action revolver would be double sweet.
The Ruger GP100 Match Champion is a stainless steel revolver that tips the scales at 37 ounces. That's 2.3 pounds, so it has the weight to handle the 10. The heavy style barrel is 4.2 inches in length topped with a bright glow green front sight insert. The rear sight is fully adjustable. The revolver's overall length is 9.5 inches. Again, sized just right. The GP100 also has the Ruger transfer bar to prevent accidental discharges.
The grip handles are custom made by Hogue in a handsome walnut colored hardwood. The gripping surfaces are finely stippled for a no slip grip. The grips fit tight up against the gun's frame hump, back of the hammer. Though the 10mm Auto is known to kick up some dust, the shooter can certainly hold tight to this baby.
The GP100's cylinder lock up system includes a triple-lockup. Lock points are at the front and rear of the cylinder plus another point on the bottom. This lock up system maintains a positive cylinder alignment to aid in accuracy. The cylinder chamber mouths are chamfered to aid in loading. The gun package includes three full moon clips to facilitate fast reloading. With all six rounds in a moon clip, they can all be dumped quickly as well.
The GP100 is a top rated revolver for both home defense, personal protection and even hunting. Shooters, preppers and survivalists will find this a good choice if a revolver is a choice.