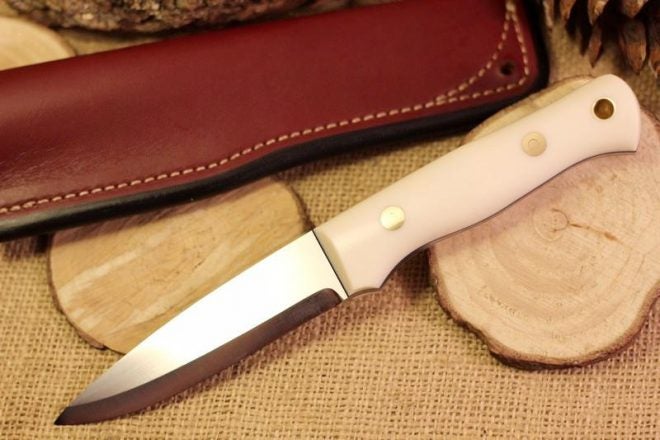 In the world of fixed blades, patterns are usually at least a hundred years old. Bowie, Kephardt, and Nessmuk are all familiar patterns and all are more than ten decades old. The idea that a new pattern could emerge and establish itself, given the virtually endless variety of designs is hard to imagine, but one pattern, the Woodlore, is relatively new and, given its very solid basics, is likely to stay for a while.
Ray Mears is a famous British outdoorsman. He has made a name for himself by being a proponent of bushcraft, a broad term for survival and campcraft skills (and the source of innumerable puns). Mears designed the Woodlore (which was initially made by Alan Wood) after one of his designs was bastardized by a production company. He sent them a straightforward design and they returned it to him with a hollow hand, a sawtooth spine, and a bevy of useless hooks.
Fed up, he and Alan collaborated to product an exceptionally simple knife–a Scandi ground drop point with a 4 inch blade and a rounded coke bottled handle with a distinctive pommel flare to all the user to choke down on the knife. The steel was O1, heat treated to 59 HRc. It was a massive hit and the waitlist stretched to more than a decade.
In the logic of capitalism a waitlist a decade long is also called "an opportunity." There are now a bevy of makers producing Woodlore-style knives. LT Wright's GNS is an Americanized version of the Ray Mears classic. Heck even Boker makes a Woodlore style blade. But among the nicer versions of the Woodlore pattern is the Adventure Sworn Classic.
Adventure Sworn is a small company that takes time and care to hand make every single blade. The Classic is their best seller and it comes with a beautifully made pouch-style sheath with a detachable dangler. The blade is usually O1. When in stock the Classic runs around $275. That is a lot of money, but around 40% of the Mears knife.
The quality on the Classic is stunning. The details on the knife, are, of course, spot on, but the fanatical attention to detail expands to include perfect stitching on the sheath and pristine handles on the optional matching firesteels.
The Classic has been made for years, but because of how long it takes to make every component by hand, they come into stock in batches. This is truly a knife to watch, given its limited availability. Every once in a long while Adventure Sworn offers the option to fully customize your Classic, up to and including the selection of high end steels like 3V. Handles include wood found on no other knives and eye catching pour resin designs.
If you have even a passing interest in knives, an Adventure Sworn Classic should be on your wishlist (Father's Day is coming up….hint, hint).