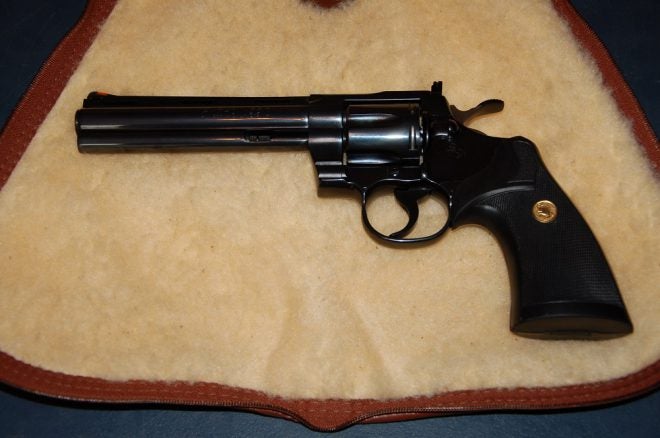 The name "Colt" sends shivers down the backs of most true aficionados of firearms and firearms history. Samuel Colt is a true icon in the world of firearms. Collectors still clamor for Colt's guns as they have ever since Samuel came out with the first "six gun" all those years ago.
Interest in Colt firearms, especially the legendary handguns, remains at an all-time high. Proof enough is the upcoming Colt Collector's Show in St. Louis. This entire gun show is dedicated to nothing but Colt guns. It should be something to see.
Among all the guns made by Colt, perhaps none has made its mark on handgun history quite like the "Colt Snakes." This revolver line includes the Cobra, Diamondback, Viper, Python, Boa, King Cobra, and the Anaconda (and oddly enough, including a couple bears, too).
The Cobra (1950-1973) was an aluminum-alloy-framed model of the famed Detective Special. It was chambered for the 22 LR, 32, and 38 Special and weighed only 15 ounces. It came with a round or square butt, 4-inch barrel, and blue finish. Later a second issue came out with a 2-inch barrel in 38 Special.
The Diamondback(1966-1986) came with 2.5-, 4-, and 6-inch barrels, blue or nickel finish. It was chambered for the 38 Special or the 22 LR. It featured target sights, a deep blued finish on blue models, and a classic shrouded ejector rod that made this revolver stand out. It is still a highly-sought-after collector's item and fetches amazing prices, especially the 22 model in the 2.5-inch barrel.
The Viper (1977-1984) was essentially a lightweight Police Positive in 38 Special. It had a blued finish, alloy frame, a 4-inch barrel, and plain wood grips.
The "Big Daddy" snake in terms of recognition and demand was the Colt Python (1955-1999). This was mainly a 357 Magnum, but there was a 38 Special version in 1955-56. It had barrels in 2.5, 3, 4, 6 and 8 inches. The finish was the exquisite Colt Royal Blue. It was also available in nickel and later in stainless steel, matte, and high polish stainless. Grips were a checkered walnut on the initial models, but later the Python wore rubber grips with a gold Colt emblem.
Other Python variations included the Python Elite in 2001. The Colt Custom Shop continued to produce the Python until 2003 in very limited numbers. In 1981, Colt produced a Python Hunter with an 8-inch barrel, neoprene Colt grips, and a 2x scope contained in a unique aluminum Halliburton gun case. In 1994 a Python Grizzly (a snake bear?) was produced in matte stainless, 6-inch barrel, unfluted cylinder. Only 2000 of these guns were made.
If the Colt Python interests you, you really should make an in-depth study of it. Many variations existed, some of which are not mentioned in every reference book you may check, even those dedicated solely to Colt guns. Some versions included the Python Silhouette, Python Target, and the Python Ten Pointer complete with a 3x Burris scope.
Of all the classic double action Colt revolvers, the Python was perhaps the most beautiful and well-made. Its action is like melted butter. The Colt Royal Blue is like looking into a mirror. Cycling the hammer to cock it reveals how slick the action is. And the Pythons shoot, too. Its full metal under-barrel lug is its classic trademark. Pythons today in excellent condition can bring high collector prices. I have seen them as high as $5000+ with box and papers.
The Boa (1985) is really a deluxe version of the Colt Trooper model. It too, has the under barrel lug and resembles a Python, so don't be fooled. It was only made for the one year and 1200 were produced. It has the same Royal Blue finish as the Python. This double-action revolver was made by Colt specifically for Lew Horton Distributors. Such special runs were not an unusual business practice. In fact, Ruger is doing this now with Davidson's Gallery of Guns and Lipsey's.
The next snake was the King Cobra (1986-1994) in 357 Magnum. This model was more or less a stainless Python, but was also available in blue. It could be ordered with 4- or 6-inch barrels with a solid top rib, but special 2.5-inch models were made in 1990 only. The grips were black neoprene with finger grooves.
Finally, the "Super Big Daddy" of the Colt Snake series was the Anaconda (1990-2003). The Anaconda was made primarily in 44 Magnum, but some were also made in 45 Colt in 1993. Barrel lengths included 4, 6, and 8 inches and a 5-inch only for 1998. These were stainless steel handguns with black neoprene combat grips.
The Anaconda was produced in several variations including a Realtree Gray Camo model in 1996 with a Redfield 2.5x-7x scope. This model had Hogue rubber grips and an 8-inch barrel. There was also a bear model Anaconda named the Kodiak in 1994. This one had an unfluted cylinder in 44 Magnum and only 2000 were made. There were also Anaconda Hunter and Anaconda Custom Ported versions, brushed stainless, 6- or 8-inch barrel, and Mag-na-ported. These were made in three different manufacturing stints, 92-93, 95-96 and 2002-03.
As far as my research goes for the Colt Snake series this concludes what I found. You come away from a task like this thinking you missed something. I probably did. If you know of other Snake versions, be sure to let us know.