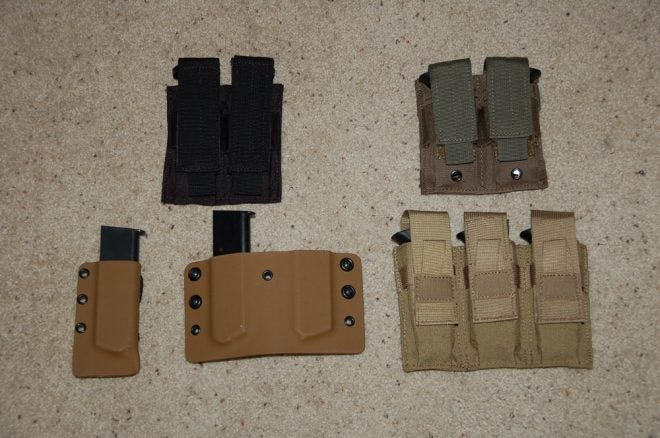 Some will say you simply cannot carry enough ammo on your person. Others will say if you can't solve an issue with the mag in your pistol plus maybe one more, the scenario needs to be quickly reassessed. Which is true for you? How many loaded backup magazines should you carry when you go concealed carry?
Any response is highly opinionated of course. We have chocolate, vanilla, and strawberry ice cream plus dozens of other flavors for a reason: What works for one person may not suit another. One's line of business or profession may also play heavily into a decision about how many backup mags and ammo to carry every day.
Even law enforcement officers carrying openly usually carry a double mag pouch in addition to the one mag in their service pistol. Conservatively that is somewhere between 30 to 45 rounds if they are using a double-stack pistol. One would think that should be sufficient ammunition for a police officer to carry on a daily basis.
But what about you? Any pistol of your choosing. You have the proper holster and mag holder that fits you well and conceals well, and you are comfortable drawing and putting the pistol into action if required. You know how to make magazine changes in a hurry without looking and also in the dark. So, how many extra magazines do you carry with you?
This decision might also be based on your own inclination (or the lack thereof) to get involved in a self-defense event or a domestic situation. Know that the advised strategy is to get away from any such event, but there are times when this cannot be prevented.
Another factor in the mix is how good a shot you are under pressure. If you are as good as the average shooter, you are not that good. Again, the smart thing would be to back out of any situation that might not go well, especially if you are not directly involved.
However if you have to engage to defend yourself, family, colleagues, or friends, you want to be the best prepared you can be. In addition to the total rounds in your pistol, most plausible tactics call for one or two additional magazines. Most incidents are over very quickly. You may not even have time to change a magazine. But you should train for it and be prepared for it.