Best Wood-Burning Camping Stoves for Backcountry Survival
Diana Faria 05.11.18

Nothing is quite as satisfying as a hot meal after a long day of roughing it. Thankfully, these five camping stoves have eliminated the need to pack cumbersome fuel tanks and can keep you cooking for longer. Light and compact, wood-burning stoves have become the tool of choice for many campers and backpackers on long excursions. Below are our favorite wood-burning camping stoves you should consider bringing along on your next outdoor trip.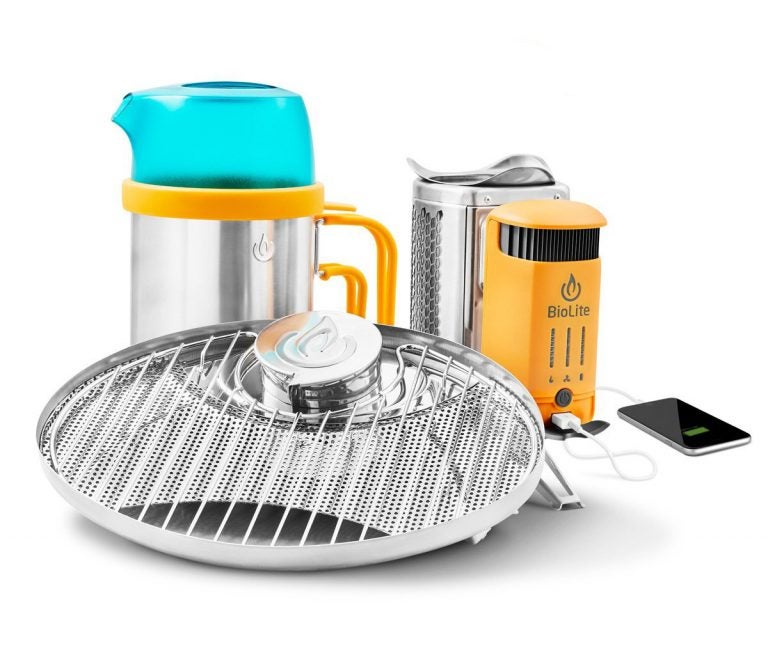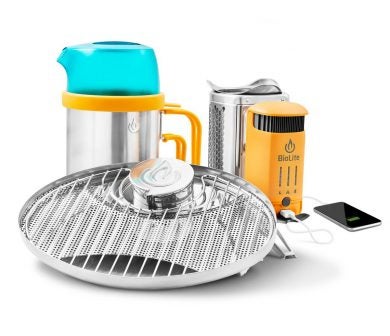 The BioLite CampStove 2 can do so much more than just boil water to make your morning cup of java. The whole kit and caboodle weighs in at just under five pounds and the bundle includes a portable grill, a pot that not only boils one liter of water in under five minutes but also doubles as the stove's carrying case, and a USB light for nighttime cooking. This camp stove has four fan speeds also generates three watts of electricity while cooking that it stores in an onboard battery so you can charge your device via a USB connection or use the power to keep the light on.
BioLite CampStove 2 Bundle, Amazon
Due to its single purpose and rugged design, this portable stove has been highly praised by campers as being easy to travel with and use while on the move. The VitalGrill Survival Stove features an aluminum base and stainless steel fold-down sides to contain the fire. It is extremely light (weighing in at 1.5 pounds) and capable of holding anything from scraps of paper to thumb-sized twigs and wood to keep a steady flame going. The L-shaped stainless steel rods attached to the sides can hold anything from a pot to a kettle to make cooking a breeze. This stove can reach a powerful 20,000 BTU/h thanks to the attached blower fan powered by two AA batteries.
VitalGrill Survival Stove, Amazon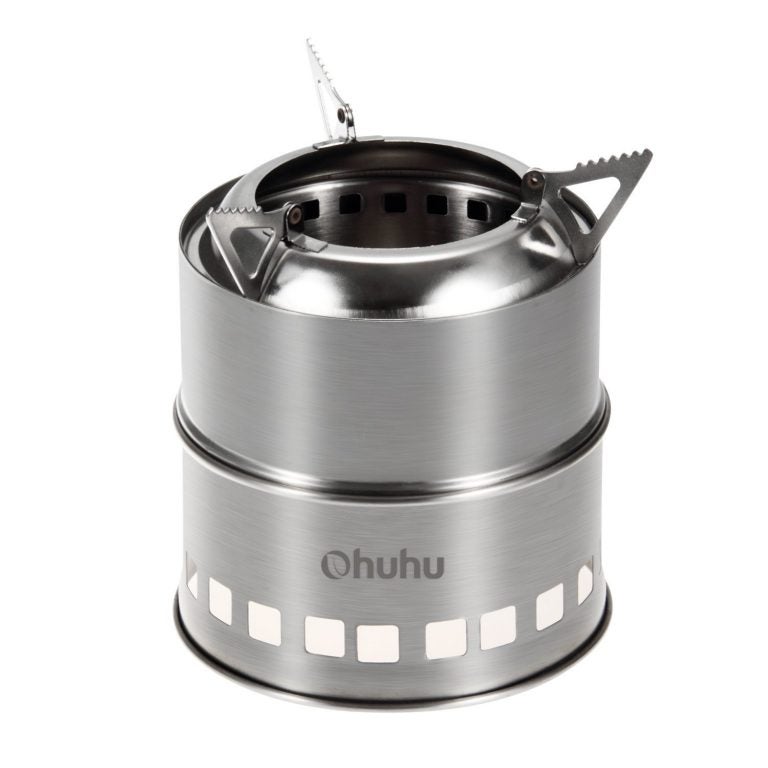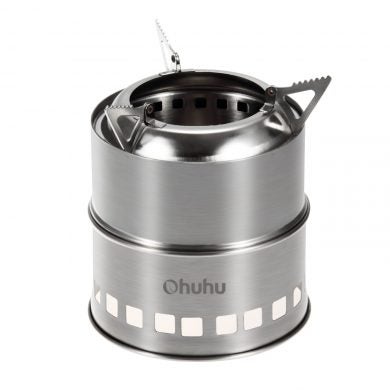 The Ohuhu camping stove does not require a fan and batteries to bear a steady, easy-to-control flame perfect for cooking. It is comprised of five parts: a base with vents, a stove chamber, a stove base plate, a three-pronged pot supporter and a plate for use with solid fuel tablets. Not unlike the other camping stoves on this list, you'll need to forage along your journey for fuel to keep the fire going, collecting biomass like small twigs or pinecones. But if none is available, you can also use alcohol tablets as fuel substitutes. The bottom vents allow for better circulation into the stove chamber and perching a small kettle or pot atop the supporter its easy thanks to its serrated metal arms.
Ohuhu portable stainless steel wood burning camping stove, Amazon
Solo Stove Titan and Solo Pot 180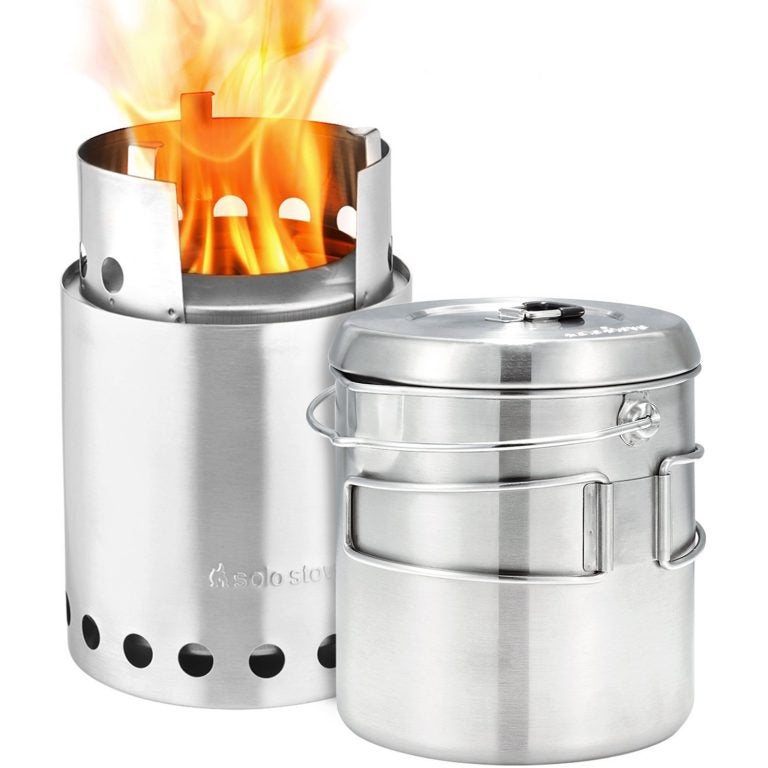 If you're worried about smoke, you should definitely consider purchasing the Solo Stove Titan. This efficient camping stove cooks the smoke out of the wood and heats the fumes not once but twice using its dual combustion technology. This not only keeps smoke to a minimum but also results in a hotter fire, cutting down on cooking time. While it does not fold away neatly like other stoves, it is praised for its quality, stability and durability. This combo pack comes with its own pot which can be used to boil water or make meals.
Solo Stove Titan and Pot 180 camp stove combo, Amazon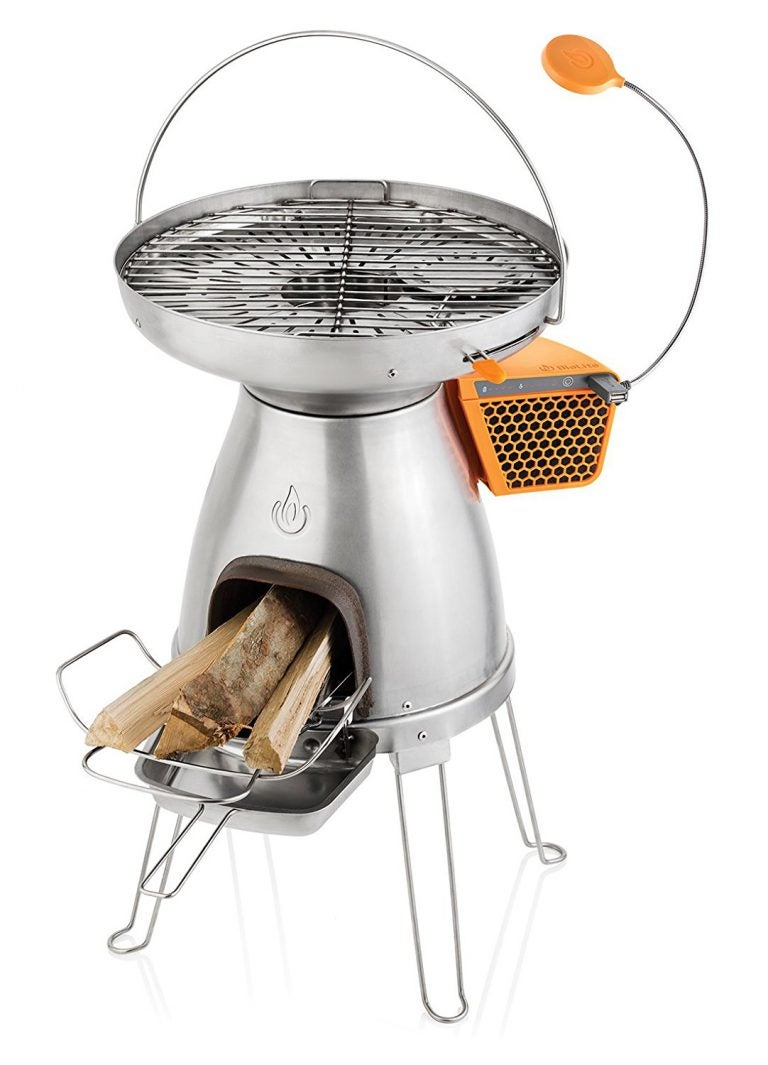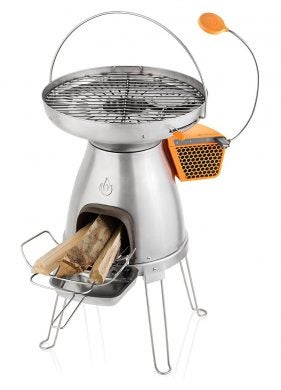 The BioLite BaseCamp wood burning stove is the largest on the list but provides the most economical solution for groups traveling together. The pack contains the stove itself, a fuel rack, ashtray and a gooseneck USB light. Sitting just under 18 inches tall, this stove takes thick pieces of firewood and can either distribute the heat evenly for grilling or focus the heat in the center for a pot or kettle. Attached to the stove's side is a power bank that takes the excess heat, converts it into electricity and stores it. It can be used to charge cell phones and other devices.
BioLite BaseCamp wood burning stove, Amazon
---
This post is sponsored by Amazon and brought to you by WiseGuide. WiseGuide exists to help readers navigate the vast e-commerce marketplace. We write about things we think you'll like, introducing you to great products, services, and special deals. We'll update the links whenever possible, but please keep in mind that deals may expire and prices are subject to change. We may earn affiliate commission if you make purchases through our links. For more follow WiseGuide on Twitter @WiseGuide_.