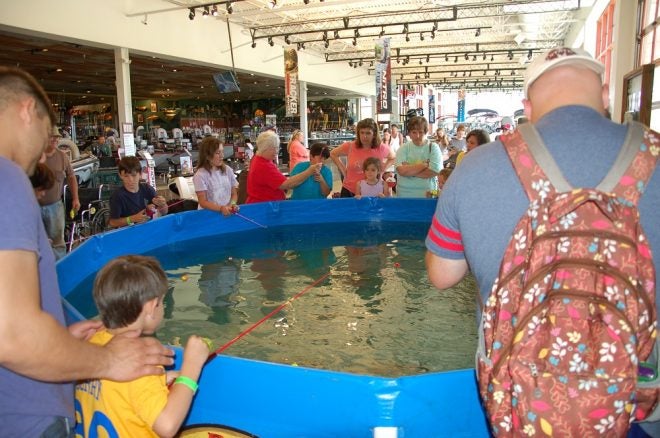 We hear it all the time. Too many kids just don't get outdoors anymore. They don't play outside in the yard anymore and parents don't force them outside like ours used to do. Many organizations have programs to encourage youth to get outdoors to exercise and play. The NFL has such a program, but its recreational goals are different, but still a move in the right direction.
Today, Johnny Morris and his Bass Pro Shops are sponsoring a huge campaign to get kids outdoors to experience outdoor recreation, specifically fishing. Many, many kids today never have the chance to go fishing or even to visit a lake or stream to fish. A different generation of parents, too, have slacked off in their interest of the great outdoors. Maybe this BPS program will help turn things around.
Taking my own daughter to the Bass Pro Shops store in Pearl, Mississippi today, she had the chance to catch a bass in a "fish pond" and also to attend fishing seminars with young people in mind. The seminar presenter for the day was Bass Pro Team member Joel Ross of the Jackson, Mississippi area.
Ross presented three seminars on (1) Fishing Local Waters, (2) Fishing-Anyone Can do It, and (3) a Fishing Checklist. Ross gave freelance discussions on many aspects of fishing for kids including picking the right fishing equipment for kids and naturally showing samples of several fishing combo sets offered for sale at the Bass Pro Shops store. That comes with the territory.
Ross also gave some excellent tips to both kid anglers, but their parents as well. Mainly he focused on the idea of allowing kids to just have fun learning to fish, and encouraging parents (especially us dad's) to show lots of patience and calm in teaching kids to fish. "You should just let kids do their own thing when it comes to fishing the first few times. They have to learn and just trying to cast and hold a rod may be enough for a trip or two," says Ross.
He also brought up issues about using insect repellant, as well as applying sunscreen. "Having to deal with a child that has been eaten up by mosquitoes or is hurting from a sunburn is certainly no fun. They are not going to want to do that again," Ross exclaimed. Boy is he right on that one.
So, come on parents take your kids fishing or on some other outdoors based recreational activities. It will be good for both of you.