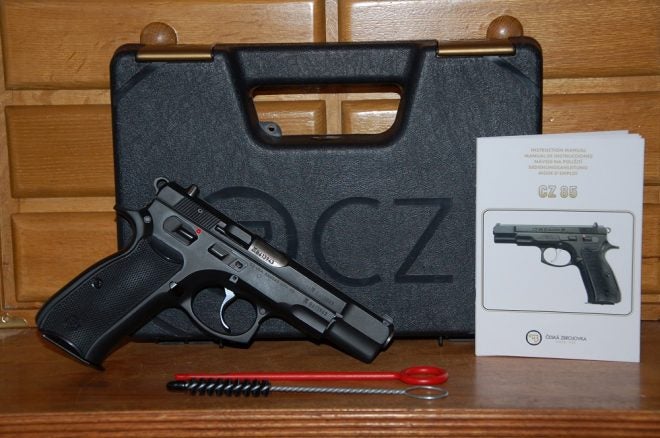 It's not like the name Ceska Zbrojovka is a household term. If you are not familiar with the name either, it simply means Czech weapons factory. By Czech is meant the Czech Republic that was previously the eastern bloc country of Czechoslovakia. The factory itself has been producing a wide variety of military, law enforcement and sporting weapons since 1936.
Today, Ceska Zbrojovka or CZ for short is still producing arms that are imported to CZ-USA in Kansas City, Kansas. They are making a comprehensive line of pistols, shotguns, and rifles. One of their hallmark semi-auto pistols is the Model 75/85 series. These two differ only in a few aspects, but primarily the 85B has ambidextrous controls.
The CZ85B is the updated and enhanced version of the stalwart CZ75. As mentioned the 85B series has safety and slide stop controls on both sides of the frame. The 85B model also has a feature that allows the magazine release to be reversed from one side to the other.
Though these upgrades were added with the Model 85B for left-handed shooters, it was understood that the 85B was mainly produced with patented features not incorporated on the 75. There was no patent on the CZ75. The CZ75 has been widely copied around the world. The CZ85B therefore established critical patent protection.
The 85B is like chambered in the 9x19mm with a magazine capacity of 16+1 rounds. The trigger mechanism is SA/DA in a short recoil design. The full sized pistol's weight comes in at 33.6 ounces. It has a steel frame and slide, not polymer. The length is 8.1 inches with a 4.7 inch barrel. There was also a compact version.
The finish on the 85B is a black polycoat ideal for weather and use protection. The grips are black polymer. The sights are fixed with a 3-dot alignment system. The hammer is a classic "Commander" type. The grip and frame position allows for very firm and comfortable handling.
This pistol has received glowing reports from various firearms evaluation Blogs that average a 4.5/5 rating. The firepower factor is 4.3. The CZ85B gets a concealability factor of 2.48, because it is a large pistol. The overall concealment rating is 2.94, but realistically this is not a pistol for concealed carry, unless worn under a jacket.
Though the CZ85B was discontinued in 2016, they are still readily available. The CZ75 of course remains in the CZ catalog with 17 models available. CZ85B owners brag this is one of the finest pistols they have ever owned. Scan the on line gun outlets to find one.