Remington Takes on the RPR With the Model 700 PCR
Jon Stokes 05.16.18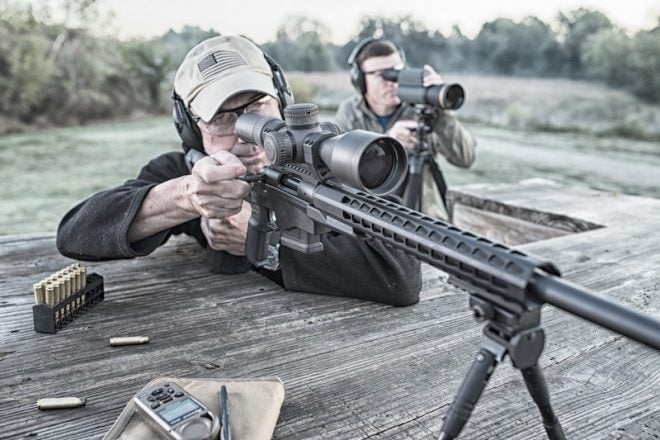 I missed this a while back, but better late than never: we've known since January's SHOT show that Remington is getting into the budget precision rifle game and competing with the Ruger Precision Rifle with the Model 700 PCR, and now it's out and available.
I don't have an RPR, but I'd take one of these in a heartbeat. I've been hunting with and shooting the Remington 700 Magpul Edition in 6.5CM, and I can put shots on top of each other at 100 yards with it.
(I dropped a Timney Trigger and a killer new scope from Maven on it and took a trophy black buck a few weeks ago, and I'm behind on writing it up. So look for that story, soon.)
Anyway, that Magpul model shoots the lights out, and if this is even better then it's definitely worth looking at.
MSRP is a very reasonable $1200, which puts it right there with the RPR.
---
Huntsville, AL – Why not use that tax return to add a fully optimized rifle system to your collection. The Remington Model 700 PCR (Precision Chassis Rifle) is now available at retail locations nationwide. Confirm that tack-driving superiority for yourself.
The new Model 700 PCR pairs the strongest action ever conceived – our legendary Model 700 – with exclusive aircraft grade aluminum alloy chassis of unmatched rigidity and atmospheric immunity to create the most stable and consistent platform possible for launching long distance hits on target. It's a potent combination made even more effective with a host of accurizing upgrades that include a 24" barrel with 5R rifling, free-floated in an aluminum handguard, plus a completely user-configurable Magpul PRS Gen 3 stock for the ultimate in comfort from any shooting position. Its sub-MOA accuracy is confirmed using our advanced CATS (Computer Aided Targeting System) before it ever gets to you.
MODEL 700 PRECISION CHASSIS RIFLE FEATURES
• Remington Chassis
• 24" barrel with 5R rifling
• Threaded muzzle with protector
• Tactical bolt knob, for swift, positive cycling
• X-Mark Pro externally adjustable trigger
• Aluminum handguard with SquareDrop
• Picatinny rail
• 5-round Magpul detachable magazine
• Adjustable Magpul® PRS Gen 3 stock
• Magpul pistol grip
• 3-shot sub-MOA confirmation