Watch: Time Lapse Log Cabin Build With Hand Tools
Russ Chastain 05.17.18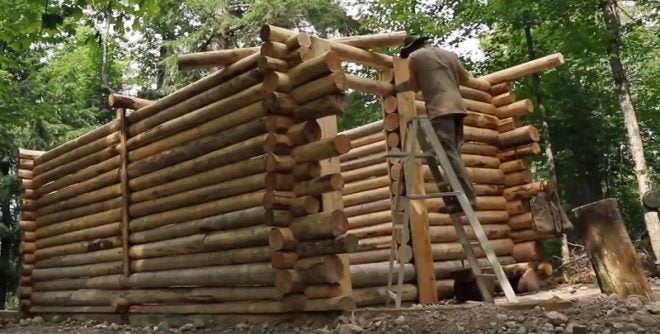 This is a cool, super-speeded-up video of a log cabin build. This guy did most of the work with hand-powered tools using trees he felled himself. He custom-fit each log to build the cabin, and then took it all apart and moved it to his property!
This video moves very quickly, but it's not exactly time-lapse, except for the roofing. Watching him lay down two layers of planks was certainly impressive.
The roof was then dried in and horizontal one-by boards nailed down, and charred boards were placed in a board-and-batten fashion. I would be amazed if the roof doesn't leak at least a little bit, because water can definitely find its way through the spaces between the boards.
From the log work to the chinking, and even a small cellar space for food storage, this is one cool build. And if you want more details, he has more-detailed videos on his YouTube channel.
Here's what he says about it:
At the beginning of the video, I show a winter drone photo of the cabin in the snow in December. Then I flashback to the first balsam fir tree I cut down with a saw and axe near the cabin. I drag the trees into place and clear the cabin site. All summer, I cut the notches in the logs as I built the cabin up, offsite. Once I was finished notching the logs with a log scribe, saw, axe, adze and wood carving gouge, I loaded up the entire cabin of logs and moved them to my land near Algonquin Park, Ontario Canada.

Once on site, I spent a month reassembling the cabin on a foundation of sand and gravel. Once the log walls were up, I again used hand tools to shape every log, board and timber to erect the gable ends, the wood roof, the porch, the outhouse and a seemingly endless number of woodworking projects.

For the roof, I used an ancient primitive technology to waterproof and preserve the wood – shou sugi ban, a fire hardening wood preservation technique unique to Japan and other areas in northern climates.

Because the cabin is off-grid, I have used hand tools for most of the build and without power, I have no options on site regardless. The tiny house will continue to be operated with power, not even renewable energy for now, so I'm heating the cabin with a wood stove fire place, which I also cook on.

The cabin is made of cedar fence posts, twelve feet long and the cabin measures 10 feet x 20 feet inside with a one hundred square foot sleeping loft on the second floor.

The floor is made of two inch thick pine planks, torched to help repel water and to give them a rustic barn board appearance.