Sig Sauer Now Offering Brass Cartridge Cases for Reloading
Russ Chastain 05.21.18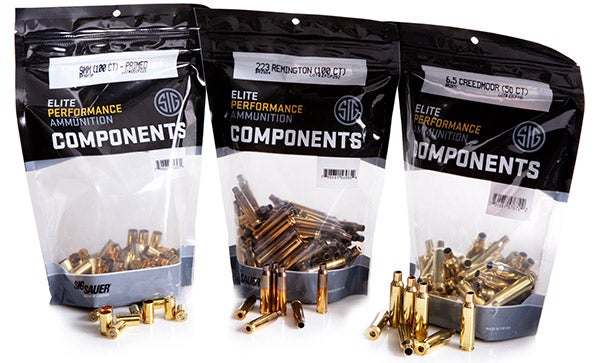 Sig Sauer has announced that they're now in the brass-making business "for precision handloaders." They're listing a variety of handgun and rifle cartridges on their website, primed or unprimed. Here's the press release:
Newington, N.H. (May 21, 2018) – SIG SAUER, Inc. is now manufacturing premium pistol and rifle ammunition components for precision handloaders at its state-of-the-art ammunition facility in Jacksonville, Arkansas. Elite Performance Ammunition shell cases are engineered to exacting tolerances and available for multiple pistol calibers (primed or unprimed) and rifle calibers (unprimed). The geometric consistency of these premium brass cases ensures each primer is held tightly in its pocket. Flash holes are precise with no burrs and the superior metallurgical properties of the SIG SAUER cases enable repeated reloading. All Elite Performance rifle shell cases are induction annealed for consistent bullet retention.

"Each brass case undergoes rigorous in-line and post production quality assurance testing to ensure a flawless casing," said Brad Criner, Senior Director, Brand Management and Business Development, SIG SAUER Ammunition. "The result is unparalleled durability and dependability."

Pistol component cases are available, primed or unprimed, in bags of 100 in the following calibers: 380 Auto, 9mm Luger, 357 SIG, 38 Spl, 357 Mag, 40 S&W, 10mm, 45 Auto.

Rifle component cases are unprimed and available in bags of 50 in the following calibers: 223 Rem, 22-250-Rem, 243 Win, 300 BLK, 300 Win Mag, 308 Win and 6.5 Creedmoor. Coming soon in: 270 Win and 30-06 SPRG.

All SIG SAUER Elite Performance Ammunition and Components are manufactured by SIG SAUER at its new state-of-the-art ammunition manufacturing facility in Jacksonville, Arkansas to the same exacting standards as the company's premium pistols and rifles. For more information, visit sigsauer.com/ammunition/brass.
Prices appear a bit high on their website, but then again I haven't priced new brass in a while. What do you think? Will you be trying this brass for your own reloading?