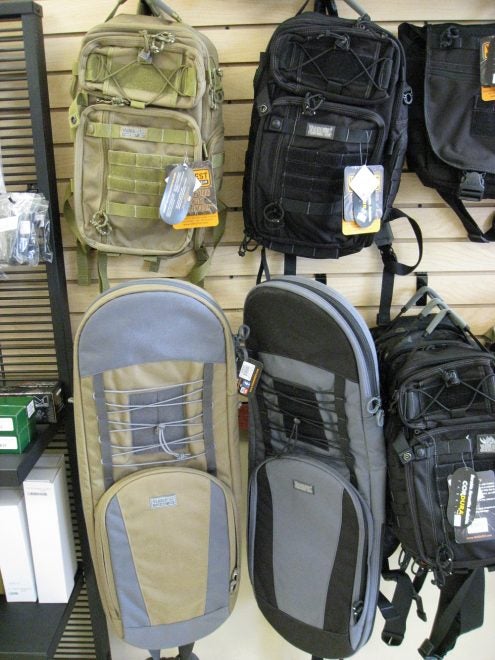 When is the last time you carried your AR-15 rifle in a tennis racket case? The operative term these days for the well informed prepper, survivalist, or even those interested in low key personal defense is "concealed" or better yet, "discreet." Concealed is obviously covered up from outside observation, but discreet implies hiding in plain sight.
Check out the official definition of discreet: Having or showing a judicious reserve; lacking ostentation or pretension; modest. That aptly describes a low profile demeanor which is what we are advised to do in our EDC, Every Day Carry. That is to blend in, not to stand out in public, be noticed, or make ourselves obvious.
Such should be the case, too, (no pun intended) when we carry our EDC weapons in public or even in a locked vehicle that could be observed from the outside. This means choosing carry bags that don't look like weapons bags.
As good as they are in terms of weapons protection and durability, and carry capacity, the typical AR-AK, etc. platform rifle cases are much too militaristic in appearance. The copious external magazine pockets or even handgun sleeves are a dead giveaway, even in dark night city alley black. Virtually anyone would know what is inside that bag. So, what are the alternatives?
Several rifle case manufacturers have turned to producing rifle carry bags that do not play the part. These cases are made to look more like everyday sports bags carrying anything but a firearm. Many of these bags could easily be mistaken for tennis racket bags, golf equipment bags, baseball or softball bags, or other types of sports equipment carry bags, certainly not bags hiding an AR rifle.
Consumers can find various bags under the maker names of Leapers, SIG, Tuff Products, Hazard 4, Elite Survival Systems, HSP INGOG, and several others. Good outlets and selections of these cases and more can be found at Optics Planet, Midway USA, Sportsman's Guide, and many other sources.
Some of the cases are designed for rifles such as the AR-15 to be taken down into upper and lower units to create a smaller package. Magazines and other items are stored inside the bags. Others may be shaped like guitar cases allowing fully assembled rifles to be toted discreetly.
If you want to carry a rifle in public or as an EDC even in a vehicle, then pick a protective case that looks like something it isn't. Part of the prepper mystique is to remain discreet.