Gear to Take Your Campsite to the Next Level
Diana Faria 06.01.18

It's possible to give your campsite an upgrade while keeping with old-timey traditions like stargazing and classic camp meals. It's easy to dress up your site. Make roughing it in the wilderness just a little more luxurious with any of these items.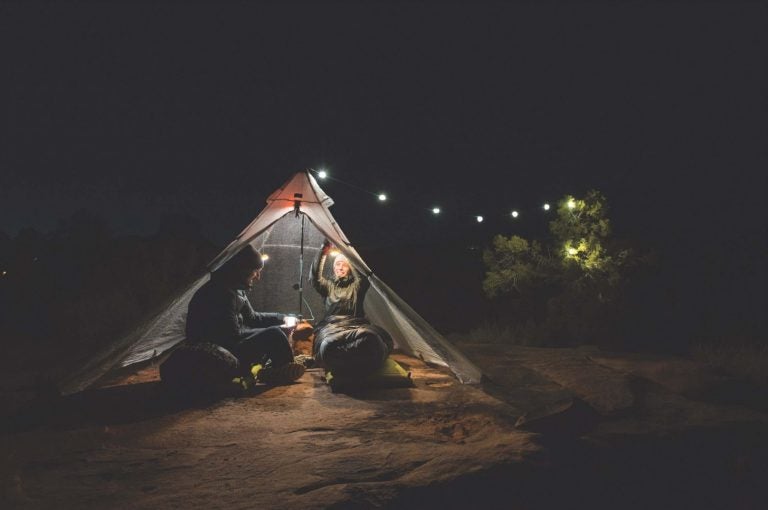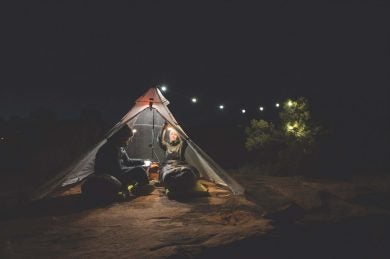 Once the sun sets, differentiating your site from everyone else's can be tricky if you're staying in a busy campground. String lights not only enable you to easily pick out your tent but also let you see what you're doing when the sun goes down. The BioLite SiteLight String Lights pack comes with two 150 lumen lights, each with 10 feet of reach. Powered via USB, four of these lights can be connected using the daisy chain method to reach a total of 40 feet. When you're finished, storing these lights are a breeze thanks to the magnets. Tangled cords are a thing of the past, as BioLite has integrated a storage solution to wrap the strings right into the light's exterior.
BioLite SightLight camp lights, Amazon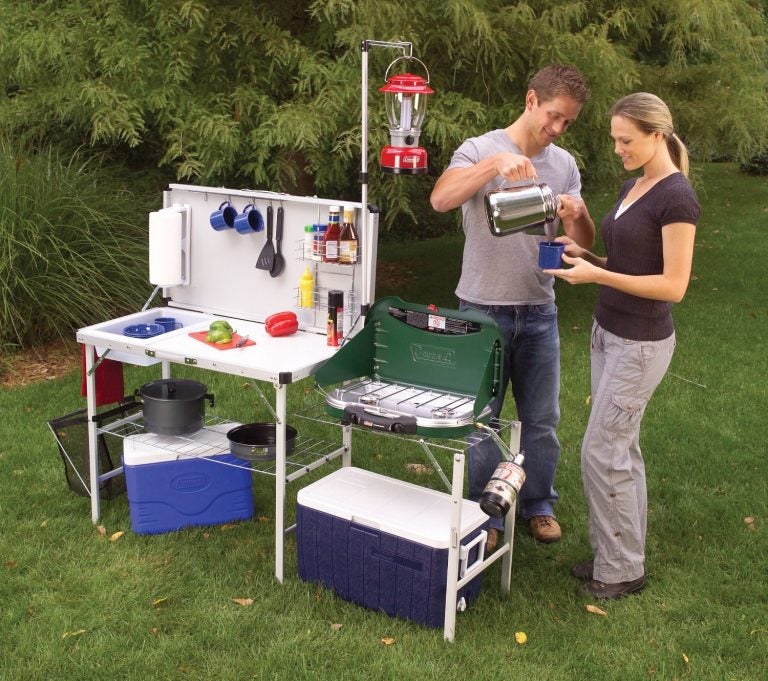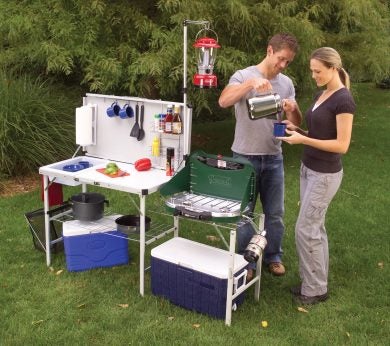 If you're setting up camp for more than a couple of nights, bringing along a foldaway kitchen will make cooking significantly easier. Coleman's pack-away kit provides the framework for a full kitchen all conveniently nestled within a suitcase-like box for easy transportation. Made of aluminum, this 36.5-pound set comes with a removable sink to wash dishes, a prep table and even a wire side table that fits most Coleman stoves. It also has a lantern holder, paper towel holder, hooks for cooking utensils, shelves and a multi-purpose mesh bag.
Coleman pack-away deluxe kitchen, Amazon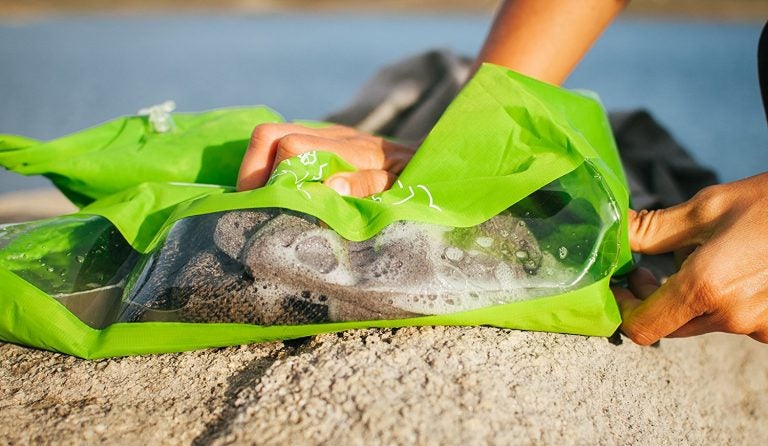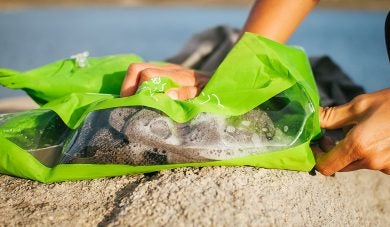 On a long backpacking trip, packing light can be a necessity. With only a few changes of clothes at your disposal, the chances of getting them dirty are high while the chances of finding a laundromat are exactly zero. Scrubba's portable laundry system is the perfect solution. It weighs only five ounces and can clean your clothes in minutes. Simply add water, detergent and your dirty clothes into the bag, seal the bag shut and deflate the remaining air. Then put your muscles and the bag's hundreds of internal nodules to work by rubbing the clothes together until clean (approximately three minutes). Rinse the dirty water out, hang your damp clothes et voilà — clean clothes with the least amount of effort. The Scrubba also doubles as a dry bag.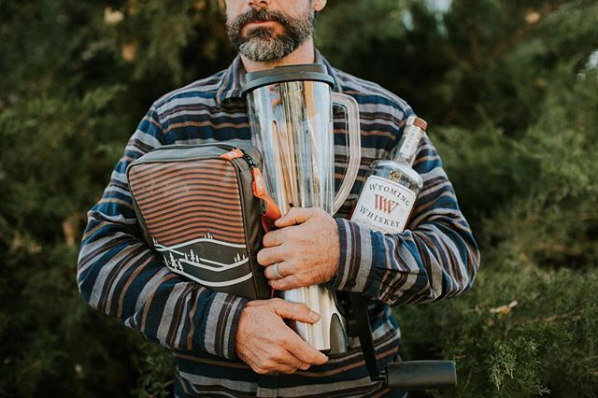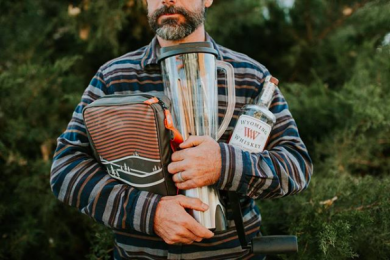 GSI Outdoors has made a hand-cranked blender, so you can have your smoothies — or blended cocktails — whether you're on a hunting trip in the middle of nowhere or at the cottage during a power failure. The Vortex Blender has a stainless steel base with a C-clamp to secure it to a sturdy surface and a 1.5-liter blender with two speeds to crush ice or mix drinks.
GSI Outdoors Vortex blender, Amazon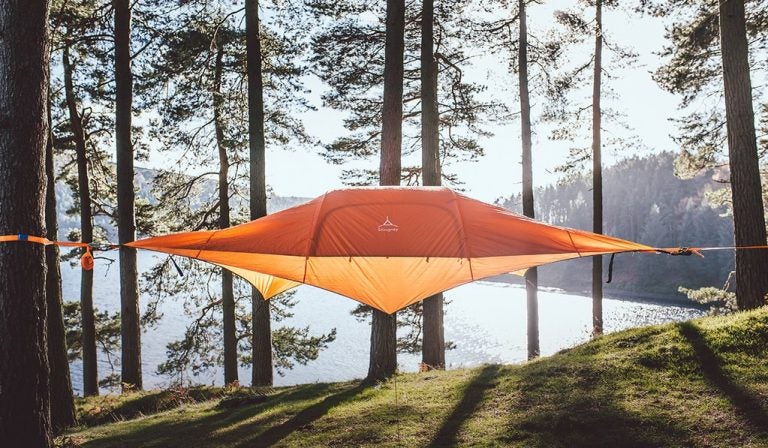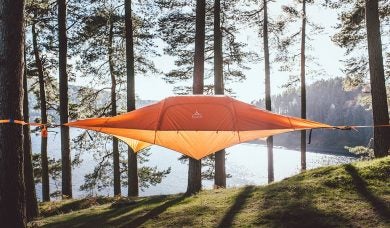 Tensile's Stingray suspended tent uses a three-point ratcheting system to elevate the tent off the ground and provide a comfortable, dry place to sleep. You'll never have to worry about finding a flat spot again. It holds a maximum load of 880 pounds and, best of all, your chances of coming into contact with critters are slim when you're nestled safely above the ground. It's also much more pleasant than sleeping on a hard surface. The Stingray model sleeps three.
Tentsile Stingray tree tent, Amazon
---
This post is sponsored by Amazon and brought to you by WiseGuide. WiseGuide exists to help readers navigate the vast e-commerce marketplace. We write about things we think you'll like, introducing you to great products, services, and special deals. We'll update the links whenever possible, but please keep in mind that deals may expire and prices are subject to change. We may earn affiliate commission if you make purchases through our links. For more follow WiseGuide on Twitter @WiseGuide_.
SaveSave
SaveSave
SaveSave