NYPD's Old School Cops Finally Retire Their Revolvers
Russ Chastain 06.04.18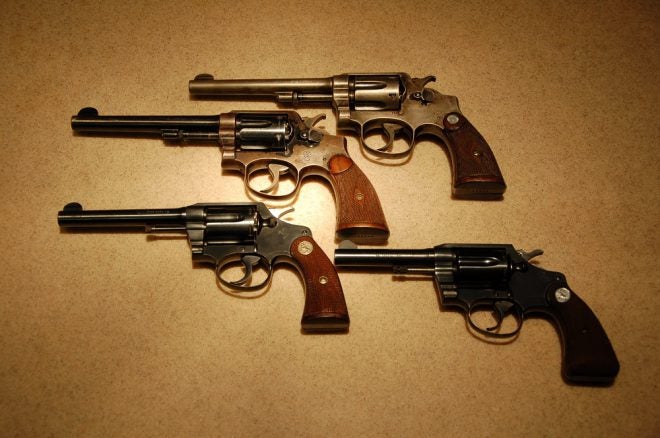 In a bid to modernize their armament, the New York Police Department (NYPD) has reportedly officially retired all revolvers from service. Even cops with plenty of time on the job have been forced to lay down their six-shooters and pick up a semi-automatic 9mm pistol instead. According to a post at leoaffairs.com, approved models include the S&W 5946, the double action only (DAO) SIG P226, and Glock 17/19.
This is unsettling for detectives and other veterans who love their wheel guns and have been on the job for 25 years or more. Rather than still being "grandfathered in," the time has come for them to use a higher-capacity firearm which is not as easy to operate and may not be quite as reliable. The main reason? Greater ammo capacity and the ability to quickly reload, should an officer become engaged in a gunfight. After all, most departments began to switch from revolvers to semi-autos in the 1980s because more bad guys had semi-autos, and some police officers had been slain after firing the requisite six shots and pausing to reload.
…9-millimeter semiautomatic pistols… have been the department standard since 1993, when they were adopted to help combat the perception that officers on the street were outgunned by criminals.

By then, the police were confiscating more semiautomatic guns from crime scenes and and several police officers across the country had been killed in gun battles while reloading their revolvers. One was Scott Gadell, a rookie who was killed chasing a suspect on foot in June 1986 in Far Rockaway, Queens.

Although police shootings have declined over the years and most officers never fire their weapons in the line of duty, officials said it was still necessary to complete the transition to semiautomatic weapons in a policing era where terrorism and active shooters are omnipresent threats.
Tactics Trumps Tradition
Even though an officer may feel a certain sentimentality towards his wheel gun, the ability to fire numerous rounds between reloads can be too important to ignore. Therefore, it's time to forge ahead without looking back.
'After this class, the days of seeing a police officer out there carrying a swivel holster or a 38… are basically nonexistent,' Inspector Richard G. DiBlasio, the commanding officer of the Firearms and Tactics Section, said. 'It's tradition and some people don't want to let go of it, but tactics is always number one.'

~~~

Revolvers became the standard firearm for city police officers in 1895, and they remained the dominant weapon in policing for much of the 20th Century. More than 2,000 city police officers still held on to the revolvers over a decade after Sig Sauer and Glock pistols became standard. Their numbers dwindled with each wave of retirements, to 160 by the time the Police Department announced in November that it was phasing out revolvers completely and permanently.
Resistance
Of those resistant to the change are Officer Mary Lawrence:
Officer Mary Lawrence… said [jamming] was never a concern with the Smith & Wesson revolver that she has used over her 26 years with the department.

'I'm proud of this uniform that I'm wearing and I'm proud of my gun that I carry because it's been reliable to me,' she said. 'I didn't think that I needed extra firepower at all.'
And Lt. James Darcy, who joined the force in 1987.
'It feels sad,' he said on Wednesday at the police shooting range in Rodman's Neck in the Bronx, where he was training on a new Sig Sauer sidearm. 'I really love my gun. I really never thought I would [do my] job without it by my side.'
What's Your Take?
NYPD began using a six-shot revolver way back in 1895, and that comes with quite a lot of nostalgia. But at some point it's time to look past emotion and get down to practical stuff.
I love a good revolver, but it's tough to argue with the ability to carry a bunch more ammo, if you're likely to get into a firefight. If I was in a job that required gun-toting, especially one in which there would automatically be a virtual target on my back just because of my profession, I would want to carry the most ammo I could reasonably carry. Which means I would probably have been an early adopter of a quality semi-automatic pistol.
What about you?