Friendly Reminder: Do Not Keep a Gun in the Oven
Kevin Felts 06.06.18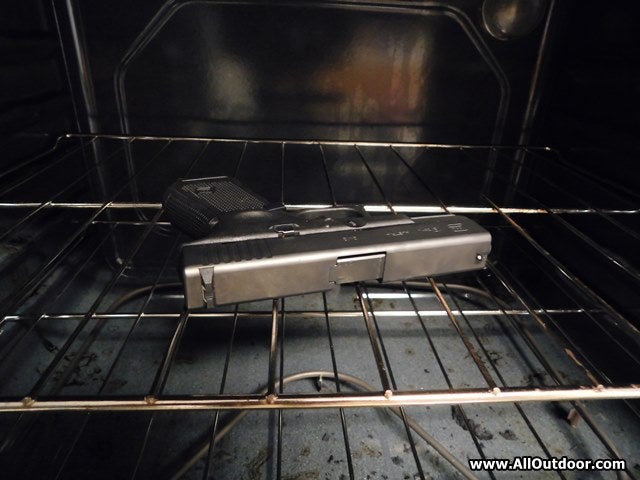 There are certain things people should not do, such as juggling chainsaws, playing chicken with a train, and using battery acid as mouthwash. And after a recent event in Warren, Ohio, let's add keeping a gun in the oven to the list.
What could possibly go wrong with keeping a loaded gun in the oven? Just be sure to take the gun out of the oven before turning it on. Well, what happens when someone does not know a gun is in the oven and turns the oven on?
From Delaware Online: Gun hidden in oven's broiler goes off, injuring Ohio man, police say.
WARREN, Ohio (AP) — Police say they've solved a shooting in Ohio that left a man wounded.

The oven did it.

[…]

Warren police say Garlock put the gun in the broiler because children were coming over.

His girlfriend, unaware of the gun's presence, turned on the oven Sunday to bake.
Well, at least nobody was seriously hurt.
More To The Story
In all seriousness, there is more to the story than meets the eye.
A handgun was placed in an insecure location when children were coming over. An oven is not a secure location. Nor is an oven out of the reach of children. In all honesty, I can not think of a single oven I have ever seen that had a lock on it.
How many of us baked cookies for our children, and while the cookies were baking, the kids went over to the oven and opened the oven door? Chances are a lot of us had children who opened the oven to see if the food was ready.
Thankfully, it appears none of the children had the oven open as the rounds were cooking off.
Also, and thankfully again, none of the children found the firearm, which had been hidden in the oven. This is along the same lines of someone "hiding" a firearm under the bed, or "hiding" a firearm in a dresser.
Gun Safety
A loaded firearm (it had to be loaded to discharge) was left unsecured, and chances are within reach of children. Thankfully no children were injured by the unsecured firearm..
This is basic gun safety: Keep all firearms secured and out of reach of children.
Placing a firearm under the bed, in a dresser, or even in the oven is not secured. It careless accidents like this that gives gun owners a bad name. So let's take a few minutes and be more responsible with our firearms.