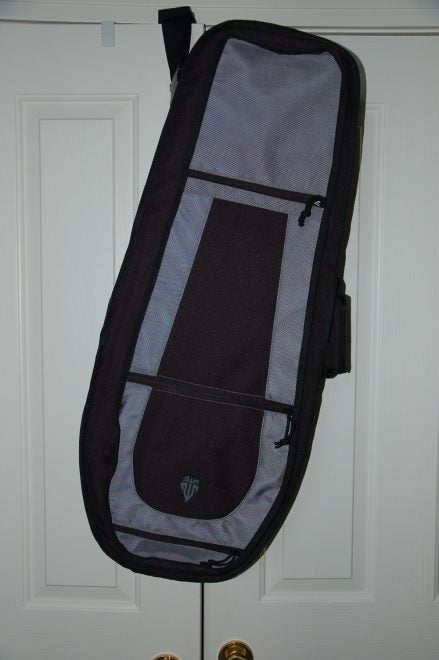 You have to like the tag line moniker of this product, "Be Covert in Fashion." This UTG rifle case is designed to be discreet, but highly functional. First of all, it does not look so much life the usual rifle case. It has the appearance more like a sports bag for carrying rackets to the tennis court, or other activities. This is the case's first beneficial attribute.
The UTG-ABC or Alpha Battle Carrier is built to carry two rifles such as AR-15s, AK47s, or similar long guns with overall lengths maxed out at 34-inches. This will accommodate most ARs that have collapsible stocks to shorten the total rifle length. It would also easily fit any other type of rifle or shotgun with the 34-inch restriction.
The case is functionally ambidextrous simply meaning it can be accessed from either end or carried via a heavy duty shoulder strap over either shoulder. Quick release buckles are provided to configure the bag in multiple ways. There are also grab handles on both ends as well as in the middle of the case with two zippers that can be operated in opposite directions to fully open up the bag.
With the bag opened up for loading, users will immediate take note that the bag has the capability of securely strapping down two separate long guns. In between is a padded protection layer that connects in the center via a hook and loop panel. This interior protective padded center divider can be removed altogether.
Also inside are two trapezoid-shaped sewn in pockets to house the rifle barrel(s). Then a 1-inch loop strap is provided to securely tie down the rifle's stock. This prevents movement and rifle shifting during carry and also serves as another protective feature.
Externally are three front pockets with heavy duty zippers and pull tabs. The smallest pocket contains an ambidextrous pistol holder that can be affixed inside the pocket via a hook and loop panel matching one on the holster. This holster is universal in size and can handle a wide variety of pistols up to a full sized 5-inch 1911 handgun.
The case fabric water resistant outer shell is made of a high density synthetic material for long wear. The overall case is black in color, but can be purchased with either an electric blue or metallic gray contrasting color panel to add discreet appearance. Check these cases out at www.leapers.com.
SHOP NOW