Weatherby Chassis Rifle Project: I'm Getting Close
Ron Gunner 06.06.18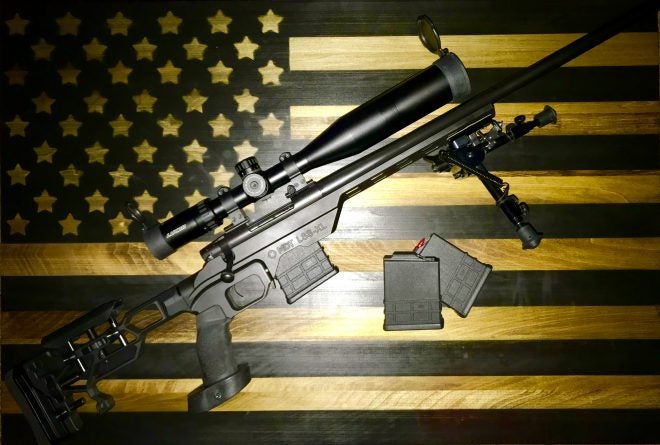 I am getting close on the Weatherby Chassis rifle project. Once the Atlas bipod gets here (Their new BT65-LW17 model) we go back to sight in the first scope to be tested, the Lucid. Then it will be into load development and finally letting her go and see just what she can do.
So far I have upgraded with newer products from MDT (Modular Driven Technologies Inc.) on their generation 1 LSS-XL chassis system. My goal on this is to take the .223Rem to past 1000yds. That was what I was challenged with and what I am going to try.
The companies that have sent in products for the project challenge are as follows:
LE Wilson Tool –  For the precision reloading
https://lewilson.com/stainless-case-trimmer-kit-with-micrometer-adjust-stop/
MDT – Chassis upgrades
Timney Trigger – Their custom built pull weight system – 1.5 pull
Dewey Cleaning Rods and bore kit:
Starline Brass:   223Rem brass
Atlas Bipods:   Model BT65-LW17
Hodgdon Powders:
I would personally like to thank each and every one of these companies that made this build possible. These are some of the best companies to deal with and each and every one of the people I dealt with were completely professional and excited to see this project done, you got to love that.
The photos below are showing some of what has been done and will be a lead in to the follow-up articles for setting up, reloading, testing and shooting. Thank you all for the products and to you for reading about this challenge project.
Thank you to all the companies that got involved in this Weatherby Chassis Rifle project and next will be articles and videos on load development and testing and trying out the different scopes.
I hope you reading this see that you can also build a custom rifle for whatever you desire and see what it can do. Visit the companies listed in this article and see just what they have for your own project build.
Hope to see you at the range or catch you in a match.
Gunner